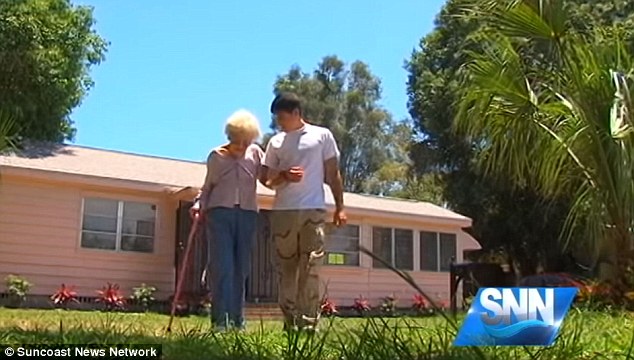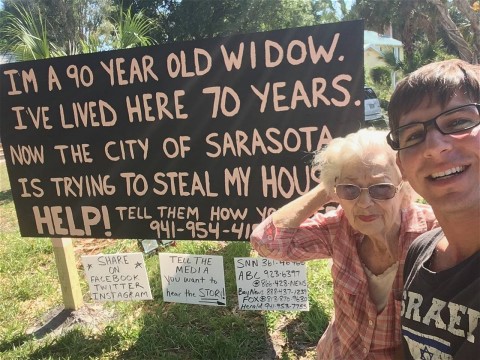 How Marie Louise Sikorski a 90 year old Saratosa, Florida resident risks eviction after falling behind on $150 000 in city violation codes.
Marie Louise Sikorsi a 90 year old widow is facing eviction after having fallen behind in paying city code violation fines on the Sarasota, Florida home she has lived in for 64 years.
The pensioner's problems began soon after her husband passed away leading to the the widow unable to tend to general upkeep before eventually finding herself the focus of neighbor complaints.
With only a $1000 a month to live off, Marie Louise Sikorski has struggled to contend with the cost of bringing the house to proper standard after falling into disrepair. Yet things have gotten worse as the woman who has fallen behind on violations, at $500 a day, now risks being evicted.
Never mind the cost of property taxes along with the fees of retaining an attorney.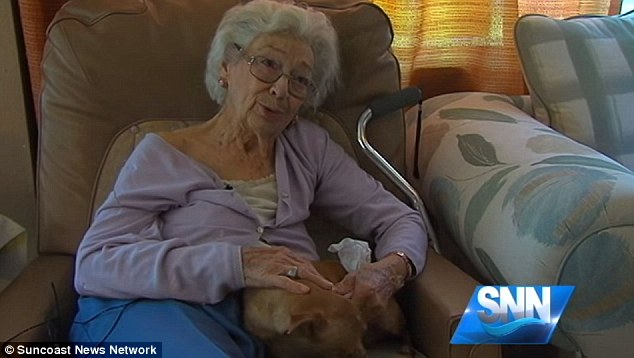 According to a report via SNN, matters between the pensioner and her neighbors came to a head two years ago when they took exception with the general condition of the house, Marie Louise Sikorski had lived in since 1952.
While conceding that the issues with the home were 'aggravating', the widow said she wasn't scared over losing her home.
In its defense, the city of Saratosa told via WFLA, that Sikorski's home 'had been abandoned for six years. During that time, vagrants moved in and the house fell into disrepair, they told News Channel 8. After finding serious code violations, the city issued fines and held 28 different hearings about the house. They offered options to help, including by providing an interest-free loan, but were apparently rejected.'
Offered the pensioner's traveling nurse, Miles G who has taken it upon himself to assist his elderly neighbor via WPTV: 'Someone needed to step in and help her because the city wasn't going to.'
The nurse told of doing some of the necessary home repairs himself, while various contractors come in and did the rest. 
He power washed the roof, replaced shingles and siding, and cleaned up the yard among other things. A process which Miles told took just on 75 days at 12-16 hours of labor a day.
But there's a catch.
According to Miles, the city refuses to accept the repairs, after mandating that they be completed by a licensed contractor, leading to fines against the widow continued to pile up.
To date, outstanding fines come out to $150,000.
Miles is now seeking the help of local businesses while another supporter has set up a GoFundMe page.  
He put up signs in Marie Louise's yard, saying: 'I'M A 90 YEAR OLD WIDOW. I'VE LIVED HERE 70 YEARS. NOW THE CITY OF SARASOTA IS TRYING TO STEAL MY HOUSE! HELP!'
Reacting to the fracas, the city of Sarasota said they have no interest in taking anyone's home and only got involved because of neighbor complaints and safety concerns. 
Told City Manager Tom Barwin: 'This was not a case or story of the city picking on a poor elderly widow who's living in her home,'
'This was an abandoned property that was blighting the neighborhood.'
'The city has no interest in taking this property. In fact, by Florida law, the city is prohibited from even taking this property if we wanted to,' he added.
Barwin added that people should avoid jumping to conclusions. 'I'm disappointed but I think to some degree social media lends itself to fast reactions and quick judgments, and this is a classic textbook case of how just partial information can be misrepresented and spun.'
That said the city official told that Saratosa wants to do a deal with the widow's issues in a 'compassionate' way. Not necessarily understood is if Marie Louise Sikorski is still legally obliged to come up with $150 000?
The city plans to hold a code enforcement hearing for June 23.
To date the gofundme page has raised just under $6000 of the $150 000 target….