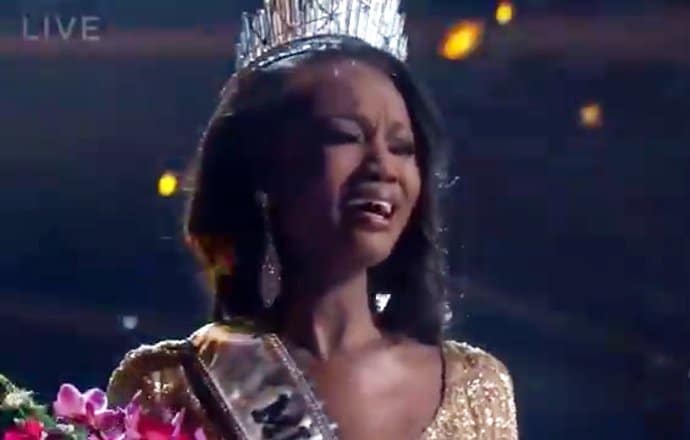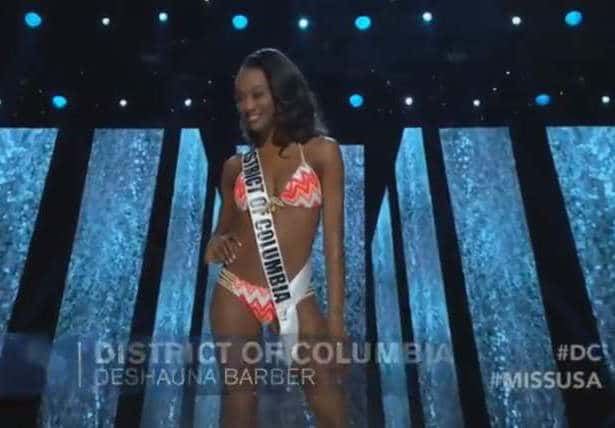 How Deshauna Barber, Miss District of Columbia came to be crowned Miss USA 2016. A daughter of a military family who believes women are just as capable as men in the service.
Deshauna Barber, the Miss District of Columbia has been crowned Miss USA 2016, opening the way for the 26 year old army logistics commander officer to now move forward at the upcoming Miss Universe pageant contest.
Upon realizing she had won the Miss USA 2016 crown, Deshuana Barber broke down in tears as she appeared alongside 50 other contestants at the Las Vegas, T-Mobile Arena.
The crown came after tense moments in which Deshuana Barber beat out runner up, Miss Hawaii Chelsea Hardin and Miss Georgia Emanii Jovan Davis, who along with Miss District of Columbia had rounded up the top three.
Of note, the win comes as Barber pursued non traditional pursuits of present and past pageant contestants, with reports telling the 26 year old working as an IT analyst for the US Department of Commerce in Washington D.C as well as a Logistics Commander for the 988th Quatermaster Detachment Unit at Fort Meade, Maryland.
According to Barber's immediate family, Deshauna was able to clinch the title after having giving a strong answer when asked about women in combat, saying that gender doesn't limit women in America. 
During questioning, Barber held the view that women are just as tough as men, adding: 'As a commander of my unit, I'm powerful, I am dedicated. Gender does not limit us in the United States.'
Barber previously said that joining the military was the 'greatest decision' she has ever made and while she has not yet been deployed overseas, if President Obama asked her to fight in Iraq, she would jump at the opportunity.  
Told the army logistics personnel who father has led a life long career in the military: 'I'd be there in a heartbeat,'
'That's what I signed up for 10 years ago, and that's a commitment that I still stand on today.' 
'I think that when it's your time to go, it's your time to go. If your life happens to make the ultimate sacrifice for this country, I think it's the best way.'
According to Deshauna Barber's wikipedia page, the new Miss USA 2016 was born in Columbus, Georgia, but has lived in multiple states due to her father's military career before settling in Washington, D.C. Barber's father served in the Special Forces for 24 years and that's how he met her mother, who was also in the military. 
Told a jubilant Barber, commenting about her unorthodox profession: 'My siblings and I knew when we graduated from high school that we wanted to join.'
Barer said she joined at 17, while her brother and sister enlisted at 18 right straight out of high school. 
'I ended up going through the ROTC program at university and commissioned to be officer in the United States Army in 2011. It's been the greatest decision I've ever made,' she said.
Upon graduating from Virginia State University with a degree in business management, Barber joined the army as a quartermaster officer in 2011. She now works as an IT Analyst for the U.S. Department of Commerce and is also an army logistics commander. 
Barber's passion is to serve the men and women in the U.S. military, specifically focusing her platform on PTSD treatment for soldiers returning from deployments overseas and suicide prevention in the armed forces, according to her bio on the Miss Universe website. 
Ahead of the show on Sunday night, Barber took to Instagram to share a picture of herself backstage,captioned: 'No matter happens in 2.5 hours, I am thankful to have represented the District Of Columbia and Military Service Women around the world on the Miss USA stage.
She added: 'The stereotype for Women In The Military is OFFICIALLY BROKEN. The stereotype for Pageant Women is OFFICIALLY BROKEN *Drops Mic*'