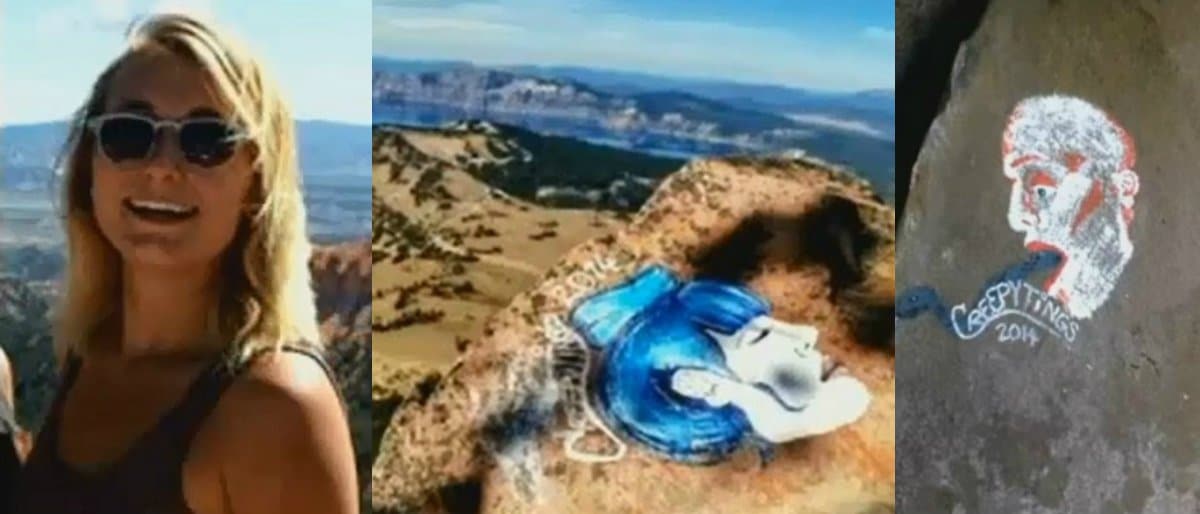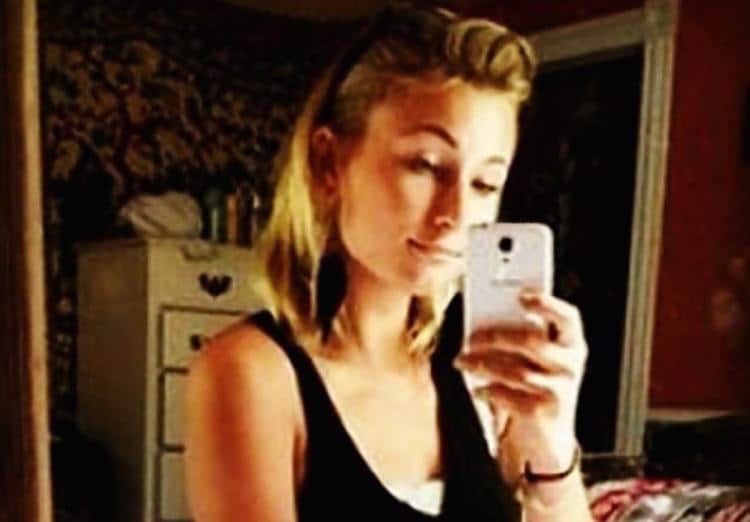 Casey Nocket graffiti artist: Was she creating art or simply vandalizing public land for her own ego? How public outrage led to one 'artist' being punished. 
Casey Nocket an upstate NY graffiti artist has been banned from national parks after pleading guilty to seven counts of defacing/vandalizing government property, including that of Yosemite, Zion and Death Valley mountain park areas.
Acts of vandalism that Nocket unabashedly shared on social media, under the hash tag handle, 'Creepytings.'

Appearing before a federal judge in California, the amateur graffiti was banned from entering all federal, state and municipal parkland after going on a 26 day, 2014 'adventure' where she defaced Death Valley, Zion, Yosemite, Rocky Mountain, Colorado, Canyonlands and Crater Lake National Parks with acrylic and sharpie doodles.
The ban also included a two year probation.
Casey Nocket's arrest came after the Modern Hiker blog outed Nocket as the culprit via her social media posts where the graffiti artist unabashedly bragged about her exploits during a road trip through California, Utah, Colorado and Oregon on Instagram and Tumblr.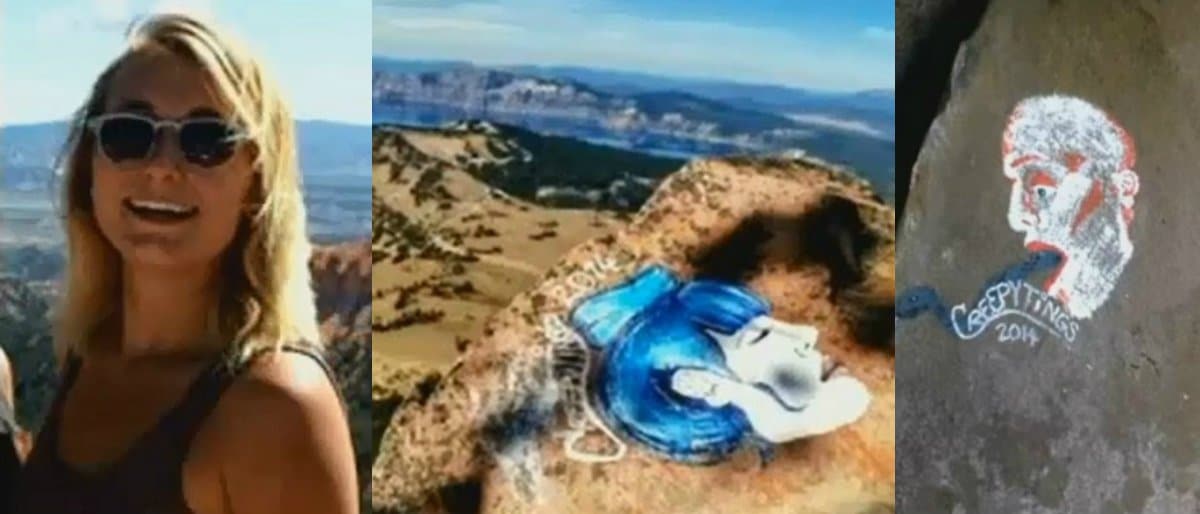 Nocket, of Highland near Poughkeepsie, left her calling card with images of women and a snake slithering out of a man's mouth — her pseudonym 'creepytings.'
Appearing in a Fresno, California court on Tuesday acting U.S. Atty. Phillip A. Talbert, released the following statement:
'The defendant's defacement of multiple rock formations showed a lack of respect for the law and our shared national treasures,'
Adding: 'The National Park Service has worked hard to restore the rock formations to their natural state, completing clean-up efforts in five of the seven national parks.'
'They expect to complete clean-up efforts at Death Valley and at Crater Lake national parks as weather permits.'
That said, some of Nocket's vandalism has proven difficult to remove as sandblasting and chemical stripping techniques used to remove paint can cause irreplaceable damage to natural features.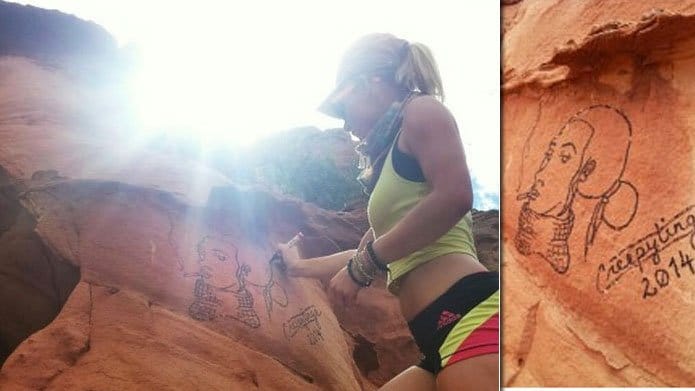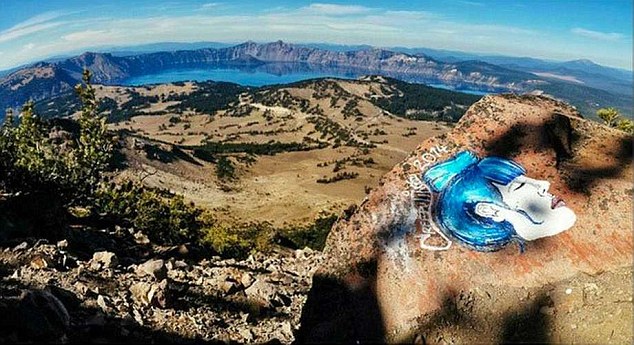 Pursuant to being publicly condemned the 21 year old deleted a majority of her social media posts save for a selection of her work and one image showing Nocket scrawling a smoking woman on a clay cliff face in Canyonlands National Park.
At one point, a commenter frowned at Nocket's choice of acrylic, with the graffiti artist responding: 'I know,'  'I'm a bad person.'
Another social media post led to the graffiti artist posting, 'It's art, not vandalism. I am an artist.'
The online hunt for Nocket's identity prompted a White House petition demanding charges, with a National Parks Service investigator eventually bringing the graffiti artist to account.
That said, a report via the nydailynews tells Nocket may now be responsible for additional vandalism at Joshua Tree National Park, that said, investigators did not immediately find evidence of her work.
Casey Nocket graffitti National Park and now banned for 2 years: https://t.co/ZnsBB1PoVp via @YouTube

— sanam jan (@majid4849) June 22, 2016
.@instagram Vandal Casey Nocket Banned From All National #Parks https://t.co/TPBWBP3VEp cc: @NatlParkService pic.twitter.com/XOpVaECa27

— Stephen Schatz (@StephenSchatz) June 16, 2016
Since going to town, park rangers and 'good Samaritans' have cleaned up the majority of Nocket's vandalism except for graffiti documented in Death Valley, Colorado, Zion and Crater Lake National Parks.
Nocket pleaded guilty on June 13 and in addition to the park ban was sentenced to 200 hours of community service.
Among Nocket's punishment, Magistrate Judge Sheila Oberto ordered Casey Nocket to write a formal apology to the National Park Services. Nocket can return to the country's trove of public lands during her probation, but only to clean up graffiti like the so-called art she left on ancient rocks.
Since conceding her involvement in defacing the national treasures,  Charles Cuvelier, chief of law enforcement for the National Park Service went on to tell: 'This case illustrates the important role that the public can play in identifying and sharing evidence of illegal behavior in parks.
'It is clear that the public cares deeply for the special places that the National Park Service represents, and the resolution of this case sends a message to those who would consider such inappropriate behavior going forward.'
Nocket's exploits follow of that of Andre Saraiva, an internationally known graffiti artist who owns nightclubs in Paris and New York, and who has worked as a top editor of the men's fashion magazine L'Officiel Hommes and has appeared in countless glossy magazines as a tastemaker and bon vivant.
According to a latimes post, Saraiva incurred the wrath of the community after tagging a 'work of art' with his signature "OX" on a large boulder at Joshua Tree.
Not necessarily understood is if the 'tastemaker' may have influenced Nocket…?