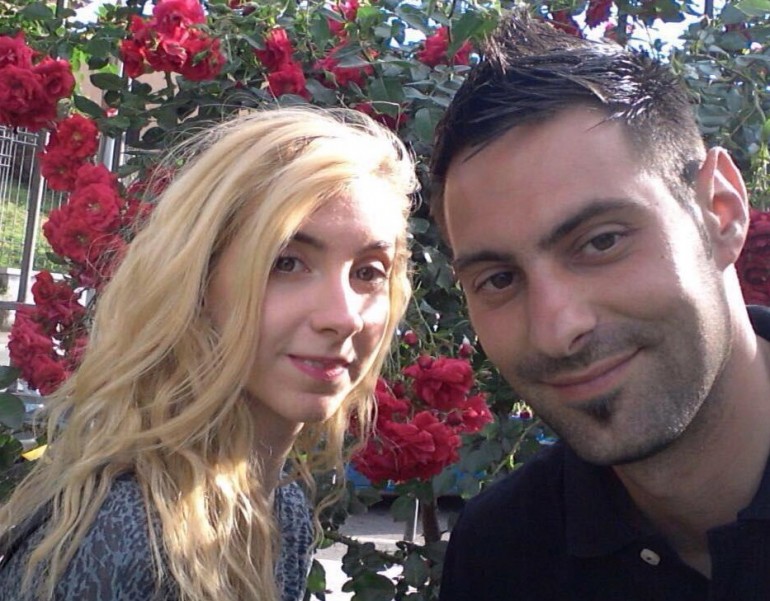 How Sara Di Pietrantonio a Rome University student came to be burned alive by her spurned boyfriend while passing motorists declined to help the afflicted woman.
Rome University student Sara Di Pietrantonio has died after being burned alive by her spurned ex boyfriend, Vincenzo Paduano.
The 22 year old Italian student's death comes after her 27 year ex allegedly doused the college student in alcohol before setting her alight with a cigarette lighter on Sunday.
The incident according to a report via local media comes after the man is alleged to have forced Sara Di Pietrantonio to pull over in a street in the Magliana area of Rome after following her car.
Local reports quoted, Luigi Silipo, from the Italian police who told he'd never seen such an atrocious crime in 25 years of investigations.
Told the policeman: 'He couldn't accept the fact he was left by her when she ended the relationship ended.'
Adding: 'He organized, he planned the aggression.'
He said Paduano had first denied killing the woman, but after eight hours of interrogation, confessed to the murder. At the time, the spurned boyfriend told of returning back to work after dousing his former love interest.
Notes a translated Italian media report: "I'm coming home," said Sarah's mother in a telephone message, shortly before his death. Mom would call the girl around the 3 to know where he was. After about 20 minutes, not seeing her return, the woman asked to Sara's uncle to accompany her to look for her daughter. After finding the car in flames the woman approached another outbreak: it was the girl's body burning behind a bush in an area used for parking. The Fire Department intervened shortly before 5.
A report via the dailymail described Silipo saying the suspect walking off his job as a security guard about 3am, waiting outside the home of Di Pietrantonio's current boyfriend.
Then, after the woman left the home and drove off by herself, Paduano drove off, eventually forcing her car to the side of the road.
'He got into her car, and after an argument, doused the car (interior) with a small bottle of alcohol, and doused Sara, too,' Silipo said.
Adding: 'She ran out, he torched the car, caught up with her, and after about 100 meters' set her ablaze, leaving her to die 'in an atrocious manner.'
Prosecutor Maria Monteleone added some motorists drove by as Sara Di Pietrantonio cried for help but no one stopped or called police. Why passing motorists declined to avail the dying woman is yet to be necessarily understood.
The incident led to Monteleone decrying the attack, having since made what she describes as a 'fervent appeal' to citizens to help such women, 'not to look the other way.'
The prosecutor added that if passers-by had helped, Sara Di Pierantonio's life might have been saved.
She also encouraged women 'not to keep hidden any threatening behavior by those who insist they love you, but it's not that way.'
Ironically, local media quoted friends and relatives of the murdered woman as saying appearing to be a 'good sort.'
While friends and relatives traced the picture of a young man beyond reproach, 'with a passion for dance and for music, good in studies and it would not ever hurt anyone.'
Sounding a call Monday to Italian woman to denounce threats by men to police was Chamber of Deputies President Laura Boldrini.
The parliamentary leader in Italian press said a change in cultural mentality was needed, starting in early childhood classrooms. Women 'must understand that those who should be ashamed are the violent ones, not the women who suffer threats.'
Paduano, a security guard, had reportedly dated his victim for two years.