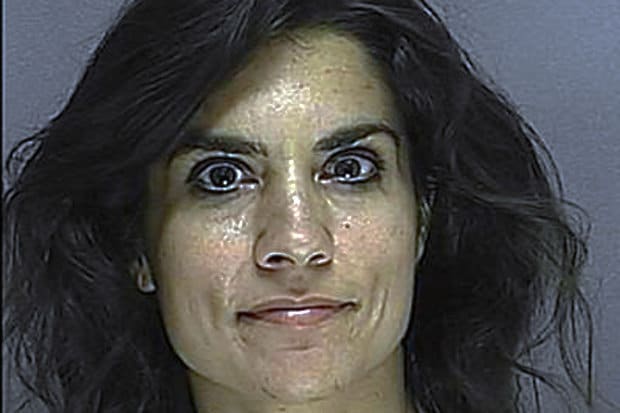 What led to Linda Dawn Hadad a Florida lawyer abusing her authority and taking drugs with prisoners along with physically engaging with at least two of them?
Linda Dawn Hadad a 43 year old Florida lawyer has been disbarred after state officials told of the attorney having sex with her prisoner clients at a jail along with using drugs.
In a statement announced by the Florida Bar, the Daytona Beach public defender was disbarred because she 'engaged in a pattern of misconduct that included illegal drug use and sexual relationships with clients.'
Drugs that Linda Dawn Hadad admitted to using with her prisoner clients included cocaine, ecstasy, crack cocaine along with an assortment of illicitly acquired prescription drugs.
The disbarring according to the nydailynews comes after Linda Hadad, was cited by Volusia County Jail wardens abusing her visitation rights.
Claims against the attorney, who first began practicing in Florida in 2002, before going into practice for herself in 2010, included the woman having sex with two inmates at the cited jail, along with phone sex.
According to court documents cited by WFTV, along with using street drugs, Linda Dawn Hadad admitted to also using xanax, oxycodone and Lortabs with her prisoner clients. Various incidents according to investigators also involved Hadad renting cars for an inmate in exchange for drugs.
Other contraventions included Hadad attempting to contact a domestic violence victim on behalf of an inmate she's become involved with who had a no contact order.
Other failings included the lawyer failing to show up or appearing late to her client's court appearances and neglecting at least five clients' cases. Investigators said Hadad even moved her law office without telling her clients.
The disbarring comes after Hadad came to be nabbed no less than five times in Volusia County since 2010 (see mug-shots below) from charges that ranged from driving under the influence, driving with a suspended license and petty theft, according to  inmate records.
A report via The Daytona Beach News-Journal told of a judge ordering Linda Dawn Hadad to complete 90 days of rehab after convicting her of driving with a suspended license and fleeing police in an August arrest.
A lawyer for Hadad has declined to respond to media overtures as of Wednesday night.