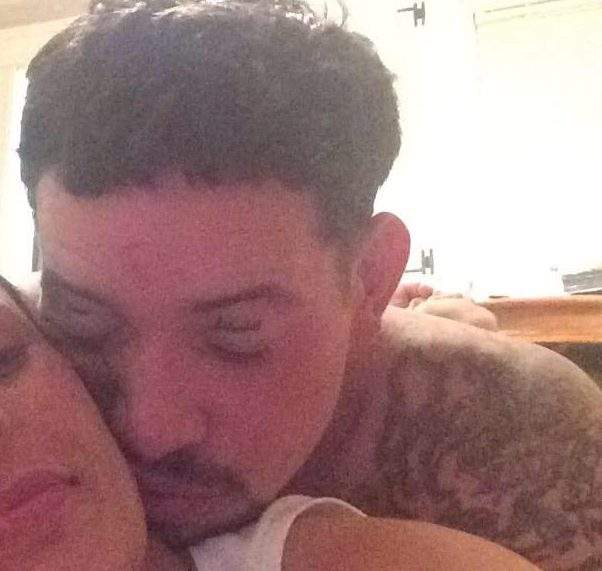 How Jorge Zambrano a Worcester, Mass. career criminal turned to shooting his way out after risking re-offending in a new batch of driving violations in a matter of days.
Jorge Zambrano a 35 year old man Worcester wanted in connection with the shooting death of a Massachusetts police officer has been shot dead early Sunday evening after a manhunt led to the shooting death of the career criminal along with wounding another cop.
Fatally gunned down at the hands of Jorge Zambrano early Sunday morning at 12.30 am during a traffic stop was Auburn Police Officer Ronald Tarentino Jr. 42. Despite being rushed to hospital, the father of three children according to a report via WHDH-TV  died at the UMass Memorial Medical Center.
Witnesses told of Zabrano fleeing the scene after a 'rapid hail' of gunfire.
Told one neighbor via The Boston Globe: 'I heard rapid fire gunshots and somebody yell, 'Get down!"
Adding: 'One police car after another…It was like bang, bang, bang, bang, bang, rapid fire, very loud.'
In the aftermath of the shooting, state and local law enforcement spent Sunday scouring Auburn, a city of 16,000 located 40 miles west of Boston, in a bid to catch the killer.
A lengthy manhunt lead Massachusetts state troopers to a duplex home in Oxford, less than five miles from the initial shooting, where Jorge Zambrano, 35, was holed up in a closet. 
When officers walked inside the bedroom, the suspected killer burst out of the closet, guns blazing, shooting one trooper in the shoulder, police said. Troopers returned fire, killing Zambrano.
The trooper wounded while confronting Zambrano was described having been with the Massachusetts State Police for 18 years, and was expected to survive.
Police have house on Watch Street in Oxford surrounded. Are talking to someone inside with bullhorn.@AuburnMAPolice pic.twitter.com/IAv1vqu5a0

— Laurel J. Sweet (@Laurel_Sweet) May 22, 2016
People are dropping off flowers outside @AuburnMAPolice in memory of slain Officer Ronald Tarentino. pic.twitter.com/hthUkPvKzv

— Mass State Police (@MassStatePolice) May 22, 2016
Told Colonel Superintendent Richard McKeon at during a Sunday evening press conference: 'I think justice was served today.'
During questioning, the law officer told of Zambrano's long history of breaking the law.
According to court records obtained by the Worchester Telegram, Jorge Zambrano was sentenced to two consecutive seven-year terms in 2011 for trafficking cocaine, two counts of assault, battery with a deadly weapon and assaulting an officer. A string of arrests would soon follow upon the man's arrest beginning in 2014.
Honoring the fallen officer, Tarentino Jr, Auburn Police Chief Andrew Sluckis said during an afternoon press conference prior to the hour standoff with Zambrano later that evening: 'The residents of Auburn have lost a dedicated public servant.'
Adding: 'We will leave no stone unturned in our investigation to determine who was responsible for Officer Tarentino's murder. Every investigative avenue is being pursued fully and completely.'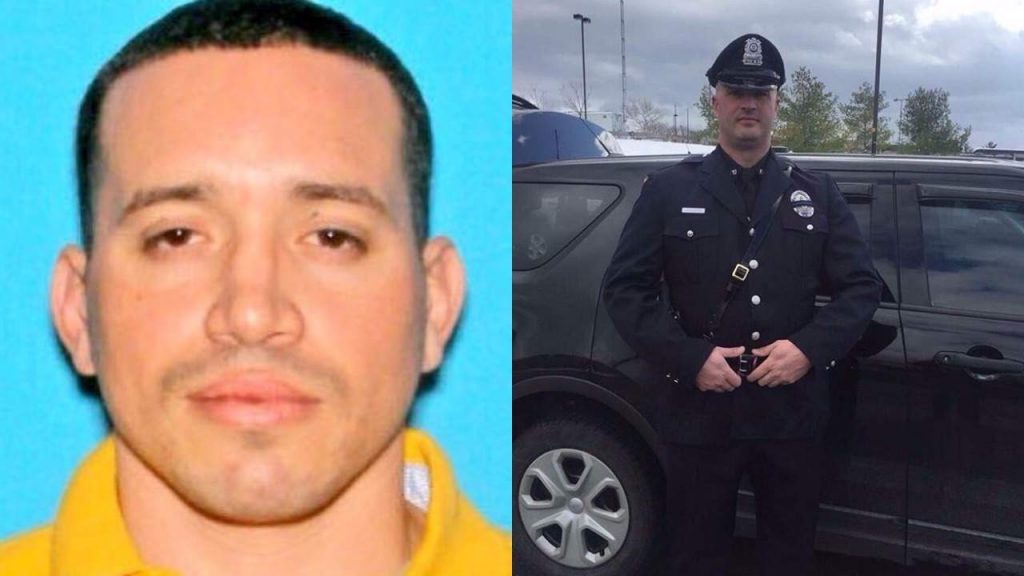 Tarentino served on the force for two years. He is the second police officer to die in the line of duty in Massachusetts this year, after state trooper Thomas Clardy died on March 16 in a car accident.
Jorge Zambrano's shooting death comes days after the man had earlier been arrested relating to traffic violations, the fear of a second batch of violations would have likely led to the man being incarcerated and most likely in his mind left with little option but to shoot his way out.
At the time of his initial arrest, days earlier, Jorge Zambrano was booked on charges with driving with a suspended license (subsequent offense), driving an unregistered vehicle and a license plate violation to conceal ID, according to records.
His case was continued to June 9 and he was released from custody.