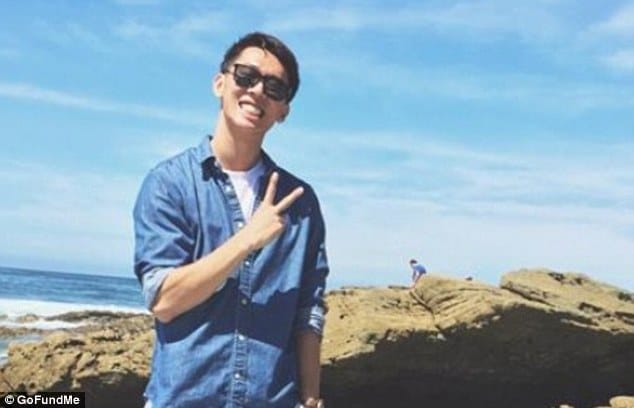 Hosung Lee murder death: How did one GMU student come to die in suspicious circumstances and why have witnesses declined to step forward?
Fairfax County, Virginia authorities have sought to identify those individuals involved in the vicious beating of George Mason University student, Hosung Lee, known as Steven who died after being stabbed and driven home and placed in bed instead of taken to hospital.
It wasn't until the next day that friends discovered Hosung Lee had mortally succumbed to injuries sustained the evening before after the 21 year old attended a party.
A state medical examiner according to a report via the Washington Post ruled Steven's death a homicide last week, telling that the youth had died from a stab wound to the chest.
On the evening of the attack, Hosung Lee had attended a party in Herndon, Virginia where a witness told of Steven being set upon by a mob of 10- 15 people who beat him as he lay on the kitchen floor.
Not necessarily understood is what led to the attack on the GMU student? Along with the identity of the individuals involved as well as to why witnesses have declined to identify those who may have taken part in the beating of Hosung Lee?
A search warrant filed by Fairfax County Police told of Hosung Lee being kicked and punched into the early hours of the next morning.
The student's beating came despite police having appeared at the home on the block of 12600 Oxon road where the party took place due to a noise complaint.
During their investigation, police were unable to unearth why friends declined to seek medical assistance for the injured Lee.
Instead, according to a report via WTOP, the student's friends drove him five miles to Centerville where Lee lives with his sister and parents.
According to the search warrants, his friends placed him in bed, where Lee was found dead by a family member around 4.24pm on April 24.
In the aftermath of Lee's death, investigators told of a witness identifying one person who allegedly participated in beating Lee, but refused in cooperating with authorities when they tried to interview him. He has not been charged. 
Police obtained a search warrant for his home as well as the house where the party took place.
Since police filed a search warrant, more than 700 pieces of evidence have been collected, including cigarette butts, shot glasses and beer cans.
Police are looking into the possibility of gang activity.
Hosung Lee's death has since led to much soul searching with the assistant pastor at New Covenant Fellowship Church where Lee's family attended while he was in high school telling WJLA: 'I couldn't believe it, it was surreal.
'He was a typical kid who loved his friends and loved coming to church.'  
A GoFundMe page, which has raised more than $6,132 for Hosung Lee's funeral expenses, described Lee 'someone that had the kindest heart and was a blessing to those around him'.
An investigation is ongoing, with Fairfax police issuing an appeal to identify people who attended the party. So far no one has been arrested in connection to Lee's death. 
Anyone who has information is encouraged to call Detective Bond of Fairfax County Police at 703-246-4057.