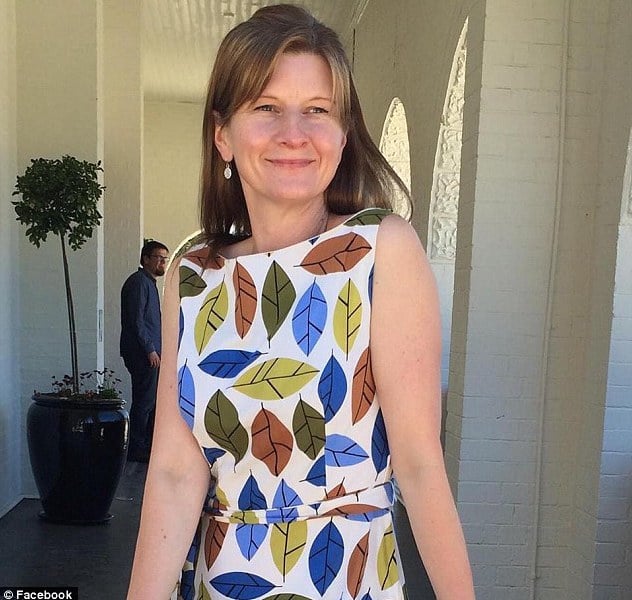 Thornton beach crocodile attack:What led to Cindy Waldron and a friend transgressing warning signs and swimming in crocodile infested waters?
Cindy Waldron, a 46 year old Australian female tourist is presumed dead after a fateful decision Sunday night to take a light night swim along the shallow waters of Northern Queensland, Australia's Barratt Creek which feeds into the Daintree river just off Thornton Beach, Cape Tribulation, leading to the woman being taken by a five meter (16 foot) crocodile.
According to the dailymail, Cindy Waldron, along with a 47 year old female friend, Leeann Mitchell who was left unharmed, had gone for a stroll before making a fateful decision to go for a dip in an area known to be infested with crocodiles.
A report via AP told of the two women swimming in waist-deep water, while paramedics reported they were walking in knee-deep water when the crocodile struck.
At the time, the friend felt a nudge only to notice her compatriot being taken by a crocodile saying, 'a croc's got me.'
Local reports identified the missing woman, Cindy Waldron from Oakey Park, just outside Lithgow in NSW. The other woman is from the Cairns suburb of Trinity Beach.
The attack prompted a large scale search in the far north Queensland rainforest, with authorities telling the missing woman has yet to have been found.
At the time of the attack just on 10.30pm, Sunday night, the missing woman's compatriot called emergency services to say her friend had been attacked while the pair had been swimming near Cape Tribulation.
Police attempted to find the woman overnight, but were unsuccessful, resuming the search at first light, Monday morning.
#BREAKING: A search is underway after a woman is believed to have been taken by a crocodile in QLD. #9Today https://t.co/EWBNpBMS9I

— The Today Show (@TheTodayShow) May 29, 2016
A report via Australia's ABC quoted Senior Constable Russell Parker who told that the pair had been swimming in waist deep water.
He said the 47-year-old friend tried to grab the other woman and take her to safety but wasn't able to.
Told the police officer: 'They had been walking along the beach and they've decided to go for a swim … (it was) probably a very nice, clear night, but obviously (they) may not have been aware of the dangers.'
'We believe they were visiting the area and weren't local to it,'
At first light Monday, the search ramped up further, with State Emergency Service volunteers, land and water police combing the bushland near Thornton Beach, where Waldron was taken.
The second woman, who reported the incident to authorities, was taken to Mossman Hospital with minor grazes and suffering from shock.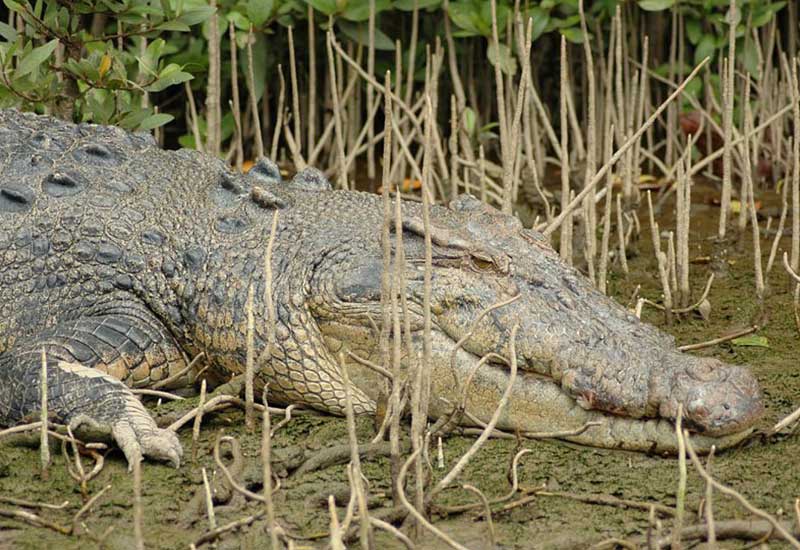 Told Neil Noble from the Queensland Ambulance Service: 'They felt a nudge and her partner started to scream and then was dragged into the water,'
Adding: 'The whole of Cairns and up into the Cape is known for its large crocodiles,'
'Certainly one has to be very careful around our waterways. Stay well away from the water when you can, especially when you can't see.'
'Just be very mindful that they are out there and that they can get you really quickly.'
The incident has led to shock and commiseration, with Douglas Shire Mayor Julia Leu telling in a statement: 'The community is shocked and saddened by this tragedy,'
'We've been through this before and our hearts go out to this woman's family and we feel very much for her friend, who was with her at the time.'
Federal MP, Warren Entsch was less sympathetic, telling the incident 'must not spark a hysterical debate about crocodile management in his electorate.'
'You can't legislate against human stupidity,' he told AAP on Monday.
'This is a tragedy but it was avoidable. There are warning signs everywhere up there.'
The case has echoes of a fatal croc attack near the Daintree River just before Christmas in 1985, in which a UK tourist went missing after a croc attack.
Beryl Wruck, 43, was taken by a five-metre croc after a fateful decision to take a late-night dip in the shallows of Barratt Creek after an evening of dancing and drinking with friends.
Sunday night's incident also echoes that of a February 2009 attack, which then saw five-year-old Jeremy Doble vanish when he was attacked by a 4.3-meter crocodile in a swamp behind his Daintree River home.
At the time, the child's seven-year-old brother told police he saw a croc in the water moments when his brother disappeared. No remains were ever found.
Sunday night's attack is the second attack in two weeks, with Noel Ramage, 72, drowning on May 17 after a crocodile reportedly overturned the boat he and his mate were in while crabbing near Gunn Point, about 40km northeast of Darwin.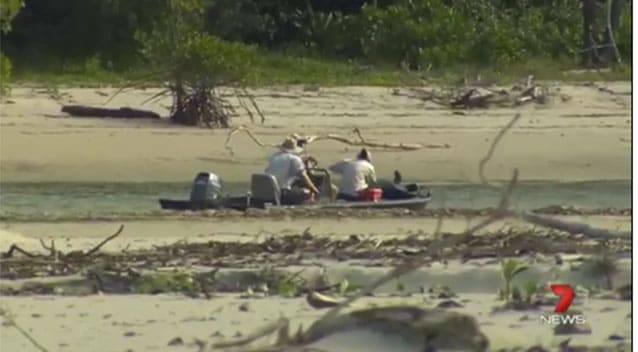 Fears a woman in her 40's been killed in croc attack at Thornton Beach – https://t.co/yNi3LuWqMB pic.twitter.com/YG02exCcH4

— hit105 (@hit105Brisbane) May 29, 2016
A search is underway after a woman was taken by a crocodile at Thornton Beach. https://t.co/2bSIMg5uwQ #7News https://t.co/uN90go8HO5

— 7 News Queensland (@7NewsQueensland) May 29, 2016