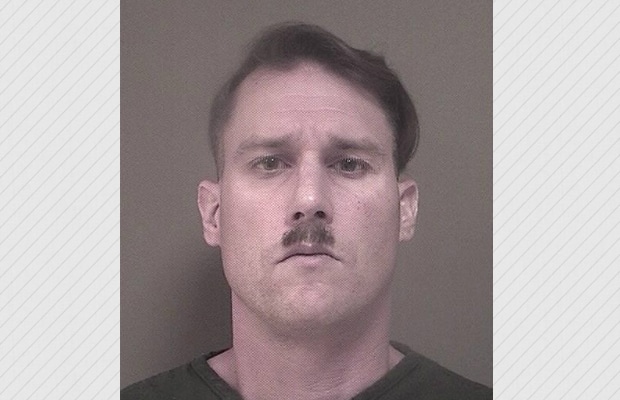 Was Bruce J. Post III a man deemed to be a possible white supremacist planning a possible mass shooting? A history of violent arrests.
An individual identified as Bruce J. Post III has been arrested by Lacey, New Jersey police after they came across the man armed with a cache of weapons, hundreds of rounds of ammunition and dressed in combat gear hiding in the woods, Sunday afternoon.
The arrest of the 42 year old Mercer County man, who bears an uncanny resemblance to tyrant white supremacist, Adolf Hitler (do you suppose?), according to a report via the Asbury Press, comes after the man was found hiding in the woods with another man during police surveillance of the Pinelands area amidst increasing 'criminal activity, trespassing and off-road vehicle violations.'
Since the man's arrest, police told Bruce J. Post III being linked to the 1995 murder of Andrew Whited, who was stabbed 29 times by his younger brother Joe, currently in prison for the crime. That episode led to Post serving two and a half years for hindering apprehension.
According to court records, Post is a felon who was sentenced to five years in prison for aggravated assault with a deadly weapon along with twice being convicted of hindering prosecution.
The felon's arrest led to Post being charged with a deluge of weapons violations.
At present only one of the two men found were booked, with Lacey police Chief David Paprota telling the second 'was detained at the scene and not arrested.' Charges against the second man may be pending.
According to Paprota, the two men were apprehended during a surveillance of the area by Sgt. Paul Sullivan, Jr., and senior officer Michael Eden after coming across an abandoned 2007 Hyundai Tucson that was pulled the side off Bryant road in the Greenwood Forest Wildlife Management Area.
At the time, the officers were acting as part of a multi-agency task force combing through the woods because of an increase in 'trespassing by persons in off-road vehicles, fire hazards, and criminal activity' in the area.
After deeming the men suspicious (can you tell why?) and upon deciding in searching the scene, police 'discovered an AK-47, a Walther P38 9 mm handgun, eight 30-round high-capacity magazines and one 100-round drum magazine, and various forms of ammunition at the scene within the woods.'
The officers also found several tarps and shovels.
Told Lacey police Chief David Paprota: 'One subject, identified as Bruce J. Post 3rd, was wearing combat gear and gave indications of possible white-supremacist involvement.'
Since coming across the men, Bruce J. Post III was charged with 'illegal possession of a weapon by a felon, illegal possession of a handgun, illegal possession of an assault weapon and two counts of illegal possession of prohibited magazines.'
Post has since been lodged in the Ocean County Correctional Facility in Toms River in default of bail, which was set at $400,000 with no 10-percent option.
Of note, Post's arrest comes after previously been profiled in an Investigation Discovery documentary Evil Kin: Brothers in Arms in relation to a 1995 murder in which Post was said to dress in a Nazi uniform and 'goose-step around the neighborhood.'
'He definitely had some neo-Nazi leanings and wasn't afraid to share them,' one interviewee recalled.