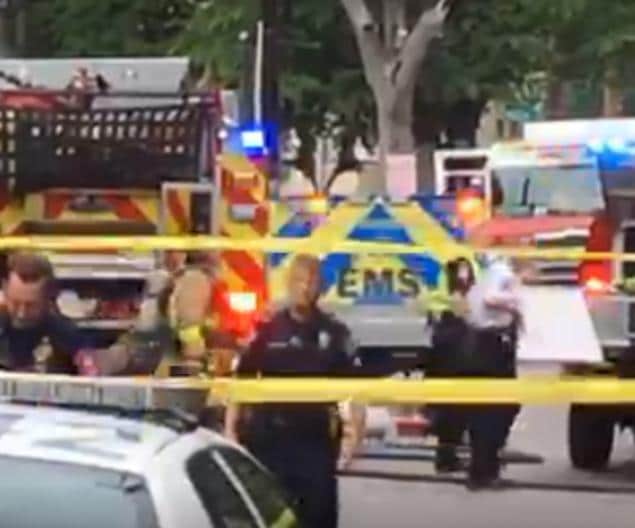 Suicide by sewer gas: University of Texas: What led to a taking their life with sulphur gasses? Investigators yet to understand how victim procured gas.
A University of Texas college student has committed suicide after the 20 something old inhaled sewer gas inside his campus apartment.
Originally found unconscious by emergency crew who rushed to the 21 Pearl building on the West Campus, Wednesday afternoon, the student died before emergency crew could revive the man,
Calls to the building came after smells of sulphur like substance permeated the building.
At the time of his discovery, a report via the dailymail told of the Austin Fire Department finding the since unnamed individual inside a closet having gone into cardiac arrest.
At the time of the student's death, who has yet to be confirmed to have been attending Austin's University of Texas, a door sign read; 'Danger: Watch out, hydrogen sulfide.'
A statement via Commander Mike Benavides, Public information officer for Austin Travis County EMS told investigators had yet to understand how the victim was able to get the gas inside the apartment.
The official also told of six people transported to hospital included a man and woman both in their 40s, two women in their 20s and a man in his 20s.
Those treated at the scene told Benavides included a man in his 30s, along with four women in their 20.
At the time of discovering the suicide victim, the official told of emergency crew spending up to an hour in an attempt to resuscitate the man before he passed away.
Benavides also told EMS had initially responded to a cardiac arrest call before an assessment of the scene led to it being upgraded to a toxic exposure and hazmat call.
In all, eleven people, including the building manager, suffered from non-life threatening injuries after being exposed to the toxic fumes, told the Austin-Travis County EMS.
It was not immediately clear if the student was the only person inside the apartment, however Austin Fire Department Lt Kevin Haas told he believed the student to be the only one inside at the time.
Benavides also said it seemed that the victim was removed from the apartment and was taken to a well-ventilated area around the same time the building was being evacuated.
Whilst officials believe the man's death was brought on by inhaling the suicide gas, a report via the  New York Daily News quoted medical examiners who told that they had yet to officially determine the official cause of death.
The purported suicide by sewer gas comes as hydrogen sulfide is a known hazardous substance otherwise referred as 'sewer gas' which is commonly used in chemical suicide. 
Offered Austin Fire Department Batallion Chief Palmer Buck: 'The concern with hydrogen sulfide is that it can be, at high enough levels, a lethal gas,'
Adding: 'We do feel pretty comfortable that is what this is. We have some final chemical analysis being done to verify that's what this is.' 
The Austin Fire Department (AFD) told of firefighters in hazmat gear evacuating 300 to 400 residents.
Francoise Luca, a representative for the building's management, said that the entire 136-unit building was evacuated to ensure the safety of its residents.
Luca also noted that the man was a student and had been living in the building, however it was not possible to confirm he was a UT student. 
One dead, three injured in hazmat incident at West Campus student apartmentshttps://t.co/FTWyXzQcM2 pic.twitter.com/S4dOSNsXTM

— KXAN News (@KXAN_News) April 13, 2016
AFD: "This is not an uncommon method of chemical suicide." 1 dead, hundreds evacuated:https://t.co/FTWyXzQcM2 pic.twitter.com/YyhNZPujj1

— KXAN News (@KXAN_News) April 13, 2016
Students evacuated for a hazmat situation at 21 Pearl. Corner of 21st and Pearl @KXAN_News pic.twitter.com/ZL6SP791BY

— Leslie Rangel (@Leslie_Rangel_) April 13, 2016
Offered ATCEMS Division Chief Eric Jakubauskas via KXAN: 'This is not an uncommon method of chemical suicide.
'You can search on the internet to see some of the different ways this is done.'
Pursuant to the incident, the property managers of 21 Pearl released a statement on Wednesday saying: 'Today at approximately 2:00 p.m. there was a report of a foul smelling odor at our 21 Pearl apartment complex in West Campus. 
'Our onsite management team quickly investigated and found the source of the odor. They also found a student unconscious in his apartment. 
'The Austin Fire Department and police department were called and they evacuated the building to ensure the safety of all our residents. 
'Tragically the student resident died and one of our staff members was taken to the hospital for evaluation. 
'Our heartfelt sympathy goes out to the family and friends of the deceased. Law enforcement will be conducting a full investigation of this accident. 
'The Austin Fire Department will advise us when it is safe for all residents and staff to return to the building. 
'The safety and well being of our residents and staff is our first priority, and we will be cooperating with the authorities to resolve this situation as quickly as possible. 
'We appreciate the patience of our residents during this process.'
As of Wednesday evening the building was being ventilated.
Wednesday's incident comes as the university is mourning the loss of freshman Haruka Weiser, 18, who was was found murdered on campus last week after she was reportedly sexually assaulted and then strangled to death.
Of question is what motivated the unnamed student on Wednesday to kill themselves and why they chose suicide by sewer gas and whether the student sought or had been offered counsel before taking their own life?