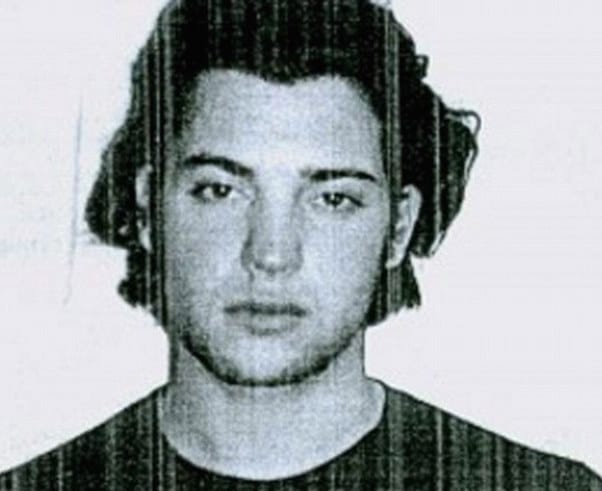 Peter Brant Jr: Just a troubled socialite struggling to find equilibrium in a giddy too surreal glitzy world or wounded young man screaming for help if only someone paid attention?
Entering tabloid haven is the interesting visage of Peter Brant Jr, the son of former supermodel Stephanie Seymour and her billionaire husband Peter Brant who is insisting on getting his mug in the tabloids with back to back nefarious behavior. This time purportedly skipping out on a $2000 dinner bill at Nobu Tribeca in NYC.
$2000 dinner bill? That if memory serves me correct is what I once found myself spending on a whole year's allotment of food during one stage of my finicky career as a writer. But then again I am not the glorified son of an elite couple who knows his weight in blood and diamonds.
This weeks fun adventure staring Peter Brant Jr who we have been led to believe is a socialite on the rise (really? – that's being generous, who knew one gained social status simply for who they happen to have as parents?) includes him running out on a bill he declined to pay and how.
According to a report via pagesix who have all but already spirited the 22 year old brat (did I call you that Peter?) as the next male studly version of Parisite Hilton but with better looks (sorry Paris…) the nonchalant uber son had turned up for dinner with a cohort of wealthy group of friends, aka, Gaia Matisse and Kyra Kennedy.
Yes folks, if you look closely at their surnames, these are the gratuitous  offspring of legends who simply get to do as they please whenever they please. And hardly have a problem affording it.
Other uppity names Peter is said to be associated with also include Princess Maria-Olympia of Greece, who according to the dailymail he is rumored to be dating and was recently seen at a pajama party hosted by Dolce & Gabbana.
For reasons not necessarily understood, Peter Brant Jr then proceeded to order $2000 worth of goodies, which makes one wonder is Nobu really that expensive or has the young 'socialite' already acquired a refined palette for the finer things of life where he knows off the bat what to choose off the menu. The whole damn thing I wonder.
Either way, after presumably ordering a choice of choice of good tucker, and perhaps some major grog (which is not on the cheap at Nobu, rare sake can run up to $480, while the top bottle of Dom ­Perigean goes for $960) our collective hero decided for reasons not clearly understood to bail. Things one imagines the children of the elite and well to do are taught early on never to do. Except when they can. Never mind.
Told a source (aka publicist, let's not pretend otherwise) via pagesix: "But when it came to paying the bill, Peter ran out of the restaurant." And when "Nobu staff tried to make him pay . . . He started arguing, and then ran out. '
From there the young socialites dinner pals were obliged to meet the expenses of their partner in crime's boorish behavior.
Added the source: 'The girls were horrified and had to split the bill between them.'
Presumably quite horrified but alas resigned to take out the family diamond Amex and swipe the whole awkward episode away.
The latest fiasco in Peter Brand Jr's interesting life comes after a very recent episode in which the young L'uomo Vogue could be model saw himself booked on felony assault 'on a Port Authority cop after JetBlue staffers told him he was too drunk to board a recent flight to West Palm Beach, Fla.'
At the time Brant Jr insisted he only had three drinks before becoming 'agitated, upset and boisterous.'
Three drinks with along with what else wonders me? But that's Peter's secret.
Never mind Peter, things are sure to look up, the truth is I also hate it when airline staff don't see the virtue of letting us loud obnoxious types get on the plane with all you other sane types.
Either way, one has to wonder what the up and coming socialite's parents think of all this, whether they have seen it all before, lived it all before (yes in fact they have) and whether there is any hope for Peter Brant Jr as he makes his entry into society and stumbles into a delicious mess.
Next round on you Peter…
Famous enfant terrible Peter Brant Jr. arrested after alleged drunken airport tantrum https://t.co/iw1ECwzBWE pic.twitter.com/CjLsofdAsk

— VANITY FAIR (@VanityFair) March 25, 2016
Peter Brant Jr.'s lawyer: My client 'is an idiot' https://t.co/yeuKa8DYFI ICON!

— FRM (@frontrowmeme) March 25, 2016