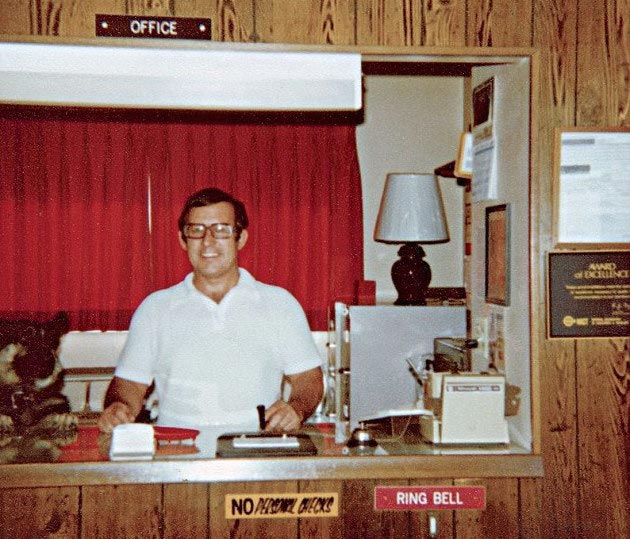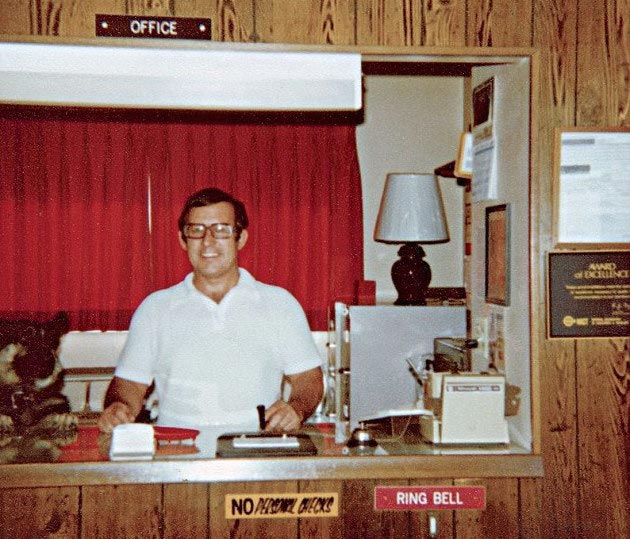 Gerald Foos Aurora motel owner: Journalist Gay Talese's account of a man fascinated with others sex lives. A study of a pervert or that of a voyeur?
A new upcoming book, The Voyeur's Motel as written by journalist Gay Talese has lifted the lid on former Aurora, Colorado motel owner Gerald Foos who conceded to secretly watching hundreds, if not thousands, of guests over the course of 29 years having sex at his venue.
In his account, Gay Talese documents how Gerald Foos' two wives came to know of his deceit and even supported him, of how the motel owner fitted more than a dozen rooms with fake ceiling vents along with secret peep holes in which the motel owner lived an alternate voyeur life.
The account first began in 1980 when Talese was first contacted by Foos writing the journalist a letter, telling: 'Sexually, I have witnessed, observed, and studied the best first hand, unrehearsed, non-laboratory sex between couples, and most other conceivable sex deviations during these past 15 years.' 
The letter came after Gerald Foos heard about Talese's coast-to-coast study of sex in America – 'Thy Neighbor's Wife' – and felt they shared similar interests. 
The accounts since led to Gay Talese getting ready to publish a book documenting the voyeuristic realm of his subject matter,  The Voyeur's Motel, in July but until then he published a story in the New Yorker about the father-of-two who kept detailed notes of everything he witnessed through the ceiling vents and how he never got caught.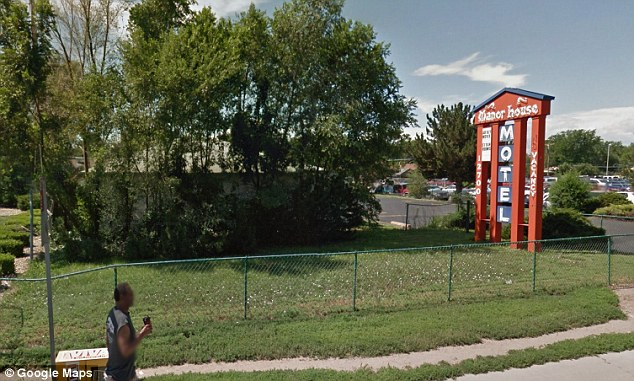 Told Gerald Foos who know lives in Denver with his second wife via the Denver Post: 'It's my life — my secret life,'
Adding: 'I think the book will create a real situation, let's put it that way. I don't know if I'm ready for anything, to be honest with you. I'm just a poor soul.'
According to Gerald Foos, he specifically purchased the 21-room motel to achieve his 'uncontrollable desire to peer into other people's lives.'
Foos said that both of his wives supported him watching his guests have sex, and that his first wife, Donna, assisted him when he cut rectangular holes measuring six by fourteen inches in the ceilings of the rooms.
From there the motel owner covered the openings with louvred aluminum screens that appeared to look like ventilation grilles, but were actually vents that allowed Foos to watch people have sex while in the attic. 
Foos shared that his wife Donna would sometimes join him and watch guests have sex, as they sometimes would engage in sex on the viewing platform.  
In 1973, Foos created a report 'trying to identify significant social trends and noted that of the 296 sexual acts he'd witnessed, 195 involved white heterosexuals who favored the missionary position. 
In the report from that year, Foos counted 184 male orgasms and 33 female orgasms, as only three percent of his guests failed to have sex. 
Which is to say Gerald Foos was very committed to keeping a very accurate and regular account.
The motel owner's account included him categorizing people according to their sex drive as he observed that 62 percent led 'moderately active sexual lives' while 12 percent of all observable couples at his motel were highly sexed', and 22 percent exhibited a low sex drive, the Post reported. 
Foos' first wife Donna died in 1985 and he eventually married a woman named Anita Clark.  
Talese concedes at one point visited Foos at the motel, and joined him in watching a young couple who came to Colorado on a ski trip. 
Writes the journalist in the NewYorker" 'I saw a naked couple spread out on the bed below.'
During that account, Talese recalls how Foos became irritated with him after leaning in to get a better look only to have his necktie slip through the screen that shielded the spyhole and dangled 'within yards of the woman's head.'
The next morning, Foos volunteered to Talese 'The Voyeur's Journals, which was 15 years of detailed notes the motel owner had taken on yellow legal pads on what he'd observed in his motel. 
In reading Foos' notes, Talese discovered that the owner also watched his guest's bathroom habits as he viewed posts he'd installed in several bathrooms.  
Eventually, Foos developed a relationship of trust with Talese and began mailing him hundreds of pages of typewritten manuscript of the logs through 1978.
In those logs, Talese was shocked to read about how Foos described a murder he claimed to witness one night. 
'The male subject grabbed the female subject by the neck and strangled her until she fell unconscious to the floor,' Talese wrote in the New Yorker, quoting from Foos' journal. 
Foos claimed the next morning a hotel maid found the woman dead in the room, but never reported to police what he witnessed. 
Aurora police said they could find no record of the murder, and coroner's offices had no record of it.
Talese and Foos lost touch with each other over the years but reconnected in 2012 after the Aurora shooting. 
By 2013, Foos told Talese he was ready to go public with his story, even though he sold his motel in 1995. 
Foos reportedly maintains that none of his guests at the now-shuttered motel were hurt or harmed by his voyeurism, since they never knew he was watching them. 
Perhaps all too aware of how his admission would play out on former hotel visitors, Foos told the Denver Post he wanted to be seen as a 'sex researcher and social observer' and not a Peeping Tom or pervert. A claim that unsurprisingly many former guests and readers of the upcoming book will have a hard time believing or at least wondering.
Of note, Lynn Kimbrough, spokeswoman for the Denver District Attorney's Office, told the Post the statute of limitations has passed for any crimes that might be connected to Gerald Foos voyeurism. Not that really ever concerned the former motel owner who went about living his alternative voyeur life through his unsuspecting motel guests.