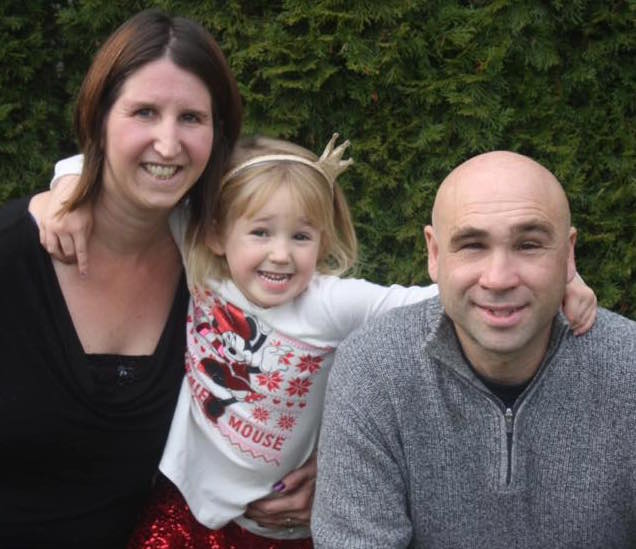 What did Kelly Sugarman's toddler daughter witness as Grafton, Massachusetts authorities are now set to charge the child's father with the murder of her mother after finding the man with self inflicted wounds.
A wandering five year old girl by the side of a Massachusetts road has led authorities to a horror scene after authorities discovered the morbid scene of the toddler's dead mother, Kelly Sugarman and the child's seriously injured father nearby with a knife protruding from his neck at the family home.
Authorities were alerted to the bloodbath after an officer spotted the little girl walking alone in her pajamas down a busy street in Grafton, Wednesday morning.
According to a report via NECN told of the toddler walking toward the direction of her preschool before leading police back to her home about a block away.  
Asked how she came to end up walking along the street, Worcester County District Attorney Joseph Early Jr. said in a press conference the five year old telling police, 'Mommy is sleeping,' 'Mommy is sick.'
Upon arriving at the family home and forcing their way in, police came upon the toddler's father, 42-year-old Michael Sugarman, on the floor with a knife he was holding 'protruding' from his neck. 
The child's mother, 36-year-old Kelly Sugarman, was found dead in an upstairs bedroom by police officers.
Michael Sugarman was taken to a local hospital and murder charges against him are likely to be filed.
The DA told that the father's injuries were self inflicted, while adding it was not clear exactly what the child witnessed.  
'Keeping in mind we are early in the investigation, the appropriate charges will be forthcoming,' Early told NECN.
The little girl was examined at a hospital and has been released into state custody. 
Police say an autopsy will be conducted on the mother to determine an exact cause and manner of her death.
Offered neighbor Jackie Costello via Fox 25: 'The only thing that went through my mind all day and still goes through my mind is what she saw and what she might have been running from. It's horrible.'
Told another neighbor via CBSBoston: 'They never said 'hi,'
'They're new neighbors. You just never know.'
Worcester County DA Joseph Early went on to tell he was 'not ready at this point to call the episode an attempted murder suicide,' while adding, 'We're very early in the investigation.'
'We do anticipate murder charges being brought against Mr. Sugarman.'
Grafton Police Chief Normand A. Crepeau said police had no previous contact with the couple and that no domestic violence incidents were reported at their home.