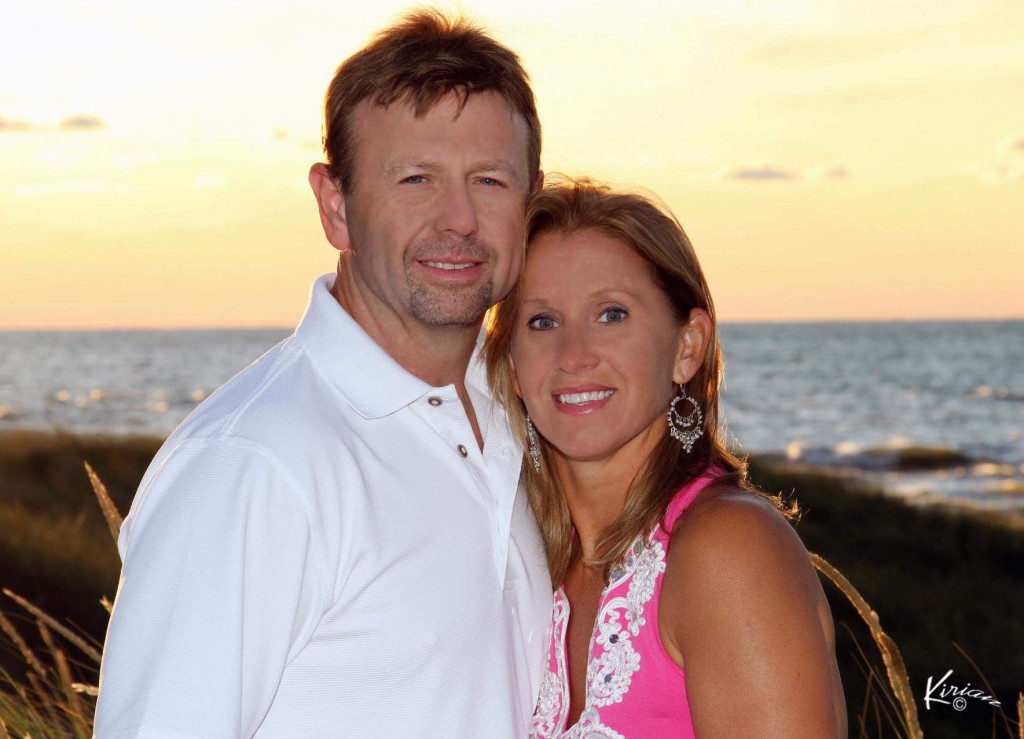 Denise Bohn Stewart Michigan radio show co host murder and husband suicide. How long was marital strife degrading one couple's relationship? Police believe husband planned shooting.
Authorities suspect marital problems may have led to Denise Bohn Stewart a Michigan radio show being shot dead by her husband in a murder suicide early Tuesday morning.
The woman, who had survived breast cancer was found dead in the family bedroom, while her husband, Eric was found dead in the family basement.
Police say the husband shot Denise Bohn Stewart at their upscale Berrien County, Michigan residence whilst the couple's three children, aged 10, nine and eight slept.
Upon shooting the popular morning show host, 'multiple times,' Eric Stewart went downstairs where he then shot himself dead.
Bohn Stewart was the co-host of "Denise & Jonny in the Morning" on 98.3 The Coast. She'd also been an award-winning TV reporter for local news station, WSBT-TV.
Americanwriter.US Denise Bohn Stewart, Eric Stewart dead in murder-suicide – The Elkhar… https://t.co/kMpptSQAj8 https://t.co/d9kUEEaWOC

— AMERICAN WRITER (@UCMTSU) April 19, 2016
Police confirm radio host Denise Bohn-Stewart, husband found dead inside their home in Royalton Township – @FOX17 pic.twitter.com/LqmjMFXYhF

— L. Edwards (@CallMeLedwards) April 19, 2016
UPDATE: Three children were found inside the home, they called 911 reporting a "man down" pic.twitter.com/8uGGNinZcZ

— Tricia Harte (@TriciaHarteWNDU) April 19, 2016
It wasn't until the following morning circa 6.30 am that one of the couple's son made the grizzly discovery of their parent's deaths.
A report via WSBT, told of police dispatch recordings revealing the son telling his father 'passed away in the basement' with 'blood all over' while saying he couldn't find his mother anywhere.
The children told police of having heard 'bangs' before finding their father dead.
Since the murder suicide, Lieutenant Chuck Christensen, Michigan State Police, said 'there is some indication this was planned', adding that Stewart used a handgun to carry out the killings.
Preliminary investigations led to neighbors telling authorities the couple having marital problems.
A report via WNDU told of Denise Bohn Stewart having worked as a TV reporter for 14 years at WSBT before leaving to co-host the morning show on 98.3 The Coast based in Benton Harbor, Michigan in 2015.
Tragically it wasn't until later that fellow workers at Denise Bohn Stewart's place of work found out that she had been killed after initial concerns as to why the co host had yet to arrive for that morning's episode.
Co workers had initially speculated Stewart had planned to do a 'surprise' show from home.
Upset to hear about the passing of my friend, community leader, & reporter, Denise Bohn Stewart. #RIP #PrayerRequest pic.twitter.com/8qTcHnxF6D

— Senator John Proos (@JohnMProos) April 19, 2016
We knew Denise Stewart, as Denise Bohn. Local reporter and radio host. Just awful news, prayers for her family. pic.twitter.com/6MQ8pRhcTB

— Tricia Harte (@TriciaHarteWNDU) April 19, 2016
Paying tribute to the slain woman, fellow host Johnny Reinhardt told: 'I am not sure what to say.Denise and I shared so many laughs every morning.'
'I had only known her for a short time but it was like we were brother and sister.There are no words. I didn't just lose a co-worker today. I lost a friend.'
Meanwhile John Haferkamp, WSBT 22 News director, said: 'The entire WSBT 22 News family is saddened by today's tragedy.
'Denise was not only a fellow journalist, but a friend to many of us. Denise was hard-working, caring, and loved our community. 
'Her strong passion for life, for news, and sharing great stories will be greatly missed. Our thoughts and prayers are with her children and family.'
As well as being known for her work as a journalist, a report via the southbendtribune told of Stewart being prominent in the local community as a breast cancer survivor, having helped raise money and awareness about the disease.
Denise Bohn-Stewart was a staff member at Susan G. Komen Michigan, a charity dedicated to helping fight the disease, helping organize events and serving as its vice president, according to the group's website.
Ironically, the journalist's death came a day after posting on Facebook that it had been eight years since she was declared cancer free.
Born and raised in Michigan, Stewart graduated from Michigan Lutheran High School in 1989 before attending Michigan State University.
Meanwhile husband Eric, originally from West Virginia, was a long-time employee of a nearby nuclear power plant.
A statement from plant owners told: 'Eric Stewart was a 28-year AEP employee. He was a maintenance supervisor. 
'Our thoughts and prayers are with all those impacted by this terrible news, as well as with all of our employees. We have made grief counselors available to our employees. 
'We're still processing this ourselves. That's all we have to say at this time.'
The couple's children have since been placed with family.