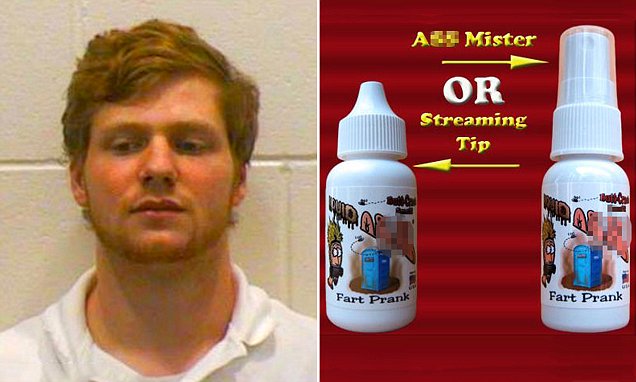 How Blake Leland Zengo came to quickly empty a bar venue after unleashing a secret fart spray on his person, Liquid Ass. Fun, mayhem and pleasure in Athens, Georgia.
20 year old Blake Leland Zengo has been arrested after terrorizing bar patrons at an Athens, Georgia venue after unleashing a bottle of farts, 'Liquid Ass.'
Yes kids, you read right- farts.
According to a report via Online Athens so heinous were the man's antics (who later conceded to being 'blind drunk') that one woman accused her attacker of spraying the stinky substance in her face. Do you suppose?
A police report noted the 'stinky incident' taking place on Saturday, April 8 circa 1.40a, at Whiskey Bent, located on East Clayton Avenue in Athens, Ga.
Upon arrival, officers noticed several patrons quickly leaving the establishment, making complaints about how bad the inside smelled. One woman pointed out Blake Leland Zengo, 20, to the officers, saying she was sprayed in the face by Zengo with the Fart Spray. 
Will you too now be looking to stockpile your own cache of 'fart spray' to entertain bored dinner guests?
According to the police report, Zengo, who was described as 'very inebriated,' (formal language for shit drunk) stated he did not know what was going on and did not spray anyone with anything.
Except Blake Leland Zengo hadn't necessarily told the whole truth.
After apprehending our collective hero, cops discovered a spray bottle on his person with the caption, 'Fart Prank/Liquid Ass.'
That's rather stinky of you Blake!
A cursory regard of Liquid Ass's website reveals the following description: 'Once unleashed, this power-packed, super-concentrated liquid begins to evaporate filling the air with a genuine, foul butt-crack smell with hints of dead animal and fresh poo. 
'The funny pranks you can pull with Liquid A** are unlimited. 
'Watching the facial grimaces of people and hearing their comments about the part-your-hair, gagging stench will have you laughing until it hurts.'
For his efforts, Blake Leland Zengo was placed under arrest for underage possession of alcohol, disorderly conduct and public intoxication.
He was taken to the Clarke County Jail where he posted $1,500 bond and was released. Indeed.