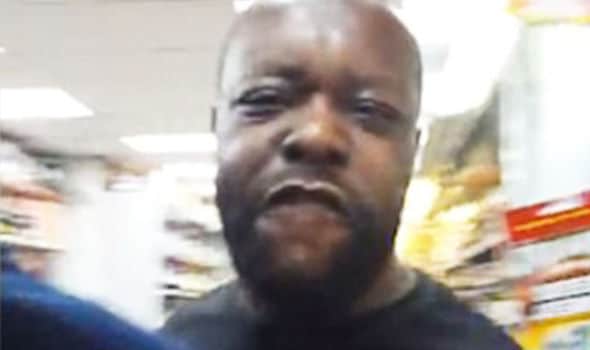 How Ahlam Saed a UK Muslim woman wearing a veil came to be recipient of vicious barrage of racism. How community attitudes towards Muslims continue to disintegrate.
Ahlam Saed a woman of Somali heritage has filmed the moment she was verbally abused by a shopper at a Shepherd's Bush store in west London during a recent shopping expedition to the corner store.
In the filmed tirade (see below), the abuser is heard hurling a series of expletives at the Muslim woman who at the time was wearing a veil.
Throughout the ensuing dispute, the man continues swearing at the 25 year old British charity worker, repeatedly asking her 'why do you wear that' referencing her face veil.
In a report via the eveningstar, Ahlam Saed tells how she first head the man humming the theme tune to a Bruce Wayne cartoon before saying to his two young daughters: 'Look kids, Batman has walked in'
She claims he added: 'Say what you want girls, she won't understand English anyway.' 
It was at this point that Ahlam Saed decided to film the man with her phone.
In the clip the man is heard asking: 'How do they know if you're a man or a woman?'
In turn the upset woman tells her abuser to set a better example for his children.
She replies: 'You're ignorant you need to grow up and stop teaching kids that [language].'  
During the argument one of the man's daughters is seen covering her face and crying, clearly upset by the fact her father is screaming at another woman.
At one point in the clip the man says: 'I know a white girl who married a Muslim man and she has an ISIS flag on her back wall.'  
Even when the shop keeper and a Muslim customer intervene in order to put a halt to the man's abuse, Ahlam Saed's abuser continues to verbally attack the flummoxed woman.
After the man repeatedly orders Ahlam Saed to stop filming his children, the video ends with her being ushered out the store.
After filming the exchange, Saed told she wanted to share the video to show others the abuse Muslims are sometimes faced with in London.
Offered the woman: 'I had to stand my ground, I didn't want him to think he could continue hurling abuse.'
'I only wanted to get a packet of Starburst,'
'I walked in and he decided to call me Batman and started singing the theme tune.'
'I could not ignore him, that's why I decided to get my phone out, because I have had this abuse before in a pound shop [from someone else].'
"I had to stand my ground, I didn't want him to think he could continue hurling abuse.'
In an interview with the dailymail, Saed explained she had never met the man before and that she was simply minding her own business when the dispute started.
Told the abused woman: 'At first I was angry with what he was saying but I decided to filter it out and show him that I did speak English and that I am educated.
'But all I got was effin and blinding, so it was was useless trying to have a conversation.
'It's upsetting that people like me, who were minding their own business, have to go through this sort of thing.'
Ahlam Saed said she had not informed the police of the exchange but is planning to.