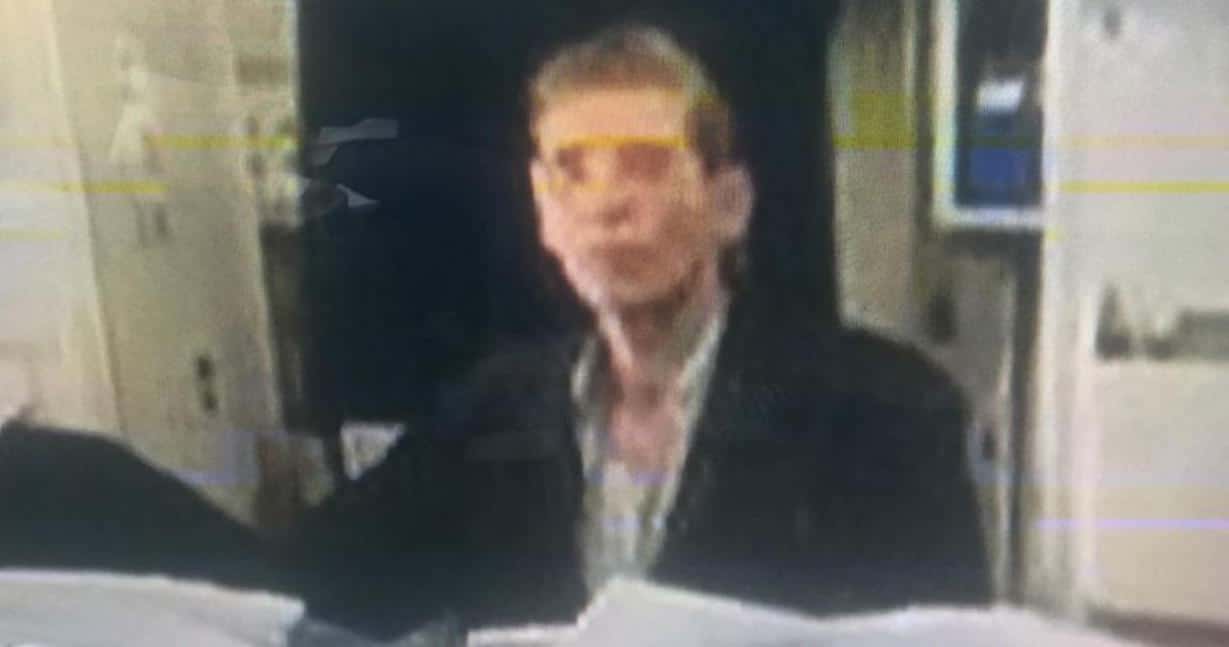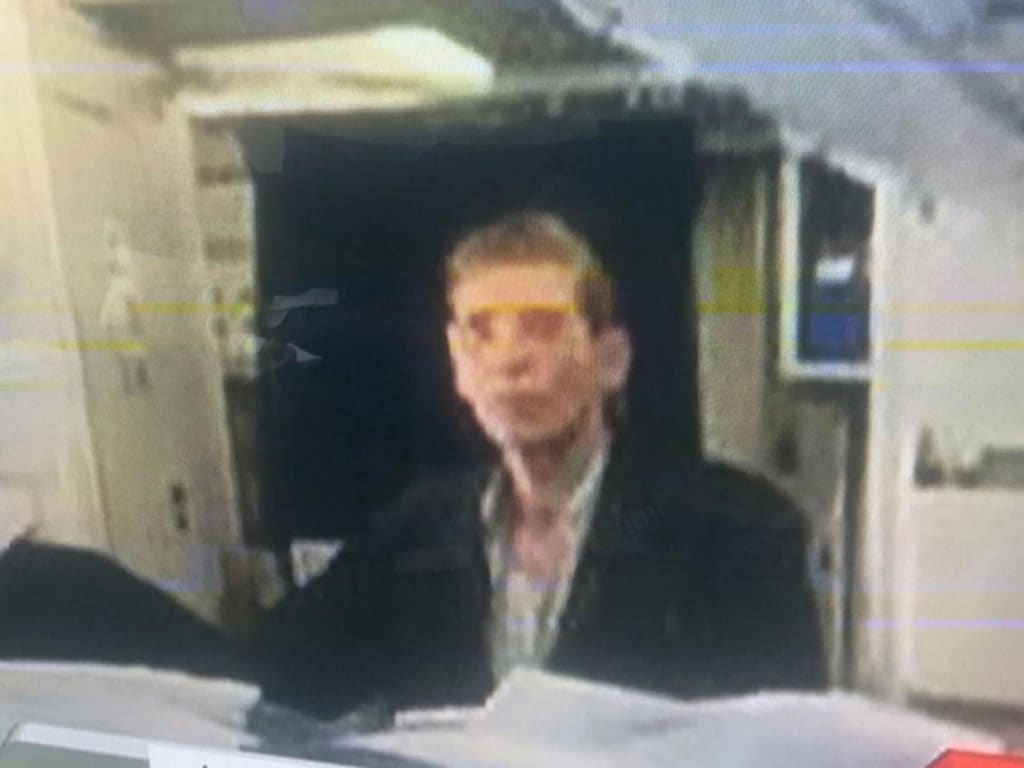 Why did Ibrahim Samaha an Egyption national seek to hijack EgyptAir Flight MS181? Releases all but 4 passengers demands sending letter to Cypriot woman.
Ibrahim Samaha an Egyptian national in his 20's has hijacked EgyptAir Airbus 320 plane, flight number MS181 en route from Egypt's Alexandria to Cairo after having strapped himself with a suicide belt full of explosives.
Although yet to be confirmed, reports now tell that the hijacker has sought political asylum in Cyprus.
According to latest reports the hijacker has now also 'demanded to send letter to Greek Cypriot girl".  It is thought she is his ex wife, with whom the broken hearted man wants to be with.
Upon the plane landing, Samaha threw a letter written in Arabic on to the airport tarmac asking that it be delivered to the woman, who is Cypriot.
Preliminary reports tell that Ibrahim Samaha is a medical student' from an American University- Atlanta University. With authorities since the incident first unfolded now doubting the man having explosives.
At the time the flight took off local time at 8am only to be diverted to Cyprus' Lanarca airport where the plane touched down less than an hour later where the hijacker initially demanded receiving political asylum in Turkey
A spokesperson for the Egyptian government said the hijacker wanted to travel to Istanbul but decided on Cyprus when he was told there was not enough fuel for the journey.
'Arrested' Seif Eldin Mustafa EgyptAir hijacker poses for selfie with passenger
'It's not me' Dr Ibrahim Samaha denies he's the Egypt Air hijacker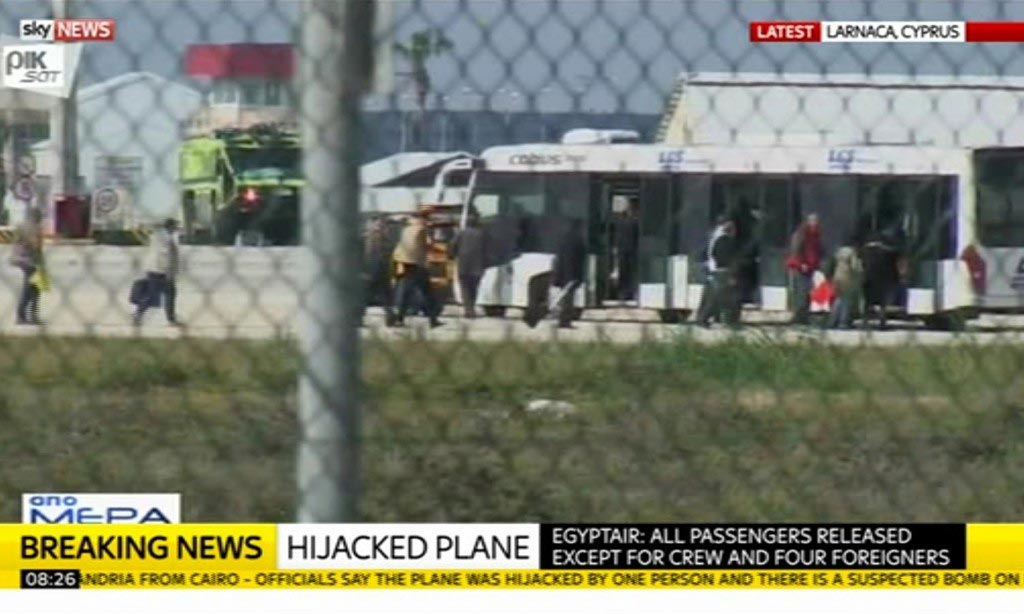 Hijacker Ibrahim Samaha teaches at Atlanta University, says Head of Burg Al-Arab airport

— Daily News Egypt (@DailyNewsEgypt) March 29, 2016
Alleged hijacker sent letter in Arabic to ex-wife living in Cyprus, according to Cypriot media

— Daily News Egypt (@DailyNewsEgypt) March 29, 2016
There are no explosives on the plane, according to Cypriot media

— Daily News Egypt (@DailyNewsEgypt) March 29, 2016
Reiterated an official tweet from EgyptAir: Our flight MS181 is officially hijacked. we'll publish an official statement now. #Egyptair" 
A statement from the Civil Aviation Ministry, described EgyptAir Flight MS181 pilot Omar al-Gammal telling authorities that a passenger possessing a suicide belt forcing him to land in Lanarca.
After the plane with 55 passengers and four crew members landed the hijacker demanded that police stay at bay whilst allowing all the passengers except four to leave, while still holding on to all airline crew against their will.
Told a statement from EgyptAir: Negotiations with the kidnapped result in the release of all the passengers, except the crew and four foreigners.
Passengers on the plane included eight Britons and 10 Americans, three security sources at Alexandria airport said.
BREAKING: All passengers except crew, 4 foreigners released from hijacked EgyptAir MS181 jet https://t.co/2NJqTzovzR https://t.co/OnkZllf7UE

— CNN (@CNN) March 29, 2016
Eight Britons and ten Americans reportedly aboard hijacked #EgyptAir passenger plane https://t.co/UWygkIGxMl

— Sky News (@SkyNews) March 29, 2016
We are following reports that #MS181 has been hijacked. The aircraft has landed in Larnaca. https://t.co/ZAfjZmVBSJ pic.twitter.com/fNWiiaYZtQ

— Flightradar24 (@flightradar24) March 29, 2016
Upon learning of the initial hijacking of the plane, Israel scrambled warplanes in its airspace as a precaution, according to an Israeli military source quoted by Reuters.
Local reports, told of the island's state broadcaster saying the airport since been closed and scheduled flights were being diverted elsewhere.
Told Foreign Ministry Permanent Secretary Alexandros Zenon via French iTele television: 'The information we have so far is that it is one hijacker. The person has yet to make any demands.'
It is believed negotiations are ongoing as pundits wonder if Ibrahim Samaha  is acting out either on either a terrorist operative mission or is a lone desperate man, and whether any explosives exist in the first place?
Reflected one journalist on social media: 'He's not a terrorist, he's an idiot. Terrorists are crazy but they aren't stupid. This guy is,' 
#EgyptAir hijack:

– Flight #MS181
– Alexandria to Cairo
– Lands in Larnacahttps://t.co/V0uN6gn1vF

Latest video: https://t.co/zUeD4xS6f6

— Bloomberg Business (@business) March 29, 2016
Pilot of hijacked #EgyptAir jet told officials that a passenger carried suicide belt, report https://t.co/LLapHFthk9 pic.twitter.com/Gmm9DA5CER

— AJE News (@AJENews) March 29, 2016
The hijacked #EgyptAir jet sits on the runway with at least one armed man on board https://t.co/hHzuiVgz1Y pic.twitter.com/NI87S8i0o5

— Daily Mail Online (@MailOnline) March 29, 2016
Officials: Negotiations with #EgyptAir hijacker result in release of all passengers, except for crew & 4 foreigners. https://t.co/9so0aKCjza

— CNN Breaking News (@cnnbrk) March 29, 2016
#EgyptAir #MS181 hijacker forced emergency landing in Cyprus for jet en-route to Cairo https://t.co/T6hNEizNk1 pic.twitter.com/7EHzELvas8

— Daily Mail Online (@MailOnline) March 29, 2016