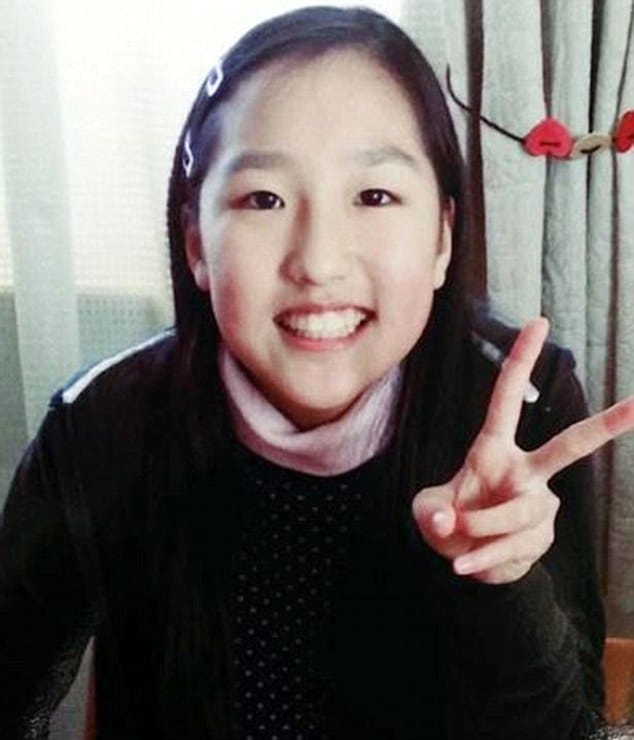 Was Ana Saito a 15 year old Japanese school girl complicit in her purported abduction at the hands of a University student?
Ana Saito a fifteen year old Japanese teenager has told of how she managed to escape her captor's Tokyo apartment after allegedly being abducted by the man over two years ago and made a prisoner.
Her release tell police comes after the alleged captor forgot to look the door to the room where she was being kept, leading to Ana Saito's daring brazen escape into freedom on Sunday.
At the time of her discovery by police in downtown Tokyo, the girl told of being kidnapped by Kabu Terauchi who had left long enough for her to escape and call police from a payphone.
According to authorities, Saito described how in March 2014, she was on her way home from school in Asaka, Saitama Prefecture when the man abducted her and kept her prisoner ever since.
A source told of Terauchi tricking the girl into accompanying him by falsely telling her that her parents were getting divorced and that he would take her to a lawyer's office.
The 15-year-old was reported missing by her family two years ago, after observed speaking to a young man near her home, now believed to be Terauchi.
According to a report via the JapanTimes after Ana Saito's abduction, her family received a handwritten note, which read: 'I need a little break from home and from school. I'll be at my friend's house for now. Please do not come searching for me.'
At the time it was not necessarily understood by the girl's family whether they believed the letter to be written by her and to what degree they pursued finding her?
Offered the missing girl's father upon reconnecting with his daughter: 'I'm really relieved. I want to spend time with my daughter so that we can regain time we've lost.'
During questioning by police, the teen told how she'd been locked in Terauchi's apartment ever since, unable to contact her family as he 'always kept close tabs on her'.
Media reports say Terauchi moved his captor several times before they ended up at a small flat in a busy residential area of Higashi-Nakano in Tokyo.
Of interesting note, neighbors told reporters that they had talked to Terauchi and found nothing suspicious about him. There were no reports of fights or loud noises from inside the flat. Raising the awkward question was the abducted teen to some degree a willing participant in her abduction?
Why the man chose to lock the girl up is yet to necessarily be understood and what and or if any physical, emotional abuse the schoolgirl suffered at her abductor's hands.
Told Saito to police: 'The man went outside, saying he would go to Akihabara. Usually the door was locked from the outside, but it was not today.'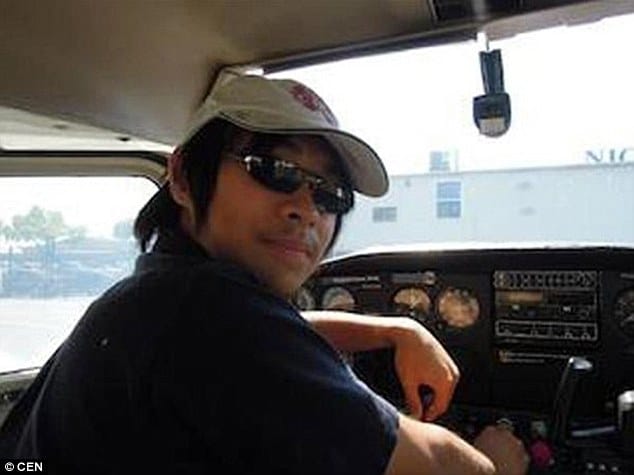 Terauchi, from Nakano Ward, Tokyo, was arrested on Monday, after police received a call reporting a man 'covered with blood walking around', the day after the teenager's escape.
Terauchi had reportedly attempted to commit suicide using a box-cutter after the teenage girl fled his home
He was taken to hospital with a minor self-inflicted injury to the neck, with police now planning to formally charge the teen's abductor with kidnapping once he recovers.
A Facebook page believed to have been created by the suspect, originally from Ikeda, Osaka Prefecture, says Kabu Terauchi attended an aviation school in the U.S. It also carries a photo of him posing with a small airplane.
The website of the California aviation school says he got a private pilot's license in September 2013.
Terauchi reportedly graduated from Chiba University this month, having studied for his engineering degree while allegedly keeping the girl locked in his apartment. It is understood Terauchi had been set to start working in April with a new employer.
Why the university graduate sought to keep one Japanese teen school girl prisoner has yet to be fully understood.