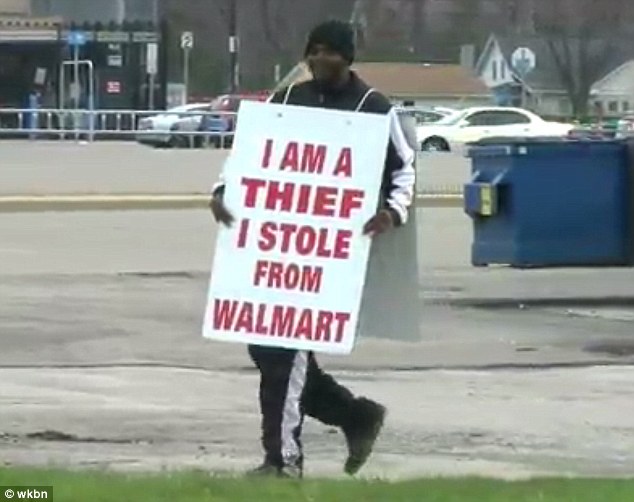 Greg Davenport punishment: An experiment in public humiliation or a sure fire way to get repeat offending members of society to shape up? But at what cost?
Greg Davenport a 43 year old Ohio man has caused disconcert after choosing to wear a 'I am a thief' sign instead of serving 30 days in jail after pleading no contest after trying to walk out with a 52 inch TV at a local Walmart store in December.
Upon a Girard Municipal Court judge finding Davenport guilty earlier this week, Davenport was given the option of serving 30 days jail or wearing a sign, saying 'I am a thief. I stole from Walmart.'
Choosing to serve his punishment by wearing the sign, Davenport is now required to stand in front of the store which he tried stealing from eight hours a day for 10 days.
As part of his punishment a store employee comes out every other hour to make sure Davenport is walking the street.
Whilst the man's decision has made some wince, Davenport has responded that wearing the sign is better than being in jail, while also conceding he chose the 'deal' so he could take care of his parents.
Told Greg Davenport via WKBN: 'I stole, I got punished.'
Responding to the argument that the punishment is heavy handed and humiliating, Liberty Police Chief Richard Tisone said he believed that the sign was sufficiently embarrassing and would make Davenport who has a number of previously petty charges against him think against stealing in the future.
Told the police man: 'Maybe they're a little embarrassed by the fact they have to hold a sign up, so it might affect some of these individuals, so I'm all for it,'
Which raises the question, what's better, subjecting oneself to humiliation in front of the public for ten days or doing one's time inside for 30 days where no one is spared public humiliation? Which of course raises the question of how a society chooses to punish those members that disobey laws and how it can begin to get said members to obey the law but at what price?
And then there were these comments on the web that made me wonder. See what you think?
Actually who ever gave him that sentence is a genius.
That sentence probably will do more than spending 30 days in jail.
Seems to think he is now a celebrity. Make him pick up the trash in the parking lot and sweep the sidewalks. This one is a habitual shoplifter to begin with. Should be banned from all Walmarts too.
Does anyone believe him when he says he's done stealing? Anyone??