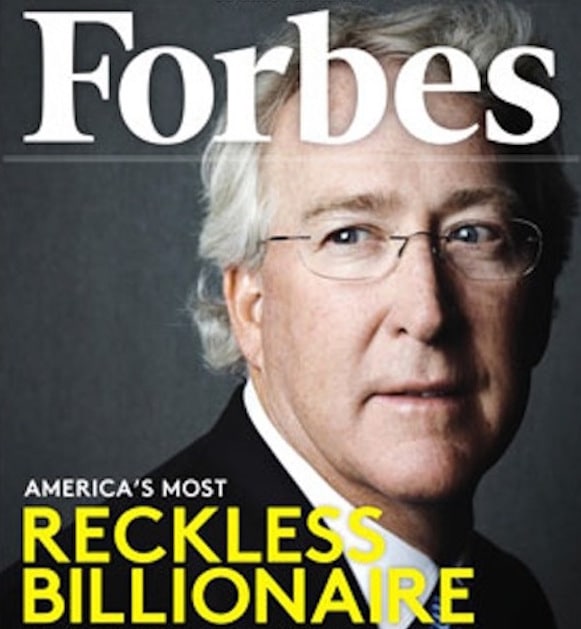 Did Aubrey McClendon commit suicide? Conspiracy theories flourish.
Aubrey McClendon, 56, the former CEO of Chesapeake Energy has today died in a car crash in Oklahoma City, a day after being indicted on rigging oil bids.
Of question is if the car crash was accidental or as conspiracists wonder, did the Thunder Oklahoma City basketball part owner purposefully kill himself by 'actively' running into a wall?
If found guilty McClendon faced decades in prison.
A report via News9 tells of investigators attending to a one-vehicle crash on Midwest Blvd at around 9 a.m. local time in which Oklahoma City police confirmed Aubrey McClendon as the victim. Investigators told of McClendon having died instantly.
Quoting Capt. Paco Balderrama, a report via KFOR told McClendon had been traveling well over the posted speed limit, with the police captain saying the indicted CEO was driving at a 'high rate of speed.'
Offered Balderrama: 'He pretty much drove straight into the wall. … He went left of center, went through a grassy area right before colliding into the embankment. There was plenty of opportunity for him to correct and get back on the roadway and that didn't occur.'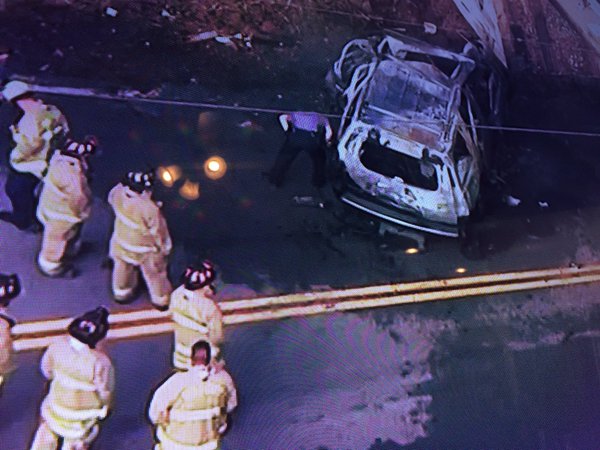 Of note, Aubrey McClendon's 'sudden death' comes a day after the Justice Department announced that McClendon had been charged by a federal grand jury with rigging bids between two oil and gas companies and violating the Sherman Antitrust Act. Each charge had a maximum punishment of 10 years in prison or a fine of $1 million.
A report via the nytimes describes the price rigging allegedly happening between December 2007 and March 2012. At the time, McClendon was the CEO of Chesapeake Energy.
Prior to his death today, McClendon had been scheduled to appear in court today to answer charges.
On the day of his indictment, Aubrey McClendon had released a statement denying the charges against him as wrong and unprecedented. His statement read, in part:
'I have been singled out as the only person in the oil and gas industry in over 110 years since the Sherman Act became law to have been accused of this crime in relation to joint bidding on leasehold. Anyone who knows me, my business record and the industry in which I have worked for 35 years, knows that I could not be guilty of violating any antitrust laws. All my life I have worked to create jobs in Oklahoma, grow its economy, and to provide abundant and affordable energy to all Americans. I am proud of my track record in this industry, and I will fight to prove my innocence and to clear my name.'
A report via Forbes describes McClendon co finding Chesapeake with Tom L. Ward in 1993. Over time, McClendon went on to attain a reputation as one of the greatest oil and gas wildcatters of his time.
Similarly McClendon was considered one of the earliest entrepreneurs to grasp new drilling and fracking technologies and helped ignite the gas boom of the last decade.
Yet there was trouble ahead.
It wasn't too long before Aubrey McClendon ran into headwinds after loading Chesapeake with too much debt, leading to his ouster in 2013.
In 2008, he was topping AP's list of best-paid CEOS with a package worth $112.5 million, including a $75 million bonus, Business Insider reported. But later that same year, he had to sell more than $1 billion of his own stock to meet margin calls.
In just six months, the stock went from a new high of $70 to collapsing more than 75 percent. Some of this was due to collapsing gas prices, but not all. To cover the fall, McClendon borrowed heavily from Wall Street. But Reuters uncovered a potential conflict of interest in McClendon's compensation arrangement. That, combined with Chesapeake's debt, forced McClendon to leave in 2013.
Notes a report via the nytimes: Chesapeake's shares have been sinking for most of the last five years, especially after it was revealed that Mr. McClendon had taken a personal stake in Chesapeake wells and then used those investments as collateral for up to $1.1 billion in loans used mostly to pay for his share of the cost of drilling those wells.
Nevertheless there were allegations of indiscrete behavior that left the oil company along with the former CEO the subject of rumors after Chesapeake settled charges of antitrust, fraud and racketeering violations by agreeing to pay $25 million as compensation to landowners with leases.
After leaving Chesapeake in 2013, McClendon went on to become the CEO of American Energy Partners.
Similarly there would be rough waters for Aubrey McClendon's new oil venture.
According to Forbes, his new company AEP has also been almost wiped out after McClendon spent billions of private equity money on new oil and gas acreage.
Over the years, media reports paid homage to McClendon's personal largesse, with the oil man no stranger to living in luxury.
Something some wonder may have tempted the executive to consider illicit activities in order to maintain the lifestyle he desired and coveted.
Forbes described McClendon in possession of one of the best personal wine collections in the world, numbering around 100,000 bottles. He ended up selling about 75 percent of his collection and profited quite well.
Whether the sale was enough to cover some of the oil man's obligations and prop up his volatile business dealings wasn't necessarily understood, with some wondering if Aubrey McClendon may have been tempted to partake in price collusion in order to attain economic relief along with maintaining the illusion of financial acumen?