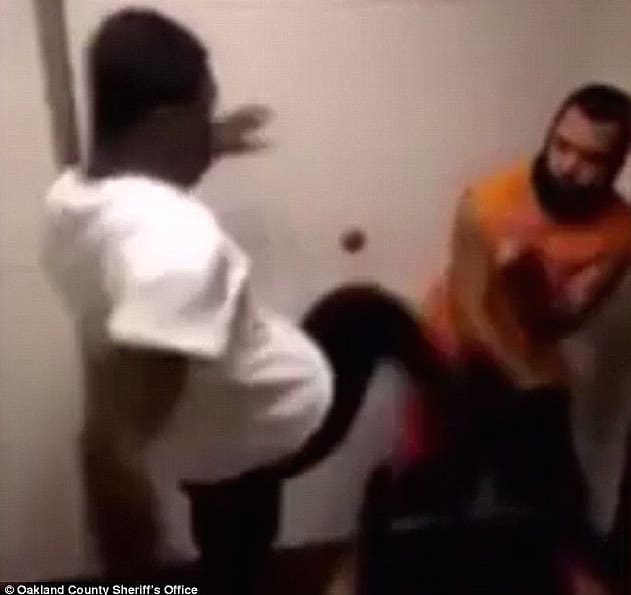 Shadeed Bey & Nikey Walker both 20 have pled no contest to beating a disabled man with intent to do great bodily harm less than murder along with then posting their victim's recorded beating on Facebook.
The charges stem from a November 29 incident which saw the thugs target 23 year old man, Frankie Santana with cerebral palsy, a brain disorder that affects movement and muscle co-ordination in the stairwell of the victim's apartment building in Pontiac, Michigan.
Frankie Santana: Cerebral palsy man's vicious beating posted on Facebook
While a no contest plea is not an admission of guilt, it is treated as such for sentencing. Bey was sentenced Tuesday to between eight years and 20 years, and Walker received six years to 20 years. 
Told Bey during sentencing: 'I'm sorry for what I did.'
Offered Oakland County Sheriff Michael Bouchard at the time of the crime: 'Preying on those in our community who suffer from disabilities will not be tolerated and furthermore, to have the audacity to post their actions on the victim's page is beyond belief.'
Discontent followed after police released the 53 second video clip which showed Shadeed Bey kicking the victim in the stomach whilst Nikey Walker sadistically filmed the beating.
The beating showed Santana being continuously punched and stomped on while cowering barefoot on the floor.
The footage, which is filled with expletives, ends as one of the men runs down the stairs.
While authorities did not released the name of the victim, Frankie Santana, a resident at the complex, told WJBK-TV that he was the man who was assaulted.
'Why would they do that and put it on Facebook? That's how you are going to get caught real quickly,' Santana said.
He said the men spit and stomped on him, injuring an eye, but that 'nothing is broke.'
Investigators believe they followed someone to get inside the building and then walked into the victim's unlocked apartment.
Told the victim of the attack: 'I crawled through the hallway and knocked on someone's door and that's how I got help.'
The victim's phone, which was taken while he was inside his apartment, was found at the home of one of the suspects, the sheriff's department said.
At present it is not necessarily understood if Santana had been purposefully targeted and why the two men relished in their victims beating, going so far to 'show off' their feats on social media….