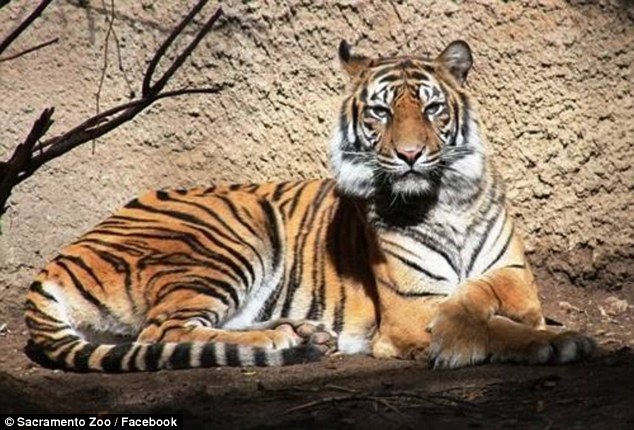 Female tiger killed by mating partner at Sacramento zoo: the call of the wild and unpredictable.
A Sumatran female tiger has been killed by her mating partner at the Sacramento zoo, Wednesday afternoon.
The female tiger's death came within minutes after the 15 year old Baha was physically introduced, with the male partner, Mohan becoming aggressive according to zoo authorities.
Staff monitoring the introduction outside the enclosure told of using a hose and extinguishers to little avail to separate the animals.
Told a post by the Sacramento zoo: 'As soon as staff were able to get the male tiger into a secure location veterinarians rushed to care for Baha, but unfortunately she had already passed, veterinary staff tried to resuscitate her but were unsuccessful.'
Since arriving at the zoo from Tennessee in December, the 12-year-old male tiger had had visual contact with Baha.
Staff decided to introduce the felines because the tigers' behavior indicated it was the proper time, the zoo said.
The Sacramento Zoo wrote on Facebook: 'Since the arrival of the male tiger in December 2015, staff had been monitoring his and Baha's behavior daily as they had visual contact with each other.
'Both tigers' behavior indicated that this was the proper time for physical introductions.
'Based on knowledge and experience from past successful introductions, staff decided to physically introduce the tigers on Wednesday morning.'
Baha had been at the Sacramento Zoo since 2002 and had successfully bred with three other partners, giving birth to five offspring.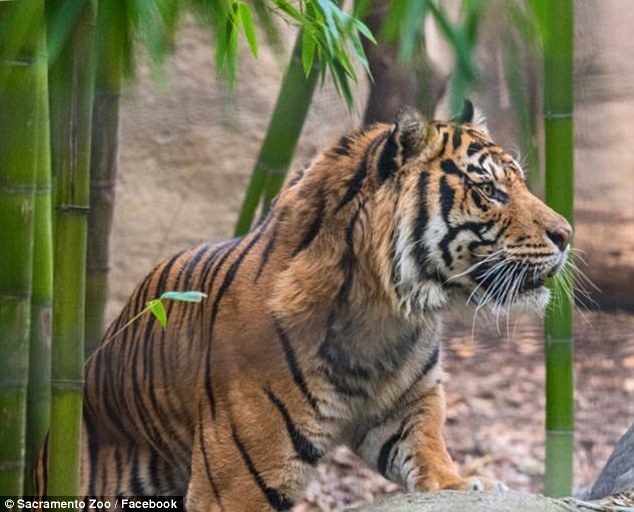 Mohan, on loan from a zoo in Memphis was part of a tiger breeding program, who'd successfully bred before with other partners.
Reacting to the tragedy, Matt McKim, the zoo's animal collection director said in a statement: 'We are truly devastated at the passing of Baha.
'Not only was she a wonderful ambassador and a truly attentive mother, she was a one-of-a-kind tiger that inspired many.'
The death of the female tiger led some to wondering if the male tiger had been provoked by the female tiger's reluctance to acquiesce to the male tiger's advances, leading to an attack?
Responding to the incident, the Dallas Zoo expressed its condolences in the comments section of the Sacramento Zoo's post.
It wrote: 'We are so very sorry for your loss. 
'Our beloved Kipling is Baha's son, as beautiful as his mother.
'We know you take excellent care of these cats; but they are, after all, wild animals, and we understand all too well how things like this happen.
'Our staff sends yours much love, and you are in our thoughts.'
The Sacramento Zoo responded: 'We can't thank you enough for your post. It means so much to us.'