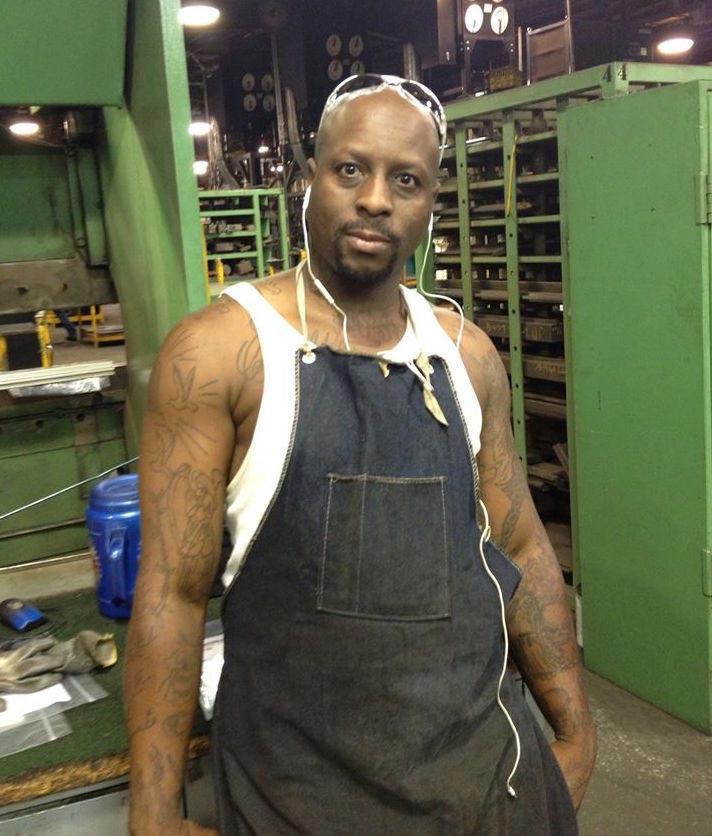 Was today the day Cedric Larry Ford finally got even?
Cedric Larry Ford a bullied Excel Industries employee in Hesston, Kansas has wrought revenge after being the constant butt of teasing, killing three and injuring 18 in a shooting rampage.
The Hesston City shooter, otherwise known as Cedric Ford went on his shooting rampage as the painter employee returned Thursday afternoon after clocking out earlier at the lawn mower manufacturing outlet he worked at.
Returning to work with a high powered rifle, Cedric Ford according to a report via KWCH-TV gunned down victims in four to five locations, including his place of work upon returning at 5pm.
'Stop beating me up' Cedric Ford protection order served 90 minutes prior
Why did Cedric Ford Excel Industries worker go on shooting rampage?
While numbers have yet to be confirmed, the deranged man is thought to have killed between four to seven individuals while injuring up to 20 to 30 individuals.
According to witnesses, upon pulling up outside the office building, 35 miles north of Wichita in a red van, Cedric Ford shot someone in the parking lot and then ran in.
Of question is if the person shot dead at the parking lot had been purposefully targeted as a point of rage or whether Ford had sought particular individuals to 'punish' for perceived wrongs done to him?
As recently as January 16, Ford posted on Facebook that he was 'feeling fed up.' And in October, Ford wrote: 'It's so hurtful when you have no one to talk to about your problems.'
What exactly he was fed up and struggling with isn't necessarily clear.
One worker told KAKE News that Ford, of Newton, Kansas, had 'mental issues' and was 'being teased a little bit' when he worked at Excel. 
However, another said 'he was the nicest guy I know' and that they had been chatting as normal when they walked in the plant to clock that morning. 
BREAKING: Multiple employees & witnesses confirm SHOOTER is Cedric Ford #ExcelIndustries #Hesston #shooting #KWCH12 pic.twitter.com/vszgdqsfyU

— KWCH Eyewitness News (@KWCH12) February 26, 2016
The father of two had a history of burglary convictions, grand theft, and prowling. Of question is how Cedric Larry Ford managed to obtain a weapon given his criminal record.
Authorities have also told of the gunman recently having to Kansas from Broward County, Florida, with his wife or girlfriend and their son and daughter.
Disturbing images permeate Cedric Larry Ford's facebook page in which the gunman is seen relishing in violence, including pictures of Cedric Ford holding high-powered rifles. That along with a video of Ford shooting aimlessly into a field.
Presumably bold statements one would ever hope to share with other social media users, and perhaps more than just an expression of recreational bent but a harbinger of what was perhaps to come if ever pushed…
Ongoing media reports describe police stationed outside Cedric Ford's home on Wagon Wheel Drive in Newton calling on the people inside to come out with their hands up. Neighbors said Ford 'kept himself to himself' though he was occasionally seen with his children.
A worker at the firm, who told KAKE News he lived next-door to the shooter, said Ford had been subjected to bullying at work. 
'The talk around the plant was he had some mental issues. He was being teased a little bit.
'He was just unloading on everybody. As people were walking out he was firing on them.'
Another staff member told a different story, saying Ford was his 'partner' at work and 'the nicest guy I know'. 
'We were talking as we walked in to clock in together today,' the staff member told CBS. 
'He just got a new truck, he came to work in that new truck today, we were talking about that.
'And the odd thing is he came back in a different truck.'
He added: 'It was unreal, I can't believe it was him.' 
Another employee told of Ford brandishing a gun as he chased workers then opened fire.
Told the employee: 'He just started spraying everybody in the production area,' 
'I heard pop, pop, pop.' 
'There are a lot of shot victims,' Harvey County Sheriff T Walton told reporters in a press conference.
'This is just a horrible incident that happened here.'
Police will be meeting with relatives of the victims at a local high school. 
An exact death toll will be released at a press conference later in the night. 
Fatalities reported, after a shooting in Hesston, KS. Stay with Eyewitness News for further updates to this story. pic.twitter.com/l07CXqyyas

— CBS47 (@CBS47) February 26, 2016
WATCH: With tears in her eyes, woman relieved to reunite with husband after Hesston shooting https://t.co/qv4bkf6IfF https://t.co/TOLPPZnQbX

— CBS News (@CBSNews) February 26, 2016
Multiple employees are injured from gun shot wounds. EMS is on scene. pic.twitter.com/W446vyFfLO

— Avery Anderson (@AAndersonKSN) February 25, 2016