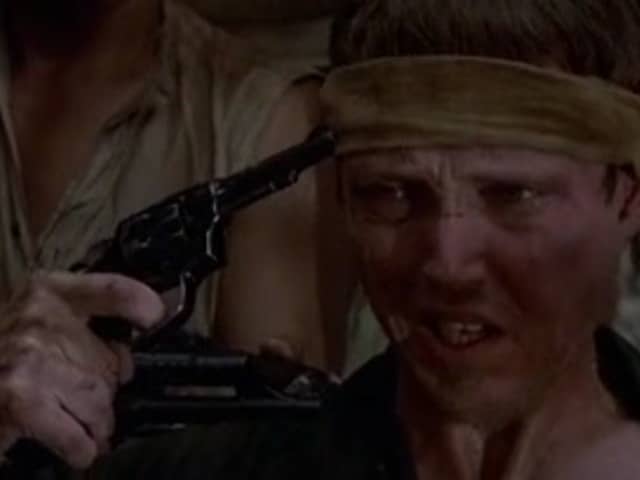 Zdzislaw ­Golabek a 37 year old Brooklyn man has died after fatally shooting himself during a 'drunken' game of Russian roulette.
See updated report below.
The man's death according to cops came as Golabek and a pal were playing the dangerous game circa 8pm, Saturday night whilst riding out the blizzard like most New Yorkers.
Except Zdzislaw ­Golabek would fail to ride out the winter storm Jonas.
According to a report via the nypost, the shooting took place in an apartment on 45th Street in Sunset Park. ­
The report tells that the victim lived in the building but not in the unit where he died.
Of question was whether the 'friend' lived in the unit.
Other unanswered questions included what prompted the men to play the game, which involves placing a single bullet in a random chamber out of six, daring to put said loaded gun to one's temple and press on the trigger, gambling they will not trigger the loaded chamber, with a one in six chance of instant death. 
Other questions include if the game had been a common way of 'socializing' amongst them, which is to wonder if this is what certain segment of the population got up to on the weekend? Or whether this was just a random instance fueled by ego, bravado and plenty of alcohol?
Responded Zdzislaw's brother, local Brooklyn man, Andrzej Golabek, 37, upon hearing of the fatality: 'My feeling was like, I can't believe it.'
'I still can't believe it.'
Adding: 'He was really quiet,'
'He never got into trouble.'
Attending medics declared Zdzislaw ­Golabeck DOA.
The friend remained at the scene and a weapon was recovered. It is not clear if he will face any charges? 
Update courtesy of gothamist:  Cops initially were investigating reports that Golabek and his friend, 32-year-old Maciej Gorecki, had been playing Russian roulette during the snowstorm. They say that turned out to be a false report.
Instead, Gorecki has now been charged with manslaughter and criminal possession of a weapon in Golabek's death.