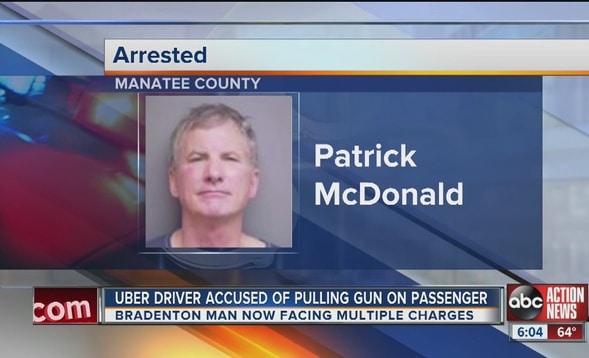 Uber driver Patrick McDonald has been arrested after the 67 year old Bradenton, Florida man allegedly pulled a gun on Shane Fabry, 27, a passenger who said they might vomit.
The incident which took place Friday night according to a report via around 8pm, The Smoking Gun has since led to our collective hero being charged with aggravated assault and misdemeanor battery.
According to a probable cause affidavit filed by the Manatee County Sheriff's Office, Fabry had felt unwell, and asked McDonald to pull the car over 'in the event that he began to vomit'.
But when McDonald stopped, Fabry told him he was feeling better and no longer felt he would throw up, that though didn't stop Uber driver Patrick McDonald from insisting that Shane Fabry get out of his car.
The affidavit states 'the defendant told the victim that he needed to get out the car and that he was not to throw up' in his $75,000 Lexus car.
Declining to get out of the car, McDonald is alleged to have then exited his vehicle and attempted to pull the sick passenger out by pulling on his arm.
Fabry said he told McDonald he would get out and the driver did not need to physically force him.
A police report describes the passenger telling of McDonald then taking an 'aggressive fighting stance' (indeed …) before reaching into the driver's side of the car and pulling out a black semi-automatic handgun.
Fabry told cops McDonald then pointed the handgun at him. McDonald admitted grabbing the gun, but denies pointing it at anyone.
He told authorities he only pulled it out because he feared for his life. When asked by cops why he was afraid of his 'sick passenger', Patrick McDonald told that his passenger had been talking about 'sticking dicks in his ear'.
Slight pause. Look out the window. Enjoy the dizzy sights…..
Authorities arrested McDonald without incident and he was released on Saturday after posting a $2,500 bond.
Offered Uber spokesperson, Bill Gibbons pursuant to the incident: 'This driver's account has been deactivated as we continue to gather the facts regarding this incident.
'We stand ready to provide law enforcement with any information that would be helpful to their investigation into this matter.'
Gibbons would add that McDonald had started working as an Uber driver in mid-January.
The ride-for-hire company prohibits the possession of firearms of any kind inside their vehicles.
Uber's firearms prohibition policy states: 'We seek to ensure that everyone using the Uber digital platform—both driver-partners and riders—feels safe and comfortable using the service. 
'During a ride arranged through the Uber platform, Uber and its affiliates therefore prohibit possessing firearms of any kind in a vehicle. 
Any rider or driver found to have violated this prohibition may lose access to the Uber platform.' 
At present it is not necessarily understood what led to Uber driver Patrick McDonald feeling the need to carry a handgun. At the very least he saved his automobile from any unfortunate unforeseen inconvenience….