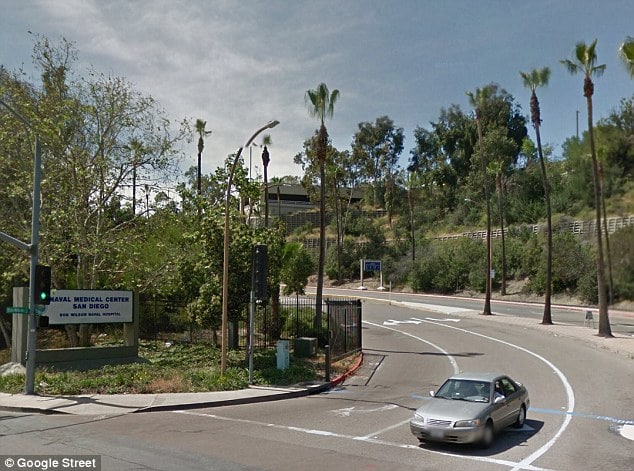 Preliminary media reports are telling that an active shooter has run amok at San Diego's Naval Medical Center with the outlet telling on its Facebook page of the immediate urgency of the situation.
Told a Facebook post just on 8am local time: 'An active shooter has just been been reported in building #26 at Naval Medical Center San Diego. All occupants are advised to run, hide or fight. 
'All non-emergency response personnel are asked to stay away from the compound.'
To date the Naval Medical Center has yet to release any other information, with as of yet no confirmation of a shooter.
Nevertheless reports are telling of possible gun shots being fired into air and not directly at anyone from inside the compound.
A spokesman for the center said that the report was of gunshots heard in the same building that houses offices and barracks for wounded soldiers. 
San Diego Police confirmed reports of a shooter. Initial reports tell of up to three gunshots coming from the basement of the building, Building 26. 
The entire facility is on lockdown as are all the individual buildings.
SWAT was seen arriving on the scene shortly before 9am as traffic was backed up for almost a mile. 
'NMCSD staff is comprised of more than 6,500 military, civilian, contractor and volunteer personnel, according to NBC San Diego.
'NMCSD personnel deploy to Iraq, Afghanistan, Kuwait, Djibouti and aboard the USNS Mercy.  The facility is affiliated with 19 civilian nursing schools, training more than 400 students per year in clinical rotations.'
On its website, Naval Medical Center San Diego bills itself as 'the largest and most comprehensive military healthcare system in the Western United States.' It has eight clinics for active duty personnel and nine primary care sites for their family members.
Who or anyone would seek to target the outlet has yet to necessarily be understood at present.
Florida and Pershing// Steady stream of emergency vehicles going in #Nbc7 Possible active shooter reported pic.twitter.com/AlyG4ogv12

— WendyFry (@WendyNBCSD) January 26, 2016