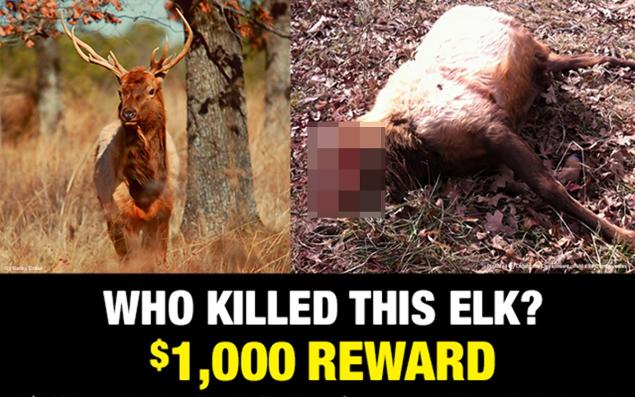 Oklahoma Headless elk poached: A community is incensed after the cruel death of a local favorite attraction
A reward seeking the identity of the poacher responsible for killing an elk and leaving the beheaded beast on park grounds has been increased to $4000.
The new sum, up from $1000, comes as Oklahoma Nature preserve officials seek details leading to the arrest and conviction of those individuals responsible for the killing of a 9 year old bull elk named Hollywood in the J.T. Nickel Preserve in Tahlequah, Oklahoma.
A report via kfor describes how the elk had come to be called 'Hollywood' after becoming a highly sought attraction, with visitors often posing next to the beast.
Offered Jeremy Tubbs, director of the J.T. Nickel Preserve via the dailymail: 'He was not just any elk, he was an elk that people looked for when visiting the preserve. He was commonly photographed by visitors, earning him the nickname Hollywood,'
'It was not uncommon to see 'Hollywood' on a daily basis.'
According to Nature Conservancy rangers the elk is believed to have been killed over the weekend, with poachers having removed the beast's head and part of its hindquarters.
Elk hunting is legal in Cherokee County, but only during the specified season and hunting of any kind at any time of year is illegal in the animal protected zone.
Poaching is not common in the preserve, which is understood to cultivate a family atmosphere.
The J.T. Nickel Preserve, which is privately owned by The Nature Conservancy is the largest privately protected conservation area in the Ozarks and stretches over 17,000 acres.
All information pertaining to the poaching of the beheaded elk are to be directed to the Oklahoma Department of Wildlife Conservation at (918) 431-2552 or (918) 431-2543.