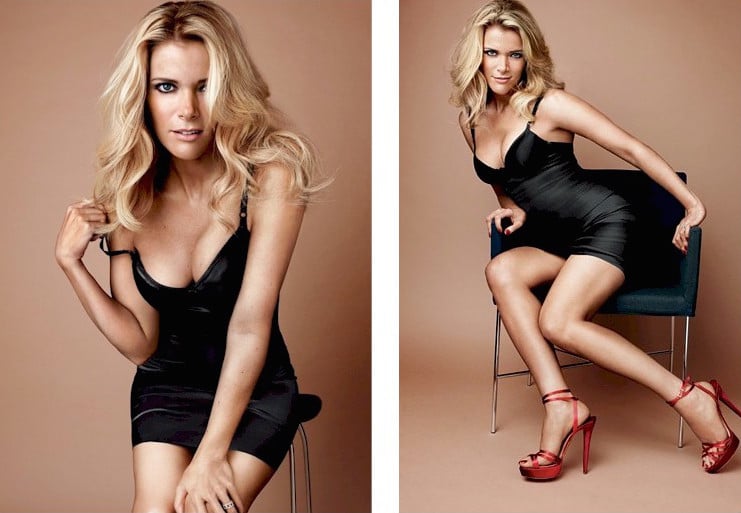 Donald Trump Megyn Kelly GQ photos retweeted: How indoctrinated is sexism in America anyway? 
Republican Presidential hopeful, Donald Trump hasn't let up on his assault with FOX anchor, Megyn Kelly when the entertainer/business man tweeted images of Kelly's recent GQ photo shoot labeling her a 'bimbo'.
Tweeted the aspiring politician at 6.36 am Thursday morning along with two provocative pictures of the FOX anchor:
'And this is the bimbo that's asking presidential questions?',
'Criticizes Trump for objectifying women … Poses like this in GQ Magazine.'
The tweet comes as Trump has continued to spar with the news channel, having insisted he would only appear in Thursday night's GOP debate series if Kelly was ousted from being one of the moderators. The decision to bail out comes just four days before the critical Iowa caucuses.
News of the tweet hasn't necessarily gone down too well for Trump who has been unrelenting in making comments at what consistently appears to be directed at women's appearances. Something that Kelly took umbrage with during FOX's first debate late last year.
Donald Trump disses Megyn Kelly: 'She's a cxnt'
Donald Trump Presidential debate: 'Yes I've called women fat pigs, dogs, slobs.'
Asked Kelly at the time:  'Mr Trump – one of the things people love about you is you speak your mind and you don't use a politician's filter,'
'However, that is not without its downsides. In particular, when it comes to women. You call women you don't like, "fat pigs," "dogs," "slobs" and "disgusting animals." '
Interjecting,  America's new found transient hero responded 'Only Rosie O'Donnell.'
Incensed, the aspiring politician at the time told he was being baited and that Kelly's question was 'nasty' and had betrayed a sense of propriety.
"@gene70: @FireFlyFury @megynkelly @realDonaldTrump And this is the bimbo that's asking presidential questions? pic.twitter.com/oU1uUGnuWb"

— Donald J. Trump (@realDonaldTrump) January 28, 2016
Going forward, Trump argued that the set of questions that Kelly was asking was evidence of bias the anchor held against him, which Trump held ought to disqualify Megyn Kelly from posing future questions in future debates. Which in fact led to Trump canceling tonight's appearance on FOX to the chagrin of the outlet who presumably has had its venerability as a bastion of conservative ethos questioned with Trump, the leading horse for the GOP race not even bothering to turn up.
Since canceling tonight's GOP debate, Trump and his supporters have continued to demean Kelly, questioning her veracity to even qualify as a journalist, let alone as a moderator.
Not stopping there, Trump has in many ways (perhaps unwittingly) validated Kelly's position or initial line of questioning that the entertainer was indeed dismissive of women and didn't necessarily hold them in high esteem. Especially if they behaved what he considered boorishly (the kettle calling the pot black), dressed inappropriately or too suggestively (never mind Trump's own propensity to only date and marry scantily dressed models).
The tweet and the combative stance towards Kelly and Trump's pervading view of women has also raised questions of underlying sexism inherent in American culture, as Trump's supporters turned a blind eye and high fived his latest jab, going on to retweet this morning's tweet untold times 4682 times and liked just under 9500 times.
Reflects a thoughtful post via the washingtonpost: There is also a line of questions that some will want to ask and debate about whether in 2016, a woman must be either a buttoned-to-the-neck blouse wearer who is "allowed" or therefore proves herself "qualified" to ask serious questions in a presidential debate. And, does the resiliency of this long-running quandary — some might say effort to contain and shame women — itself amount to a testament to the degree to which sexism permeates American culture?
The tweet has since opened debate as to not only how prevalent sexism is in American culture, but how indoctrinated it is and how women are often forced to sigh and just accept their lot, even to the point that implicitly understood how she dresses to work, informs others whether she is qualified to her job. Something ironically that the folks at FOX have also bought into as the news outlet has a habit of hiring and promoting 'attractive and largely blonde women to deliver the news while wearing very dense makeup.'
Maybe in retrospect, FOX , lost ad revenue aside, should be happy not to have Donald Trump appear at their debate tonight, given the man's ongoing tendency to denigrate women. Then again FOX too it could be argued have only helped over the years, pamper a sexist image that has now easily become so indoctrinated that punters don't even think twice to celebrate such boorish attitudes towards women.