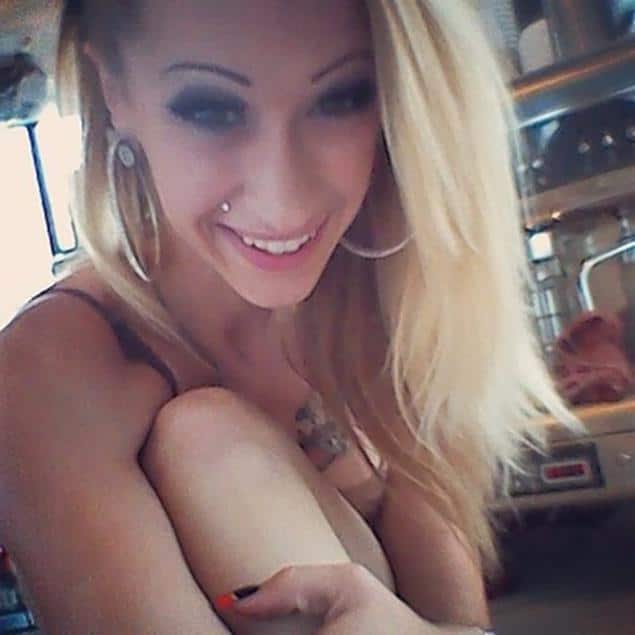 Courtney Campbell bikini barista dies in freak accident. Investigation continues.
Courtney Campbell a 25 year old bikini barista and operator of Saints and Sinners Coffee in Everett, Washington state has died four days after suffering extensive burns to her body after her coffee kiosk exploded in flames.
The woman's death comes after sustaining burns to 80 per cent of her body when her java kiosk suddenly exploded late Thursday, turning the roadside cafe into a fireball.
The Everett Fire Department said in a statement the cause of the blaze remains under investigation, but officials believe a propane tank contributed to the fire.
Offered a passerby who witnessed the small cafe burning next to a Shell gas station via KOMO-TV: 'They were all the way up past the power lines there. They were pretty high.'
Despite escape the burning structure and transported to hospital and remaining in critical condition in a medical induced coma, Courtney Campbell would die late Monday.
The 25-year-old entrepreneur is survived by two young daughters, ages 3 and 8.
Video of barista stand burning by the Everett Mall. Courtney Campbell was badly burned, barely made it out pic.twitter.com/4tlti1Fpcr

— Henry Rosoff (@HenryKIRO7) January 8, 2016
Campbell's friend Benn Scott, who is also organizing a fundraising effort for her family, said the single mother-of-two bought the coffee kiosk last March and was working hard to turn it into a successful enterprise. 
According to her friend, she was looking to open a second location in the near future.
Told Scott via KING5: 'I want to be able to wave a magic wand, make the burns go away, roll back the clock and get her out of the stand before the fire starts,'
'I can't do that, unfortunately.' 
Scott described Campbell as a kind and charitable person who was always willing to help her friends in need, including buying groceries for him and his roommate when they were strapped for cash.
A benefit concert is being held on Saturday at Tony V's Garage in Everett to raise money for Campbell's two daughters.
Courtney's sister, Jordan Campbell, also has launched a GoFundMe campaign to help her two orphaned nieces.