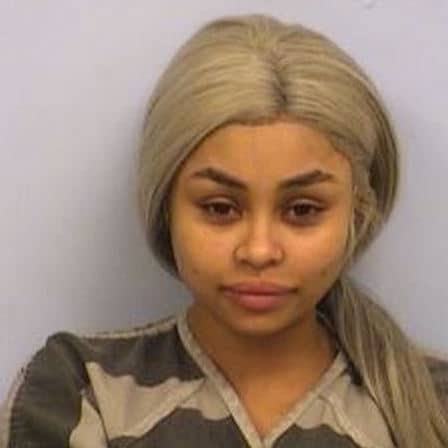 Newest Kardashian attache, Black Chyna, 27, has been arrested in Austin, Texas for allegedly becoming belligerently drunk on a flight along with drug possession of a controlled substance.
The model/former exotic dancer was taken into custody Friday night at Austin-Bergstrom International Airport, where she had a layover en route from Los Angeles to London, according to TMZ.
Witnesses told seeing the beauty salon owner fighting with a flight attendant and acting 'like a drunk fool.'
At the time of her arrest, the 'emotional model' was observed being led away in handcuffs.
Arrest records filed with Travis County jail noted China, real name Angela Renee White charged with public intoxication and possession of a controlled substance between one and four grams of the good shit. It has yet to be understood what type of drug the reality hopeful was caught with.
Black Chyna's arrest comes after revelations she is dating Rob Kardashian, the troubled son of the famous Kardashian clan. News of the budding relationship has led to friction within the clan as the reality starlet has a child with rapper Tyga, Kylie Kardashian's on and off boyfriend.
It is understood that Black Chyna used to be buddies with Kim Kardashian but the pair have since fallen out.
News of Rob's new 28 day relationship led to the reclusive son being asked to leave the home of sister Khloe Kardashian where he had taken up residence. He has since moved in with Black Chyna.
Of note, Chyna has also befriended singer Amber Rose, the ex girlfriend of Kim Kardashian's rapper husband, Kanye West with whom the Yeezus musician recently had a blow up on twitter.
Black Chyna's arrest is the latest in a series of ongoing faux pas involving the Kardashian clan which continue to keep tv viewers enthralled/numb and the public relations media machine moving at a good clip.
At present it is not necessarily understood if Black Chyna was traveling alone or with company. She had been en route to London for a personal appearance at the Beorma Club.