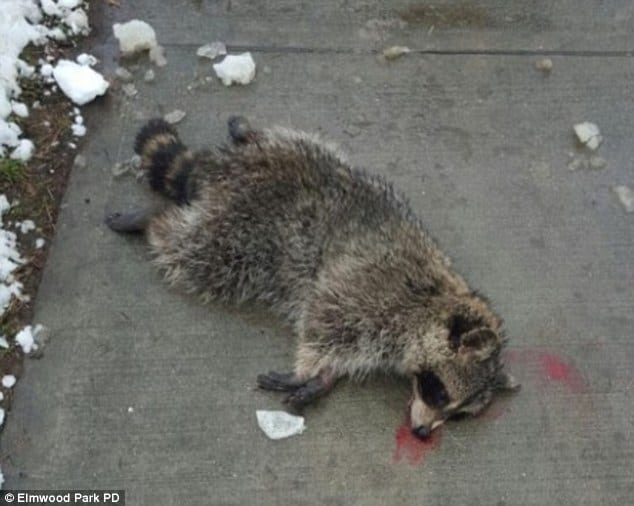 Aryan Gavali a 6 year old Elmwood Park, New Jersey boy has had a close call after being mauled by a raccoon en route to school yesterday morning.
Fortunately for the school boy, the quick thinking actions of a heroic neighbor helped alleviate what could have been a horrendous situation when Danny Walls grabbed a pole and beat the attacking animal to death.
The incident told the child's mother, Monali Gavali, led to her son suffering deep cuts to the face that required the boy having nine stitches.
According to the mother, they were on their way to 16th Avenue Elementary School when a large raccoon attacked Aryan Gavali from behind, proceeding to bite and scratch him in the face.
Told the mother via NBC New York: 'Within a second, he screamed, "Mommy," then I turn around and saw that he was on the ground… something was there, something was on his back,'
Adding: 'I initially thought it's a monkey, but later on I noticed it was something else.'
At the time of the unprovoked attack, neighbor Danny Walls was getting ready for work when he heard the mother screaming for help outside his window.
Seeing the massive racoon clawing at Aryan's face, the quick-thinking Good Samaritan grabbed a painter's pole from his car and started beating the raccoon until it let go of the child and died.
In the aftermath of the traumatic scene, Walls told of the 6 year old screaming in terror and blood streaming from his face.
Told the neighbor: 'I killed the raccoon, the kid jumped up and was screaming, he was crying, there was blood all over the place, his mom had blood all over her coat,' 
'He had rips on his face,' reiterated Danny's wife, Diana Walls of the grade-schooler. 'Not just cuts, rips.' 
After thanking her neighbor for saving her son's life, Monali Gavali rushed Aryan to Hackensack Medical Center to be treated for his injuries.
Speaking from her son's bedside via video chat Wednesday night, the mother called Walls her 'angel,' told a report via CBS2.
The bloody carcass of the raccoon that attacked Aryan was taken to a lab to be tested for rabies. The results are expected on Friday.