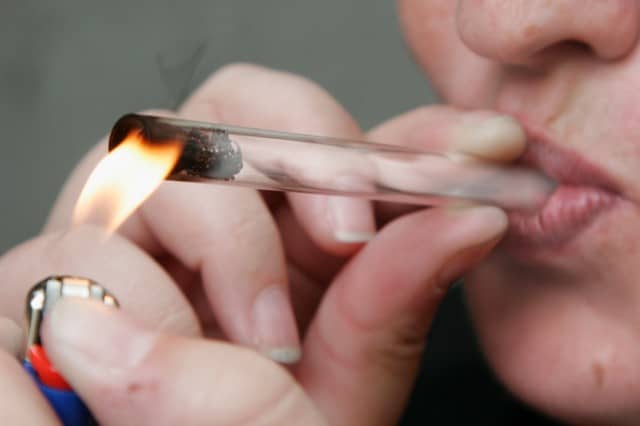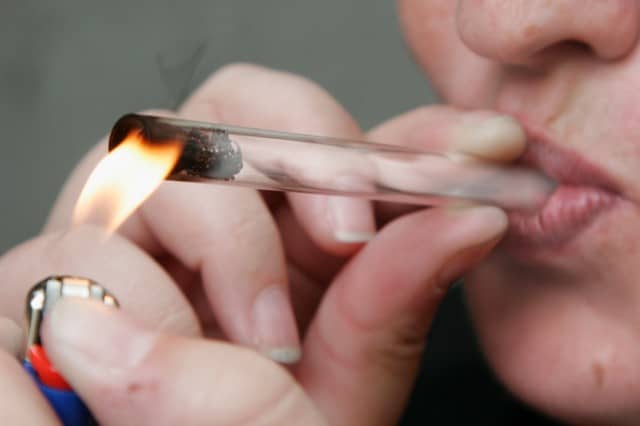 The sudden death of former lead singer of Stone Temple Pilots, Scott Weiland, 48, has led to the arrest of a bandmate after they were discovered to be in possession of crack cocaine.
Weiland who died in his sleep of cardiac arrest was found unresponsive on his bus tour Thursday evening, during which time emergency dispatch failed to revive the unresponsive man.
An investigation of the rocker's death led to cops, reports tmz discovering cocaine in Weiland's bedroom and elsewhere on the touring bus of his latest band, The Wildabouts.
Arrested was the band's bassist, Tommy Black, who was charged with felony drug possession.
At present it is not necessarily understood how much cocaine was found during investigations.
A source close to the situation said that 'crack cocaine was front and center days before he died' and that drugs were found on the bus.
His third wife, photographer Jamie Wachtel Weiland, said that her husband hadn't done drugs in years and that the band members had a pact not to do drugs.
Or did they?
Weiland, a father of two, and The Wildabouts were scheduled to perform a concert at the Medina Entertainment Center in Hamel, Minn. later Thursday.
The band's guitar player, Jeremy Brown, died of a drug overdose in March, according to a report from the Los Angeles Coroner's Office.
While authorities have declined to confirm the cause of Weiland's sudden death, social media has become abuzz with speculation as to whether drug addiction may have played a part in the singer dying.
The rocker's death comes as Weiland had openly acknowledged struggling with drug addiction throughout his three decade long career.
'I'm a tenacious drug addict,' he wrote in his 2011 ironically titled memoir, 'Not Dead & Not for Sale,'
'I give it up and I don't give it up. I put it down and I pick it up. But I'm also a tenacious recoverer. I never quit trying to quit. That counts for something,' he wrote.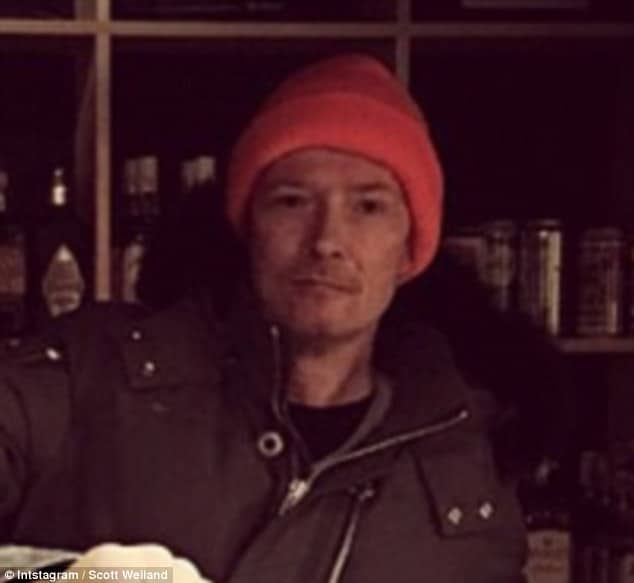 Weiland broke into the rock scene in 1992 with Stone Temple Pilots and their multi-platinum debut album, "Core."
The eccentric singer became known as much for his animated stage presence as for his heartfelt, growling vocals.
It would be in 2013 that the band would fire their lead singer, with bassist Robert DeLeo telling at the time that the band 'didn't have any other choice'.
The band reiterated that Weiland was replaced as a result of addiction and persistent tardiness. The singer subsequently filed a countersuit against Stone Temple Pilots, claiming the band have no legal right to remove him from the line-up.
Along with cocaine substance abuse and being a consummate drinker, Weiland was known to have struggled with heroin.
In 1999 he was sent to jail after being hospitalized with a heroin overdose and violating his probation for possession of the drug the year before.
However, he told Blabbermouth earlier this year that he hasn't 'had a needle in my arm in thirteen years.
'Overcoming my addiction to heroin was the hardest thing I've ever done, and I'm damn proud of the fact that the time in my life when drugs were stronger than my commitment to my health is so far behind me, and always will be'. 
In signs that not all was well, during an interview with a Canadian radio host last week, Weiland answered questions only in short sentences and seemed lethargic.
Weiland's former Stone Temple Pilot bandmates — Eric Kretz and brothers Dean and Robert DeLeo — released a statement Friday thanking the singer, 'for sharing your life with us.'
Continued the statement: 'Together we crafted a legacy of music that has given so many people happiness and great memories. The memories are many, and they run deep for us,'
'We know amidst the good and the bad you struggled, time and time again. It's what made you who you were. With deep sorrow for you and your family, we are saddened to see you go. All of our love and respect. We will miss you brother.'
Weiland leaves a son and daughter from his second marriage, who are aged just 13 and 15.