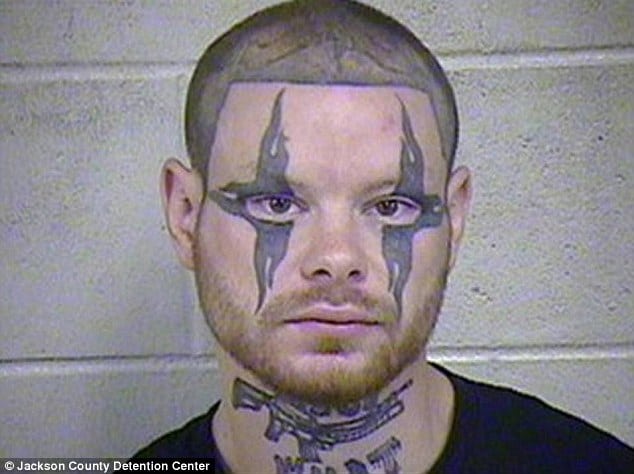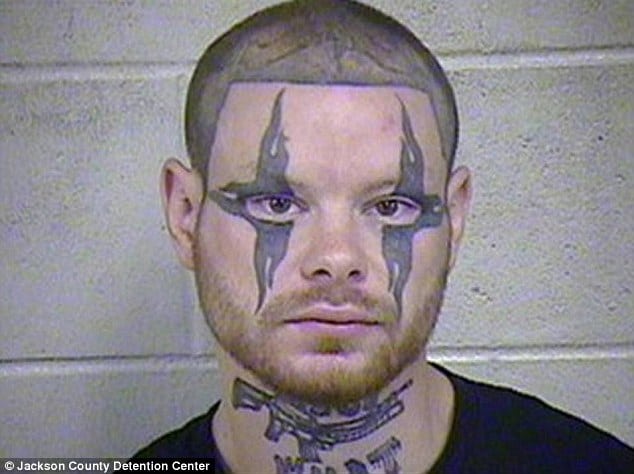 Could he have thought of a better disguise? These are questions pundits are wondering after the arrest of Oak Grove, Jackson County, Missouri, bandit, Robert Michael after a recent theft and robbery.
The man's distinctive face tattoo led to the alleged victim giving cops a detailed description of their alleged assailant (you suppose?) leading to the 31 year old man being charged with first degree attempted robbery after purportedly grabbing the keys of a pastor's truck and demanding money.
According to a report via the Kansas City Star, Michael allegedly entered the pastor's church in Oak Grove asking for a ride.
Relenting the clergyman gave the man a lift after the bandit claimed family problems and needed to get to the nearby city of Independence.
On the journey to hell, Michael is accused of twice trying to steal the keys from the ignition while the car was stopped outside a home.
On the second attempted, the pastor reportedly grabbed the keys tried to drive away, according to released court documents.
As the pastor did so, Michael allegedly demanded the man's money while holding what appeared to be a knife.
The pastor abandoned his truck and flagged down the driver of a passing car who raised the alarm.
Police officers were able to trace Michael a short time later following the description of his tattoos and clothing.
Of question is why Michael allegedly targeted the pastor and what he sought to do with the money and whether he has perpetrated prior instances of crime? Also of question is why Michael chose to cover his body in tattoos, particularly his face?
Michael is due before Jackson County Circuit Court on Wednesday.
Michael has since denied threatening or attempting to rob the pastor.