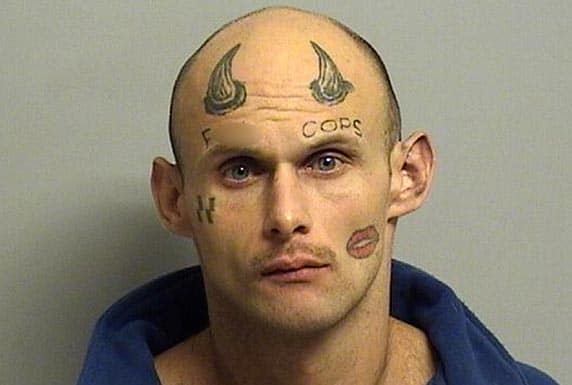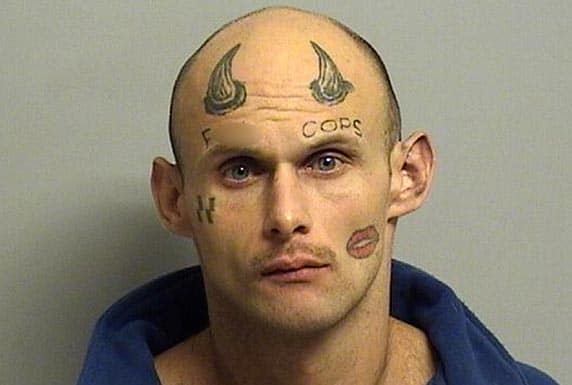 Paul Terry a 26 year old individual bearing 'conspicuous' facial and forehead tattoos has been arrested on charges of robbery after the man's victim came to easily identify the man.
Terry's arrest comes after he and Sonja Marie Moro, 29, allegedly broke into her ex boyfriend's Tulsa, Oklahoma home Friday afternoon where he was robbed at knife point according to a report via Newson6.
Making the assailant's capture the following day all the more easy were discerning tattoos (do you suppose?) that Terry sported, including the words, 'Fxck Cops' underneath devils horns on his bald forehead along with a red lips imprint on his left cheek. The man's right cheek similarly was emblazoned with what appeared to be Nazi insignia.
According to police reports, Terry and Moro allegedly knocked on the victim's door, forcing their way inside after the unsuspecting victim opened the door.
From there, Terry and Morgan purportedly threatened to stab Morgan's ex if he didn't give them money.
Handing over his wallet, Terry fled while Moro stood her ground (indeed) demanding the victim give her more money.
Only after threatening to call police did Morgan also flee.
Along with identifying Moro whom he used to date, the victim was able to give a detailed description of her distinctive partner in crime who like Morgan would soon come to be arrested.
Terry has been held on a a complaint of robbery with a dangerous weapon after the commission of a felony, and Moro was arrested for robbery with a dangerous weapon. Cops later indicated Terry having a history of crimes. 
Terry was held on $100,000 bail and Moro on $50,000 bail.
At present it is not necessarily understood what motivated robber Paul Terry to emblazon his forehead with telling tattoos ….