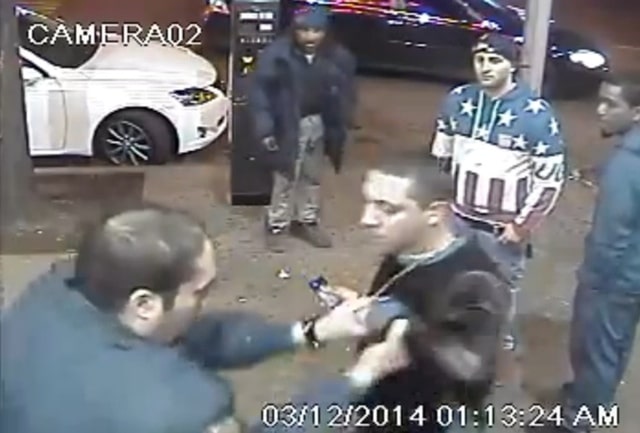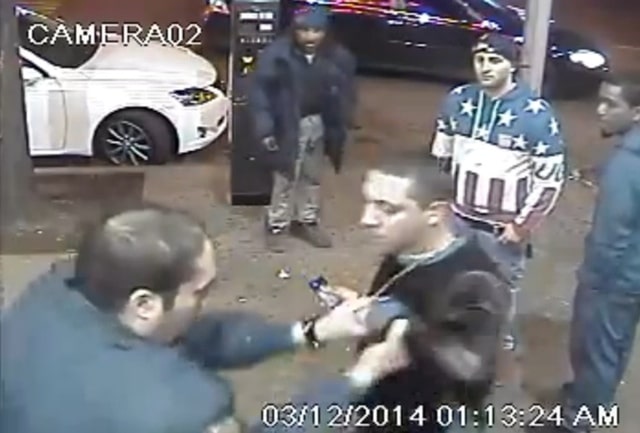 NYPD cop Jonathan Munoz faces a minimum of four years in jail for the felony charge of falsifying a statement after arresting an innocent man and accusing him of attacking officers.
The indictment against the dirty cop comes after the officer accused a then 21 year old Jason Disisto of punching him with a closed fist during an altercation in Manhattan's Washington Heights in 2014.
However, surveillance footage showed Disisto was merely trying to film Officer Munoz as he searched his friend's pockets without warning.
As Dsisto pulled out his phone to film a group of officers, cops are observed suddenly turning on him, wrestling the phone out of his hand before pushing him into the back of a police car.
Told Manhattan DA Cy Vance in a statement after a 18 month internal review led to the dirty cop's indictment: 'Had this officer's attempts to conceal his alleged misconduct succeeded, an innocent man may still be facing charges for a fabricated crime.'
On the strength of a police report written up by Munoz, prosecutors charged Disisto with obstructing governmental administration, disorderly conduct, and resisting arrest. In his report, Munoz wrote that Disisto lunged and took a swing at him. A course of action that surveillance tape never showed taking place.
Had the interaction not been caught on surveillance camera, the charges against the innocent man would have in all likelihood have stuck.
With the revelation of surveillance tape, prosecutors dropped charges against Disisto in July 2014, who in turn launched a federal law suit against the NYPD.
Reacting to the decision to indict the dirty cop, Disisto's lawyer, David Rankin told in a statement:
'Mr. Disisto is definitely pleased that the grand jury voted to indict Munoz, and we're heartened the New York County District Attorney's Office has taken this matter so seriously,'
Adding: 'We hope this indictment sends a message to the members of the NYPD, and that they'll think twice about fabricating statements against people in the future.'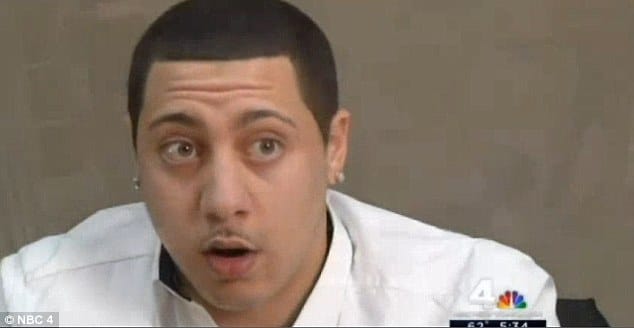 Leading into Munoz's indictment, the cop's lawyer Stephen Worth told the Daily News Disisto's collar was a 'routine arrest' and that 'Officer Munoz acted properly.' 
The lawyer would add after client's indictment that he was confident Munoz would be absolved of the charges against him.
Since released without bail and ordered to surrender his passport, Munoz faces as many as 11 years in prison if convicted on all charges against him. An NYPD spokesperson said he has been suspended without pay.
Will you put down your video camera next time a cop tries to get you to stop filming…?