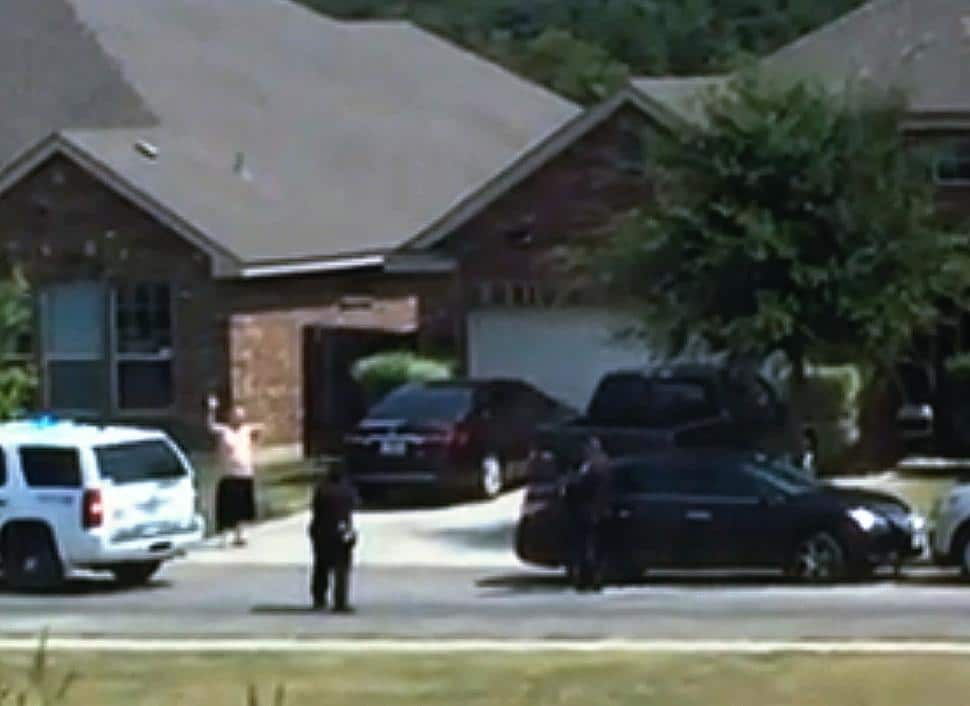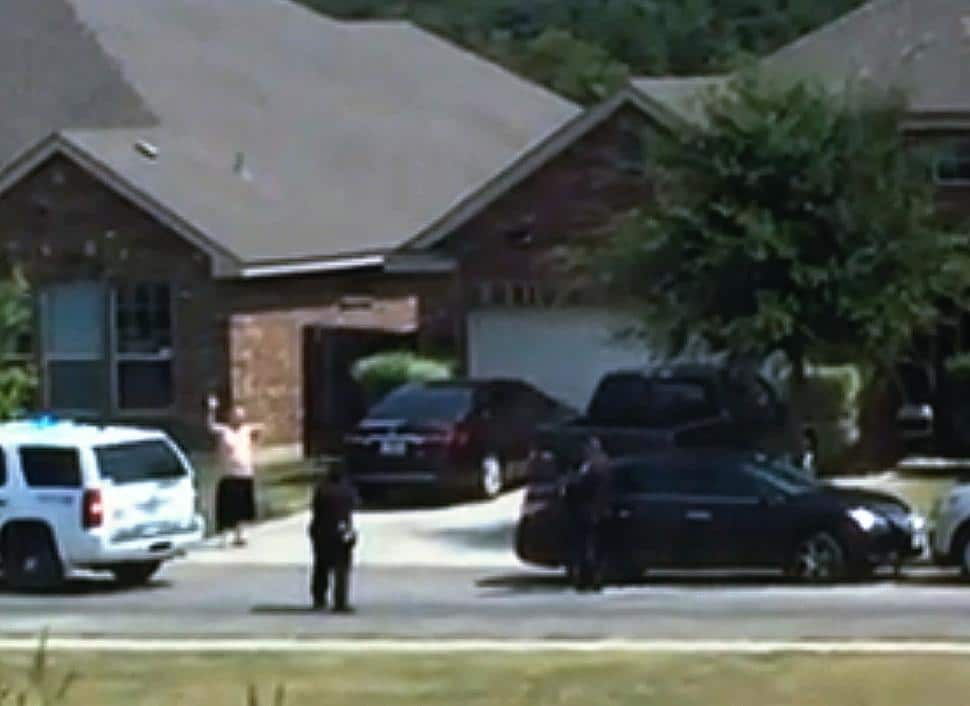 A newly released video has once again thrown into question the behavior and seemingly indiscriminate use of violence at the hands of police as Texas authorities released a second video of the August 28 killing of Gilbert Flores aged 41.
In a new full length video (see below) released shortly after a recent grand jury decision not to indict two Bexar County police detectives who had responded to a call of domestic violence at the hands of Flores at his suburban home, Flores is observed running out of the family home sans shirt into the direction of the responding cops who by this time have their guns drawn.
Having earlier attempted to tas Flores with a stun gun, it appears that the two officers, Greg Vasquez and Robert Sanchez remain vigilant with their guns drawn. Of question is at any time were Flores' actions indicative of imminent danger to the lives of the responding cops?
At one point, Flores makes to run into the parked police patrol van before turning around and walking in the direction of the two officers where he is now observed standing still with his hands up in the sky, as if signaling his intention to surrender.
Suddenly without warning one of the officers fires off two round into Flores, bringing him down dead. At no point during the new video which was not shown during the recent inquiry does it appear that the lives of the responding officers are in danger.
At the time of Flores' death, responding detectives maintained that they believed Gilbert Flores was armed with a knife. An instance that is not revealed to be the case in the latest tape courtesy of neighbors across the street who took to filming the unfolding scene.
'He says he lost too many people in prison,' says a woman behind the camera in the full video that was released by San Antonio Express-News. 
'He's got a knife in his hand,' whispers the man, who we later find out is filming the scene.
Flores can be seen holding an object.
'He's got a knife, he's got a knife,' the man keeps repeating.
Flores is then seen walking toward the cops with two fold-up chairs with the man speaking into the video indicating that Flores used the chairs to shield himself from getting tased by the deputies.
'He wants to be shot,' says the woman in the video. 'He's provoking,' says the man.
Flores then goes around the cars parked in front of the house and, still holding the chairs, he picks up the now useless stun gun and throws it to the side.
An inaudible conversation continues between Flores and the deputies for a few minutes and then he picks up his chairs and brings them back to the door.
From there, Flores is observed running toward the cop car, with the man behind the camera saying he's still got his knife.
In the next instance, Flores walks toward the deputies with his hands out, waving them to his chest.
He then walks behind the patrol car and is obscured for a brief moment before he walks toward the deputies again and put his hands up as he stands still in full view. There does not appear to be a knife in his hand.
A second later two shots are fired and Flores falls to the ground.
'Oh f*** they shot him?' the girl exclaims. 'Why did they shoot him?' 
Responding to the release of the new up close one minute video, Bexar County District Attorney Nico LaHood said he believed there would have been a grand jury indictment if the new video had been seen.
Referencing the Friday release of a 911 audio call, as to what most likely led to a jury declining to indict the two detectives, the DA told the paper: 'The 911 audio, when you hear that, you'll get what I mean,'
'You have a man saying he wanted to die by police officer, suicide by cop, he had been violent to his wife and to a baby and his mom was crying.' 
'It's not a flattering 911 tape of the deceased.'  
In the 911 call, Flores' mother tells police her son has 'gone crazy' and that he's 'beating up his wife and she's bleeding'.
She also reveals that Flores' child had a 'black eye' and said was tearing up everything in the house and just 'cursing, cursing, cursing'.
'He's got a knife, he's got a knife,' she tells the dispatcher.
Flores can then be heard yelling that it's his 'time to go'.
'I'm on parole, I'm not going back to prison,' he can be heard saying in the background.
'So I'm going to die today.' 
Flores also says he's armed with a knife.
'I'm going to suicide by cop,' he says. 'I'm going to die today.' 
Authorities said an injured woman and baby were found inside the house after Flores was shot, according to NBC News.
Flores' family has since filed a civil lawsuit against the deputies' and sheriff's office, accusing them of 'executing' him.
Vasquez and Sanchez were placed on paid administrative leave following the shooting and will now be allowed to go back to work.
Sheriff Susan Pamerleau said there were 'no winners' in the situation.
'A man lost his life,' she said. 'And for that, we are all saddened.' 
Of question is why the new video failed to be shown at the grand inquiry? Which is to wonder did police know by declining to show it would result in less of a chance of two of their own being indicted? And if so, isn't that tantamount to tampering with evidence and how is it then that police are allowed to act with such impunity?