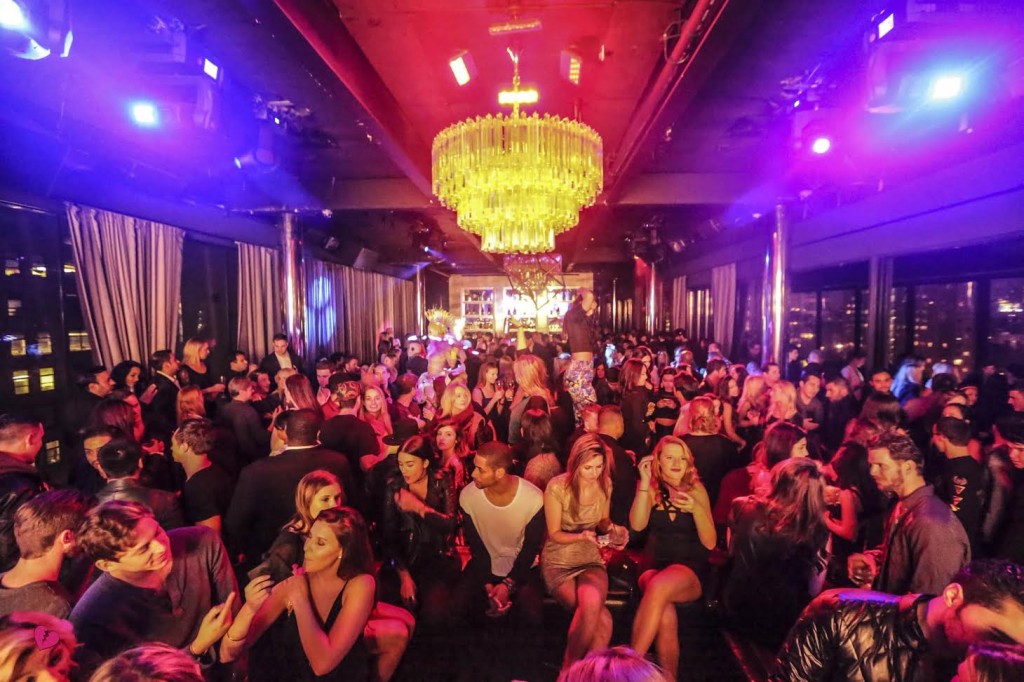 It's just after 7pm as I enter the penthouse roof at the Dream Downtown Hotel, around me are are a gaggle of high cheek boned well dressed boys and girls (more girls), bopping in a wave to the chorus of a House dance anthem, all of them transfixed to their weekly messiah, the high energy vortex that is Matthew Assante, a permanent darling of NYC nightlife fixture as they flock to yet another Sunset Saturday fixture.
With microphone pressed to his lips, Assante is cavorting to an electric pulse, got the kids dancing and swooning in a room filled to the gills, whilst his long time partner Dustin Terry is casually scanning the room, equally making sure all are accounted for, greeted and brought to the fold.
It's a party that has been going on four years plus strong, not one Saturday missed and has become a must go to venue for the after brunch weekend set looking to carry on festivities in the early evening, a crowd that has seen a who's who of celebrities and high fashion set, downtown set become regular fixtures.
Assante bellows as he sees me, imploring me to his corner of the dance floor, imploring me to dance, introducing me to one regular who insists he flies in every weekend from Mexico City just to attend Assante's and Terry's weekly must go to fixture.
Around us are a phalanx of well heeled international jet setters, word of mouth regulars, who as the evening progresses are dancing along high wire acts on the dance floor (think Ibiza party style) along with a high tempered saxophone player who's got the dance floor dizzy and manic, and it's just barely after 8pm.
I've been invited along so I can get a feel for myself in person of what has become a 'in the know' weekly celebration which seeks to offer a high energy groove without the attitude that a lot of venues in the city offer. An energy that Assante and Terry have learned to coral as Assante for the third time that evening with a silly smile bellows out: 'Scallywag is in the crowd, Scallywag is in the mix.'
In a bid to continue sharing the united vision, the duo over this past summer set about collaborating with Emmy Award winning director and producer, Michael Jurkovac from TheBridge.co to come out with a video showcasing the jovial and fun spirit of Sunset Saturdays at the Dream Downtown Hotel.
Think carnival, think energy, think eternal youth, think spunk, think reverence for that is NYC and the international flock who gather here.
That said I caught up with Matt and Dustin where I asked the duo (who to call promoters would demean them both as they have entered the lexicon of nightlife ambassadors and personal attendees to their followers) where I set out to find out more about their video and how they manage to survive with an ever growing following.
SCV: How did the video come about? What was the impetus and how did you connect with Jurkovac and how did you book the talent in the video?
MATT: We always set out to push the envelope when it comes to marketing our events and venues.
There are a number of nightclub videos out there that frankly are all the same: B-roll footage of people dancing, drinking etc. We were striving to do something unique with this that would translate to our audience.
You have to separate yourself from the pack to be noticed. All of our videos have a real clear-cut message in the forefront. The party footage is almost secondary to the message that we want to leave our viewer with. We want our audience to leave with the same feeling of excitement that they experience at Sunset Saturdays first hand.
The real impetus or force behind this particular video was the message of Unity and Love. The Sunset Saturdays party at the core represents these two feelings through celebration. Its not just a party, its an experience that you are completely immersed in.
SCV: Can you tell me a little more about the director I should know? How did you cast the video?
DUSTIN: As Matt said previously we really aim to push the envelope in any project we take on and so with that we enlisted an extremely talented Emmy Award winning director and producer, Michael Jurkovac to help us with this project.
Mike directed the cast we assembled, then we brought on Emmy Award winning editor Michael Elliot from Fluid to edit the piece for us. We've had a long-standing relationship with Mike Jurkovac and have worked together over the years on numerous projects so this was the perfect fit when we set out to make a new video.
MATT:  Casting of this video was really exciting because we were not only casting for the controlled shoots but also a live party taking place later that day that would feature the same entertainers. We always have surprise acts, artists, performers and musical talent.
We had at least 6 shoots throughout the day in and around NYC.  The first shot started at 5am on the Brooklyn Bridge and the last one ended with Ja Rule closing out the event at 10pm.  The acts you see in the video along with others are essential to giving Sunset Saturdays its identity.
One of the more unique characters in the video is Matthew Silver who most people know as the extremely friendly guy giving hugs to spread love and unity in his underwear in Union Square.  Matthew is an extraordinary guy and totally embodies the spirit of the message we were after for this video and for the party as a whole. He certainly brought a smile to our guest's faces and was memorable part of the experience for everyone in the room that evening.
In addition we hired the Late Show Gospel Choir who performed for years on the Late Show with David Letterman. We've always wanted to have a gospel choir perform at one of our events because the vocals of a choir seem to really elevate a room.
The choir performed a number of songs and current hits while encouraging party-goers to "Stand-up and Dance". The whole room clapped along with the group as they sang.  The performance really left the room on a jubilant high note as they elevated the human spirit.
It was a special moment, something never done in a nightclub before and definitely something we will remember for a long time. Their performance, along with an Impromptu performance by Ja-Rule, which we also feature in the video, left most of us with goose bumps.
DUSTIN: I might add that none of the entertainers featured, were harmed in the making of the video.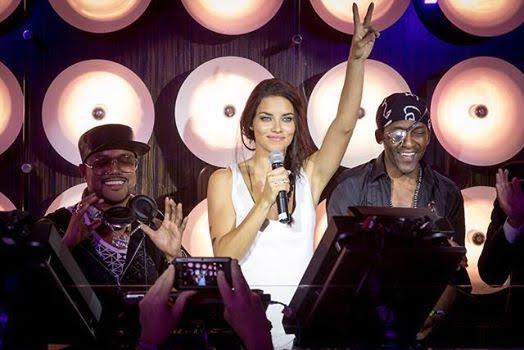 SCV: Who are some of the names that frequent Saturday's night party?
MATT:  We have a nice mixture of celebrities who have attended and continue to frequent the party.  In the past we've hosted models like Adriana Lima, actors such as Mark Wahlburg, Cuba Gooding Jr. and Gerard Butler and TV personalities like Mark Cuban and Daymond John from the Shark Tank.  We also host many athletes as well. In fact Henrik Lundquist and the entire Rangers team had their season closing party with us after last season. If a celebrity is in town and their off there's a good chance they'll be celebrating with us on Saturday.
SCV: Why do u think u have lasted so long at the venue? And tell me more about your mid week new venue.
DUSTIN: We've thrived for 4 years for many reasons.  One we haven't mentioned is the actual venue itself.  PHD boasts fantastic views of the Manhattan skyline, including direct lines of site to the Hudson River and Empire State Building.  The setting combined with the experience is memorable. It's something people tell their friends about and strive to come back and experience again and again.
We're excited about the recent launch of the new PHD Terrace at the Dream Midtown.  Our latest project Whisper Wednesdays takes place each Wednesday from 9pm-1am.  It has a personality of it's own but offers customers to have their "night out" and be home at a reasonable time.  Yes, it's a midtown venue…but it certainly has a downtown vibe.
We've always gathered inspiration from the South of France.  Once while in Cannes we stumbled upon this private room inside a hotel lounge.  There was this intimate group of stunning people all singing along to classic hits. Think of one of the best private house parties you've been to- That's the idea we're going for.  Last week we had the whole room all singing along together for a model's birthday.  It was great!  I think we'll continue encouraging everyone to sing and party together.
MATT: We really feel that we have another hit on our hands with Whisper Wednesdays. PHD Terrace Midtown is special as it offers 2 different floors, the open air setting on the 16th and a very intimate and exclusive setting on the 15th which is home to our new Wednesday party.

SCV: How would you describe your typical audience and do you think a lot of the success has to do with the dj, the music, the vibe you and Dustin create, social media, word of mouth?
MATT:   Our typical audience at the Sunset Saturdays party isn't very typical at all. What I mean by that is that we get a good mix of people from all over the world. We get a good variety of New Yorker's and many patrons from overseas. The average age range of our guest we would say is roughly between 25 and 35.
It's a unique crowd in the fact that we have people looking for that late night vibe and energy but they are getting it much earlier in the evening. Our customers consist of brunch goers, some of which come from Lavo and then others who want the energy of 2amon a Saturday only earlier in the evening.
The music and the vibe we bring to Sunset Saturdays plays a significant role in our popularity for the last 4 plus years. This party is sexy, it's emotionally stimulating, it's dynamic and it's energetic. Our ability to evolve with the times is what keeps us relevant in a competitive market. We work closely with all of our staff, entertainers, costume designers and our DJ, Ben Paul to give our guests the best possible experience.
Along with giving our guests a memorable experience we feel the forefront of our success comes from impeccable hospitality and exceptional teamwork. We're very fortunate to have an incredible staff that we work closely with and a devoted partner on the party, Matt Strauss.
MATT & DUSTIN: Yeah, there's a great sense of pride among our staff and our team. We believe that attention to detail and a strong work ethic on a whole really resonates with our consumer. Hospitality is something that we pride ourselves on, it's something that has been instilled in us for 10 plus years from our mentors at the TAO Group: Noah Tepperberg, Jason Strauss, Matt Strauss along with Andrew Goldberg.
DUSTIN: Sunset Saturdays has catered to the who's who in nightlife for over four strong years. It continues to "wow" a crowd averaging 800+ people from around the world each and every Saturday throughout the year.
MATT: Essentially the key to our success is based on hospitality and that comes down to our attention to detail, a talented staff and a tremendous team with a great sense of pride.  If you haven't been to Sunset Saturdays, please come for an unforgettable experience!