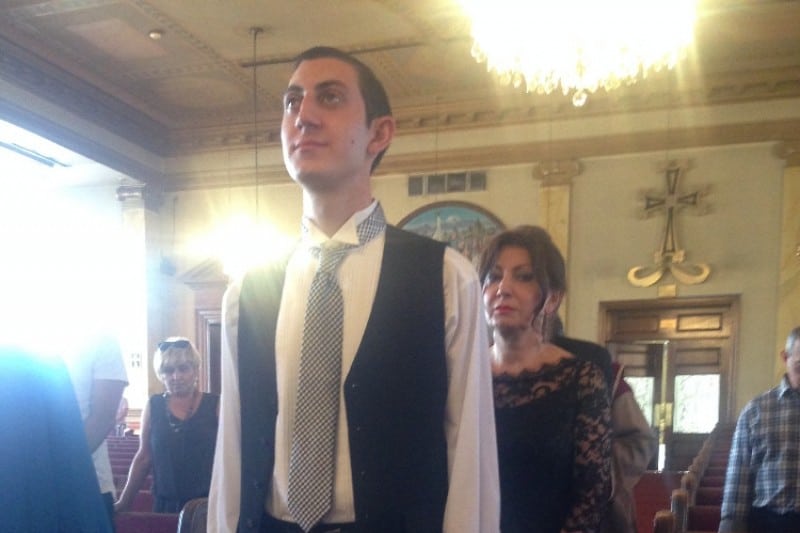 Twenty year old Burbank, California man, Richard Pananian has died a spectacular death after finding himself being ejected sky high into an overhead freeway sign after the automobile he was driving flipped after clipping an automobile. The man's death paradoxically came five days after a lamb sacrifice designed to 'protect him from evil spirits.'
According to a report via the Los Angeles times, Pananian was driving southbound on the 5 Freeway just north of California 134 when his Ford Fiesta rear-ended a pickup truck and overturned, told Officer Edgar Figueroa, a California Highway Patrol spokesman.
It would be revealed that Pananian was not wearing a seat belt, which in turn sent the man flying 20 ft sky high where his doomed ejected soul found itself nailed to a bloody overhead freeway sign.
The man's death told his family came just days after the family insisted on their illness prone son having an animal sacrifice, a 'matag' to protect him from harm.
A sacrifice that may have fallen way short of the mark.
Wrote Pananian's cousin, Armen Kardashian on a GoFundMe page: 'I find it ironic that 5 days after this offering to God, not only did God choose to take this young man's life, but decided to make such a spectacle out of it,'
'If God works in mysterious ways his way remains a mystery to me and has crushed this family as a whole.'
Richard Pananian 20 killed speeding flipped car on 5 fwy was ejected not wearing seatbelt lands on sign above fwy pic.twitter.com/rkT5MfAQqi

— Photographer (@Eastcoastphotog) October 30, 2015
The accident happened despite Pananian according to his cousin always wearing his seat belt. Except the one time he didn't.
And then there was this passage courtesy of the deceased's cousin that made me wonder:
Richard comes from a Christian family that believes in God, and the family has done its best to follow the good book, and live in a righteous way. I myself have lost my faith and question the act of God if he exists. A week ago today on 10/25 the family had done what is called a "matag" or a lamb sacrifice for Richard to protect him from harm and evil. In the Armenian culture sacrifices are done when someone escapes death, as Richards life was once spared.