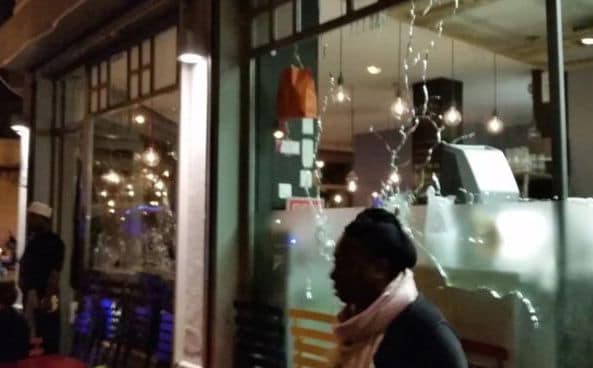 Sudden shootings and explosions in central Paris, France, Friday evening has led to the deaths of at least 60 people, with up to 100 individuals believed to be held hostage at the Bataclan concert hall in the city center. A hostage crises which would end after police raided the theater where they discovered dozens dead.
According to a report via AP, the mayhem comes as a result of a coordinated terrorist attack, with witnesses observing a man armed with a Kalashnikov fatally shooting at least eleven individuals and wounding seven others at a packed restaurant.
At the same time there were also a pair of explosions in the Le Carillon bar near the Stade de France, where the French soccer team was playing Germany in a friendly match.
Blood bath in Paris: 160 dead, 118 killed at Bataclan theater hostage
The attacks comes after an orchestrated attack on the Charlie Hebdo offices in January led to 12 staff members killed along with 4 Jewish hostages at a nearby shopping mart at the hands of Islamic radicals incensed with their portrayal and perceived subjugation and domination in French affairs.
In all, authorities say terrorists launched a total of six coordinated attacks at high profile sites, including the Louvre art gallery and the Les Halles shopping center. The attacks have since led to authorities issuing a state of emergency.
Witnesses tell of observing two gunmen firing at least 20 shots in a concert hall where the US band the Eagles of Death Metal were playing, killing a number and presently holding up to 100 concertgoers hostage.
At least one of two explosions observed was reportedly carried out by a suicide bomber.
Les premières photos circulent sur Twitter … #Fusillade #Paris pic.twitter.com/L0HQWnhBjh

— Johan (@Johanftc) November 13, 2015
Police arrive at #Bataclan concert hall #Paris where hostage situation is unfolding https://t.co/npfqIBjeDp pic.twitter.com/MXCvuAHxV3 — RT (@RT_com) November 13, 2015
Police and ambulances were on the scene outside the Petit Cambodge Cambodian restaurant in the 10th arrondissement or district where one of the atrocities occurred. Up to a dozen bodies were observed strewn in front of the restaurant.
The concerted attacks has since led to witnesses describing the scene as a 'nightmare,' with multiple bodies lying in the street, reports local French media.
A man who was inside the theatre when the gunmen entered told that the men shouted 'Allah Akbar' as they opened fire.
Reports said that French President Francois Hollande was in the stadium at the time of the attacks but was removed by his security team.
There's been no claim of responsibility, but the attacks come just a day after the United States announced a drone strike in Syria that likely killed Jihadi John, the Islamic State's British-accented executioner as France now announces it has closed all its borders as a nation attempts to come to terms with what may have set off yet again another round of carnage at the hands of a collective struggling to come to terms with the West's continual and unmitigated response to Mid East tensions both at home and in the region.