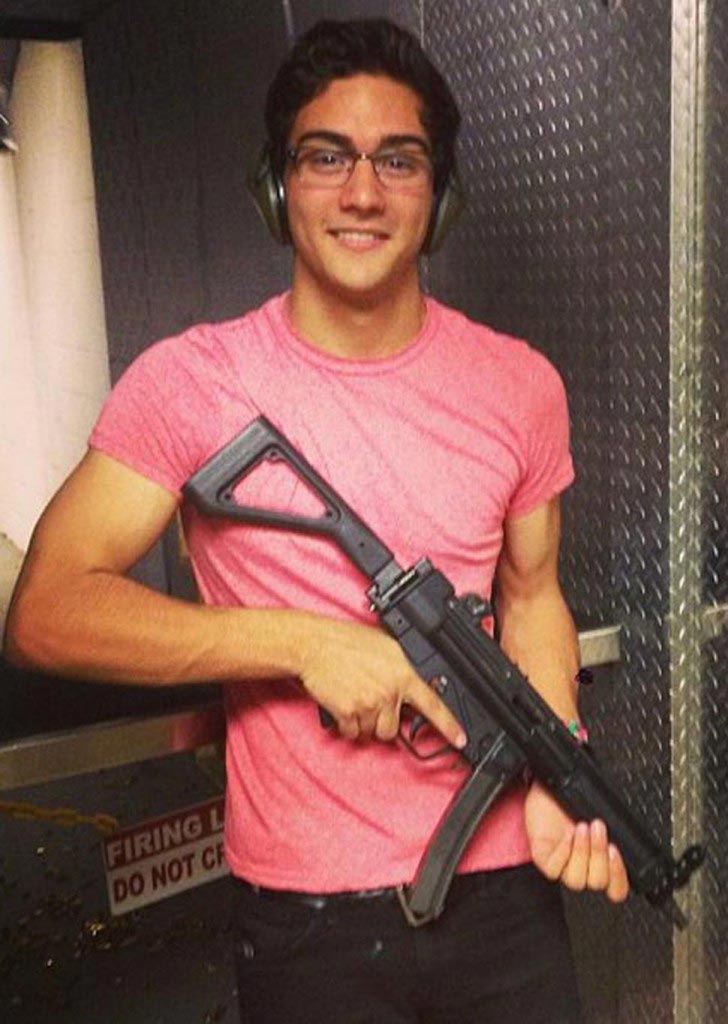 Steven Jones an 18 year old Northern Arizona University freshman has been arrested after killing Chi fraternity freshman, Colin Brough along with injuring three of the victim's fraternity brothers in an early morning campus shooting.
Flagstaff Police Chief Greg Fowler said the the fatal shooting broke out after members of two student groups got into a confrontation in a parking lot outside Mountain View Hall –  the campus' all-Greek dorm where the majority of the school's fraternity and sorority members live. 
Steven Jones NAU shooting: 'I was punched in the face and hunted'
'Going to kill shit,' Steven Jones NAU shooter obsessed with guns
When the fight turned physical, Fowler says Jones pulled out a handgun and shot Brough, a member of the fraternity Delta Chi, to death.
Also caught in the hail of bullets were fraternity brothers Nicholas Prato, Kyle Zientek and Nicholas Piring. All of whom are expected to survive.
It's still not known what sparked the fight and how the other three victims were shot. 
Soon after Jones was subdued as cops arrived at the scene at 1:20am where he was soon taken into custody and said to be cooperating with investigators.
One witness told the Arizona Daily Sun that Jones opened fire as a party was ending in the parking lot outside the dorm.
'We had just left a party and were standing in the street getting ready to walk home when a guy walked up with a pistol and just started shooting,' the witness said.
'I heard five or six shots and then my friends just tackled him. They got him really quick. We were leaving and it all happened on the sidewalk across from Mountain View.'
Pursuant to the shooting questions were raised whether the shooting was motivated as a fraternity chapter shooting, with some fraternity members of NAU's Chi society telling the Washington Post that the shooting 'was not a chapter related incident'.
Reacting to the shooting, NAU President Rita Cheng described the early morning hour shooting as 'isolated and unprecedented'.  
Cheng cautioned against hysteria, telling that classes would go on. 
Told Cheng: 'This is not going to be a normal day at NAU,'
Our hearts are heavy.'
How Jones managed to bring a concealed weapon to the school Flagstaff school campus is not known.
That said, Arizona gun laws are among the most permissive in the country, Fowler noted that the Arizona Board of Regents prohibits students from carrying guns on campus. They are, however, allowed to keep them in their car.
Speaking to NBC Phoenix, Mark White, a father of a NAU student said that Jones 'was a really nice kid. I can't believe he would have done something like this.'
Colin Brough's LinkedIn page indicated the NAU student was an 'associate member of The Delta Chi Fraternity, and a member of The Alpha Lambda Delta Honor Society.' He listed his major as business along with interests as 'Lacrosse, hiking, snowboarding, boating, wake-boarding, basketball, new technologies, social marketing, and in general–being outside.'
His Facebook page, said Brough was a native of Annapolis, Maryland, where worked at Cantler's Riverside, a seafood restaurant.
Our thoughts are w/ victims of this morning's shooting at @nau. Updates. http://t.co/919r6CCR0o #NAUStrong pic.twitter.com/QmOrtrYfKm

— ABC15 Arizona (@abc15) October 9, 2015
How the 18 year old came to be targeted by Jones is yet to be understood? Or whether he simply got caught in the crossfire of confrontation between two rival NAU groups?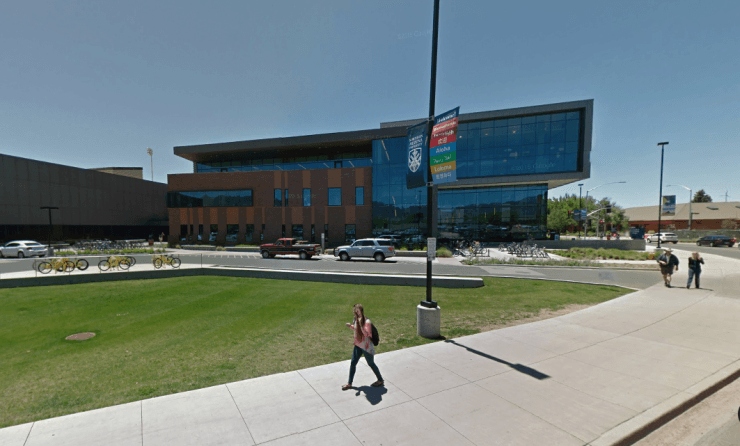 Ironically, Steve Jones who goes by @TheStevenSoFar on twitter, saw the youth complaining about a lack of manners in society.
Other postings including Jones describing 'The three Gs of college: Gains, Girls and Grades #realtalk.'   Jones also maintained a Tumblr page named Northernish where he posted photos of him on vacation. On that site, Jones says he was part of the class of 2019 at Northern Arizona University.  
NAU plays a major role in the northern Arizona city of Flagstaff. The 4-year public university25,000 total undergraduates.   NAU plays a major role in the northern Arizona city of Flagstaff. The 4-year public university has more than 25,000 total undergraduates.  
The Friday morning shooting marked the 144th shooting at a school since the Sandy Hook massacre.  The shooting comes just one week after the shooting at Umpqua Community College on Oregon at the hands of Chris Harper Mercer which left 10 dead and  nine injured.
.