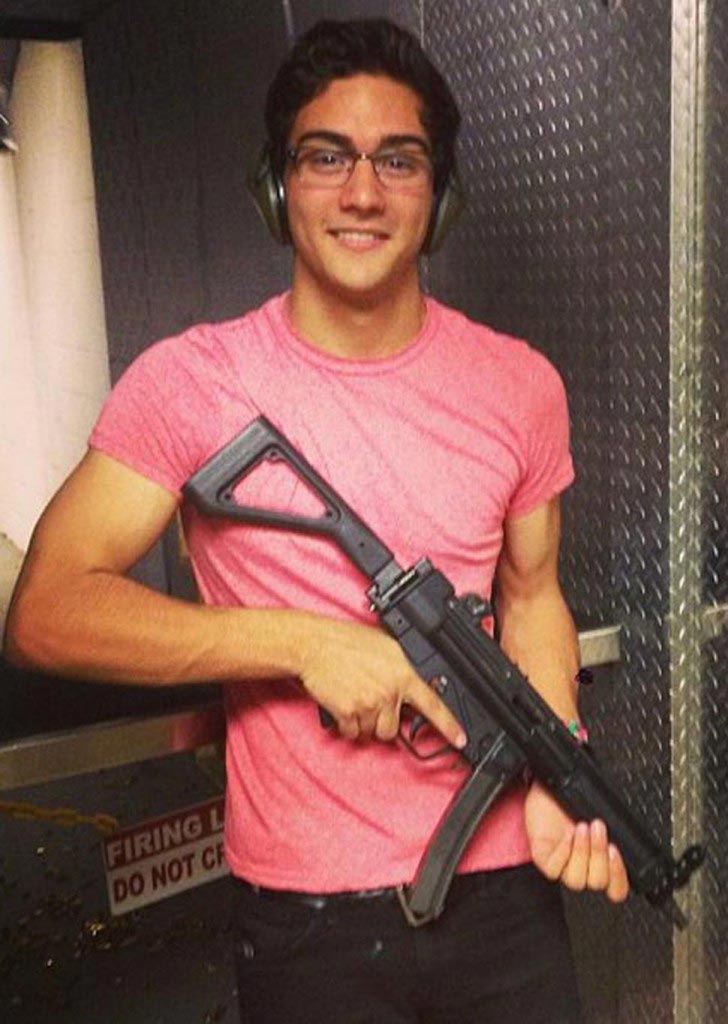 A regarding of 18 year old Northern Arizona University (NAU) shooter, Steven Jones instagram profile has revealed a young man infatuated with both himself and obsessed with guns where a collage of images of Jones happily depicted himself bearing arms.
Steven Jones NAU shooting: 'I was punched in the face and hunted'
Why did Steven Jones, Northern Arizona University freshman shoot dead Colin Brough?
Jones comes into the national profile as yet another (weekly) college campus shooting comes to the fore ( the 144th shooting at a school since the Sandy Hook massacre), this time claiming the life of Delta Chi fraternity member,  Colin Brough along with injuring three of the victim's fraternity brothers.
Injured in the hail of bullets that came at a carpark after a purported bust up between two rival student groups at a parking lot outside Mountain View Kill at Flagstaff campus were Nicholas Prato, Kyle Zientek and Nicholas Piring. All of whom are expected to survive.
What may have inspired Jones to set off with a handgun and fire at his fellow freshman in the early hour morning hours isn't necessarily understood at present as Jones has since been taken into custody and questioned.
Some had wondered if the shooting came as a result of fraternity chapter friction, the results of party excesses that may have taken place, a sleight of contempt or simply the veneer of a troubled man unable to rein himself in. Trouble that may have been brewing well before Friday morning's early shooting given the dossier Jones has supplied of himself on social media.
Case in point is an instagram photo Jones posted of himself where he is seen proudly brandishing an MP5 rifle at a shooting range, captioned, "it's a full auto kind of day."
His friends teased him in the way that teenagers do, joking, "You're a turd," and punctuated with the "poo" emoticon — but Jones corrected him.
"Turd with a gun," Jones commented, punctuated with two pistol emoticons.
Another photo shows Jones carrying a loaded shotgun over his shoulder, wearing an American flag tank top and hat, with the caption "'Merica."
Another shows Jones and his father carrying rifles on a hunting trip, captioned, "In all seriousness, I couldn't have asked for a better dad. Happy Father's Day, everyone."
Another photo shows him posing with a Kalashnikov rifle. Seriously. When was the last time anyone you knew posed with such an assault rifle? Is this what defines masculinity and one's ascent into manliness? Never mind Arizona's stance of being the most liberal minded when it comes to carrying guns?
Writes Jones in that photo incredulously: "In the woods alone with an ak47…#imadie #sosketch #watevs #gonnakillshit #guns #summer" Standard fare or a young man somehow way over his head and too influenced by a permissive culture perpetually defining itself by its brawn, by its ability to impart violence (and win) and be defined by such violence.
The overnight shooting comes a week after crazed gunman, Chris Harper Mercer opened fire at Umpqua Community College on Oregon, killing nine people and wounding nine others before killing himself. In the days that followed it was revealed that the eerily socially inept youth had turned to violence as a means to impart revenge and define himself in a make believe world where he was always the victor. A notion that perhaps gunman and NAU shooter, Steven Jones may all too well identify with?
Despite the proximity of the NAU shooting and that of Umpqua's, NAU police have sought to draw a distinction between the two events, saying that the latest on-campus homicide was not a mass shooting. Define mass shooting? Is one life not enough?
"This is very different than the Oregon situation," said Christopher Anderson, of NAU police. "It appears this was not a targeting of campus."
Indeed, America the wild west of unrelenting violence and young men carving out a wicked identity …
'Merica. A photo posted by Steven Jones (@_steven_jones) on