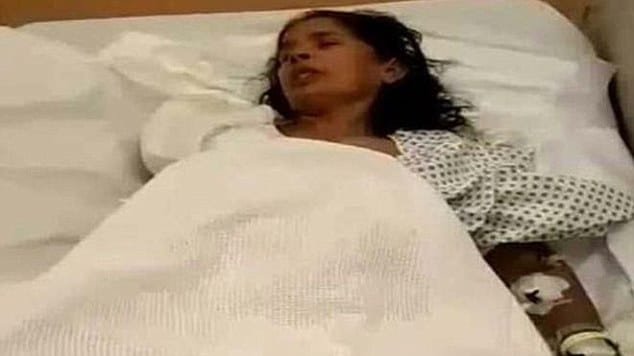 Kasturi Munirathinam, 55, an Indian housemaid/domestic worker has had her hand hacked off allegedly by her female Saudi Arabian employer after complaining to authorities she had been tortured and deprived of food.
The woman, from the south Indian city of Chennai had been earning $230 a month whilst working as a cleaner for a family in the capital city of Riyadh. Payment the maid claimed she had been denied.
After attempting to escape her situation, the housekeeper's employer decided to punish her and cut off her hand.
Told the woman's sister, S Vijayakumari, via a report by the Press Trust of India: 'When she tried to escape harassment and torture, her right hand was chopped off by the woman employer. She fell down and sustained serious spinal injuries,'
'The incident happened after… she complained about torture and non-payment of wages by her employer.' 
Ms Munirathinam was taken to hospital in Riyadh and her condition has now reportedly stabilized.
Added the sister: 'Kasturi's employer was angered after she apprised local officials about the harassment she was facing there, she was not even provided food.'
A video has emerged on social media, allegedly showing the moments after Munirathinam was attacked.
'I pleaded with the lady not to harm me but she kicked me, punched me and cut off my arm. I want to go back home. Please help me,' she says in the video according to the Times of India.
Responding to the woman's plight, Sushma Swaraj, India's minister for internal affairs, tweeted: 
'Chopping of hand of Indian lady – We are very much disturbed over the brutal manner in which Indian lady has been treated in Saudi Arabia.'
This is unacceptable. We have taken this up with Saudi authorities.

— Sushma Swaraj (@SushmaSwaraj) October 9, 2015
It is thought Munirathinam sought work in Saudi Arabia to help earn money for her husband and four children in India and had set off from her home in a rural district of the southern Indian state of Tamil Nadu three months ago.
Indian foreign ministry spokesperson Vikas Swarup has spoken out against the attack on the Indian woman, telling the Indian Express that India had launched an investigation into the attack and will 'continue to seek justice for the victim'.
'Our embassy in Riyadh has taken up the matter with the Saudi Foreign Office and asked for strict action in the matter and severe punishment for the sponsor,' he said.
He said a case of attempted murder should be lodged against the sponsor 'so that he is punished, if found guilty as per law.'
Millions of migrant workers travel to Saudi Arabia, where most perform menial tasks or physically demanding jobs in sectors such as construction. Most come from poor backgrounds in south or south-east Asia.
One major problem facing migrant workers in Saudi Arabia is the sponsorship system, which in effect means a domestic worker cannot leave the country without the consent of their employer. Campaigners say this leads to widespread abuse, and conditions close to slavery.
To date, the guardian reports, there has been no immediate response from Saudi authorities to the latest claim. Indian diplomats said they were liaising with Saudi authorities and had asked for 'strict action and severe punishment of the [employer]'.
The incident comes after Indian authorities protested after a Saudi diplomat accused of raping two Nepalese nationals in an apartment on the outskirts of the Indian capital left the country citing diplomatic immunity.