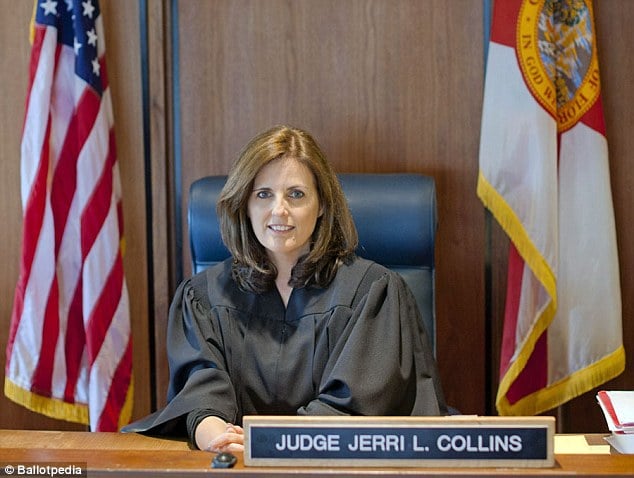 Florida's Judge Jerri Collins has come under criticism after screaming at a domestic abuse victim then sentencing her to jail for failing to turn and testify against her alleged attacker.
The judge had the option of fining the unnamed woman or sentencing her to community service.
However, after the woman claimed she missed the jury trial in Seminole County, Florida, due to 'anxiety', Collins seemed enraged.
Told the judge in footage of the court hearing in July published by WFTV: 'You think you're going to have anxiety now?'
'You haven't even seen anxiety. We had a jury – six people there – ready to try [the accused], who has a prior criminal history of domestic violence.' 
The woman was sentenced to three days in jail. 
Her attacker meanwhile received a reduced sentence of 16 days because the key witness did not testify.
The victim wept as she told the judge she had tried to drop the charges in a bid to move on with her life.
Her ex-boyfriend, who has a criminal record of domestic violence, allegedly choked her and grabbed a kitchen wife in front of their one-year-old child.
The victim said she had been attending a therapy group that supported that decision but her request was denied.
Told the unnamed woman after failing to turn up to her subpoenaed court date: 'I'm just not in a good place right now,' 
Responded Judge Jerri Collins: 'And violating your court order did not do anything for you. 
'I find you in contempt of court. I hereby sentence you to three days in the county jail.' 
The woman screams and cries, 'please! I'll do anything!' which Judge Collins ignores.
In the face of criticism, Collins has stood by her decision and refused to comment to the media.
Of note, Collins was appointed to the Seminole County Court by former Florida Governor and 2016 Republican presidential candidate Jeb Bush, according to Ballotpedia. She has now been re-elected to the bench several times.
One anonymous individual, claiming to be a criminal defense went on to post on anonymous review site The Robing Room, 'She is the worst judge in all of central Florida.'
Whilst another reviewer said, 'She is the worst judge I have ever appeared in front of. She is completely bias towards the state and does not try to hide it one bit. She is nasty to the attorneys and defendants that appear in front of her and has no business on the bench.'
Responding to Collins' treatment of the woman, Belvin Perry, a former chief judge for the state's Ninth Judicial Circuit Court and a WFTV analyst, said: 'Sometimes the judges, in the haste of trying to do their jobs, forget the big picture.'
Advocacy groups in Florida have slammed the ruling, insisting it will severely impact the way this woman and other abuse victims interact with law enforcement.
And then there were these comments on the web that made me wonder, see what you think?
The judge did the right thing. First of, this judge is woman and know's the responsibility of all women to report abuse. Secondly, by law, she had a duty to charge her for wasting the taxpayer's money and the court's time.
85% of women refuse to testify against their domestic abusers and a good percentage of them take the abuser back, a huge mistake especially if there are children involved. Women need to understand that abuse will only escalate and they need to cooperate with law enforcement and the Court.
Wow, what a cruel judge. She threw her in jail! What will that do? She has a child/children….oh, I guess that is supposed to "teach" her a lesson. Should of just fined her if anything.The woman seems like she has been through enough. Shame on that judge! Being in jail will not help in any way.