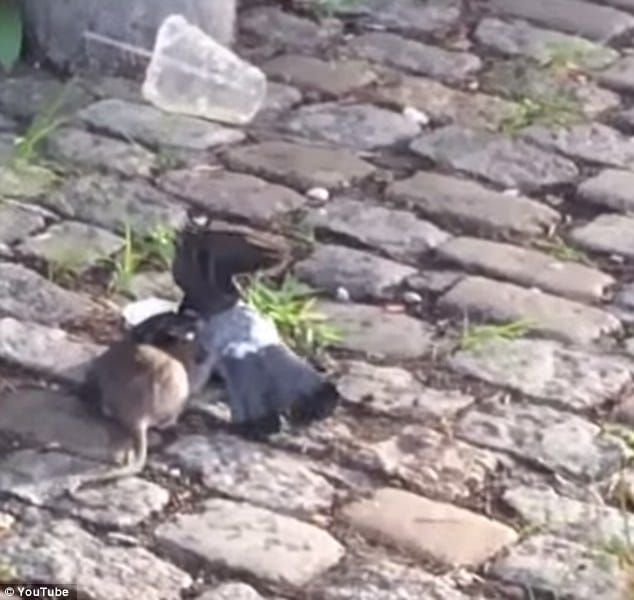 Attention fellow Brooklynites, somewhere perhaps in your kitchen, the basement, under you bed, along the subway basement grates is the guffawing of one rodent who knows no bounds when it comes to soothing their appetite.
Filmed recently attacking and killing a pigeon, a video (see below) of a Brooklyn killer rat has since gone viral, stoking concern where the rat may have come from, which part of Brooklyn it thrives in and whether others just like it (i.e. big and ugly with a pernicious appetite) may also happen to exist?
Reports the dailymail: When the video begins the rat has already sunk its teeth into the poor pigeon, which is seen desperately trying to flap its wings and escape.
Yes kids, even pigeons have come to be moving targets courtesy of ravenous rodents who refuse to say no is not enough …so much for pizza crusts and bagel bits (time to move up the food chain)
'You only see this in New York,' someone can be heard saying off-screen. 
Heard in the clip as captured by John Freund: 'Rat versus pigeon,'
'Who will win?'
A quick regard of the blood seeping as the rodent drags the bedraggled pigeon along the cobbled path leaves little hope,
'Rat's got him in a nice headlock,' one of the onlookers announces like a sportscaster.
For a moment, the pigeon briefly manages to escape and looks like it's ready to fly away, but the Brooklyn killer rat (an experienced hack no doubt) doesn't easily give up as they give chase.
'Run, run pigeon!' the onlookers scream. 
The rat manages to catch the unlucky bird once more and the onlookers suspect the pigeon is too injured to fly.
From there it's simply another yummy feast, one of many presumably as the killer rat (but which part of Brooklyn god damn it?) begins their yummy feast.
There is a futile last flap of the wings from the pigeon, but it's clear the bird's injuries have become too much as it becomes still.   
'Nature at its very cruelest,' says an onlooker, mocking an Australian accent.   
And next time you walk along a Brooklyn street, just remember when you least expect it, a killer rat may be on its heels waiting perhaps for you to suddenly fall down, trip up, so they may attempt to drag you away for a yummy feast, could you imagine?