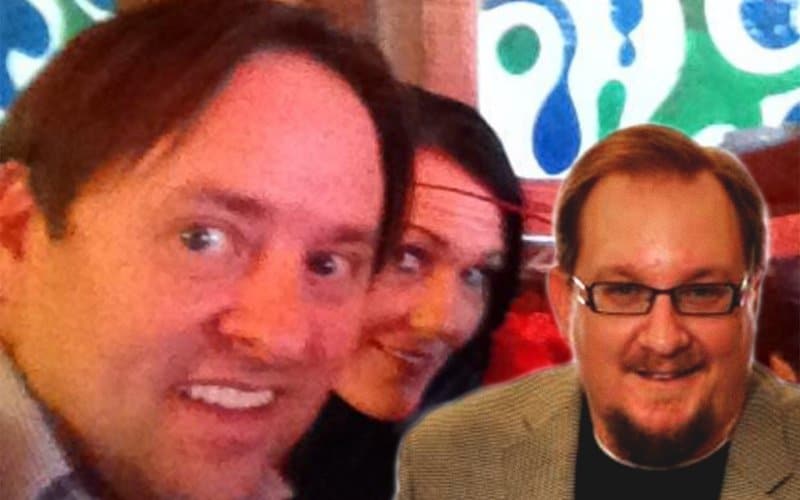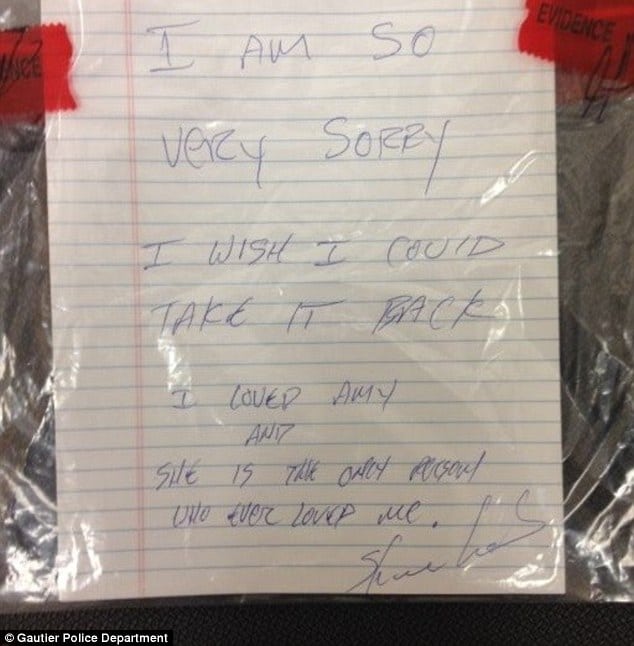 Shannon Lamb, 45, the Delta State University teacher who killed his lover, Amy Prentiss, 39 and her assumed love triangle cheater partner, Delta State University colleague, assistant history professor, Ethan Schmidt, 39 has left an apology note regretting murdering Prentiss at their Gauthier, Mississippi home.
Read an apology note released by cops today in capital letters: 'I am so very sorry,'
'I wish I could take it back,'
'I loved Amy and she is the only person who ever loved me'
The note ends with Shannon Lamb's signed signature.
Was Shannon Lamb mentally ill? Asked for less workload cause of medical issues
Shannon Lamb kills self after shooting Amy Prentiss who had affair with Ethan Schmidt.
The note confirms that the accused geography instructor had killed his colleague and girlfriend before turning a gun on himself shortly before midnight Monday night after fleeing from cops into the woods after cops cornered the man during a road block.
At the time the fugitive told he had no intention of going to jail before shooting himself in the head.
The discovery of the apology note comes after Lamb called cops a few hours after murdering Prentiss, a church outreach minister at 10 am Monday morning to say he had shot and killed someone. At the time. Lamb did not provide an explanation.
In the call, Lamb tells a dispatcher that police need to send officers over to his home on Santa Cruz Street in Gautier.
He says, 'I shot my wife last night' and also mentions that there is a 'sweet dog' in the house that is 'not going to bother anyone' but is likely upset.
During the call, the dispatcher asks the caller his name, but insists on not giving.
Upon arriving at the house that Lamb indicated, cops found the deceased body of Prentiss, two shell casings (but no murder weapon) along with an apology note where Lamb expressed his regret of having killed his lover.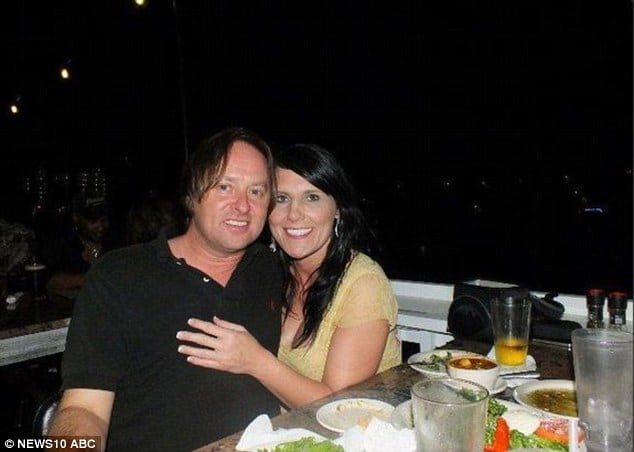 Nevertheless, by the time Lamb called authorities he was well on his way to University campus where he sought to murder the married assistant history professor at the academic's office whom Lamb suspected was romantically involved with Prentiss.
In that instance, cops tell of Lamb being shot three times with a .380-caliber handgun and had appeared to be either entering or leaving his office because he had a book bag on his shoulder.
The father of three was mortally struck in the neck, cheek and face before Lamb turned to flee, forcing in the interim the school to go into lockdown mode after the gunshots ran out.
After shooting dead Schmidt, Lamb led cops on a 12 hour manhunt before he was eventually discovered close to the scene of the school campus.
More than 24 hours after the double murder, police say they are still searching for a motive in the case.
Detective Matt Hoggatt said in a press conference on Tuesday there is no indication that drugs or alcohol played a role in the killing and that there was no history of criminal domestic violence at the home.
He also added that at this point they don't believe there was a relationship between Schmidt, who was a married father of three, and Prentiss. 
The claim of no love triangle comes despite a report late Monday afternoon via Fox News where investigators believe a love triangle may be behind the two killings. 
The news site claimed citing unnamed sources that Lamb may have been under the impression that his lover was also in a relationship with Schmidt, who was married.   
The pair had been dating since at least February 2014, based on selfies shared on Lamb's social media account.
In each photo caption, the geography teacher referred to his girlfriend as 'My Sweet Baby Angel.'