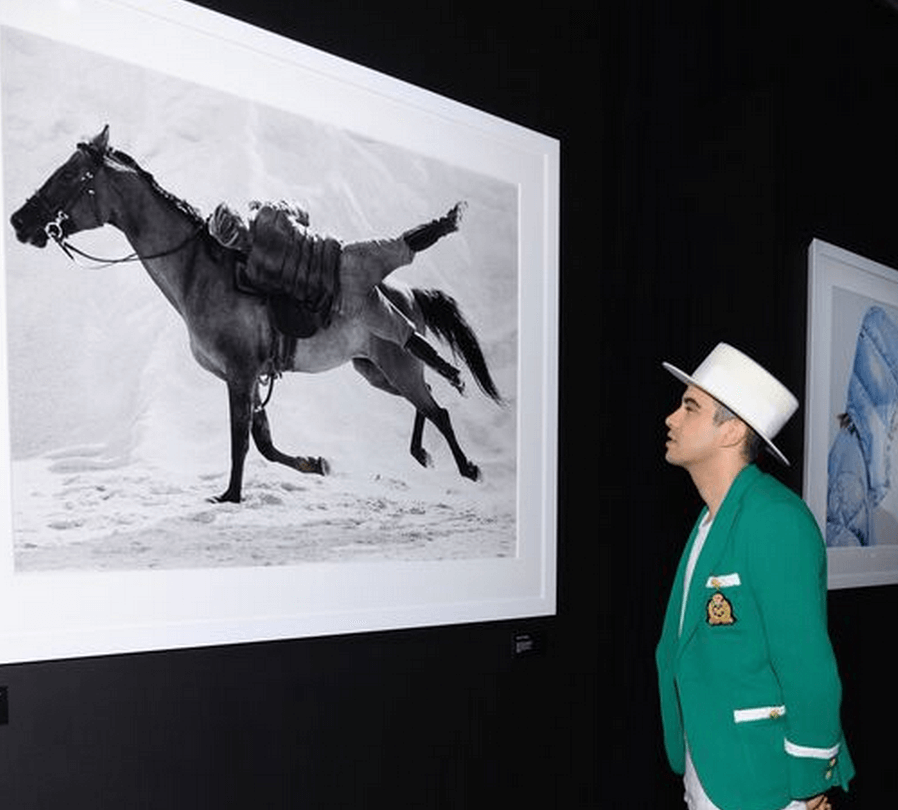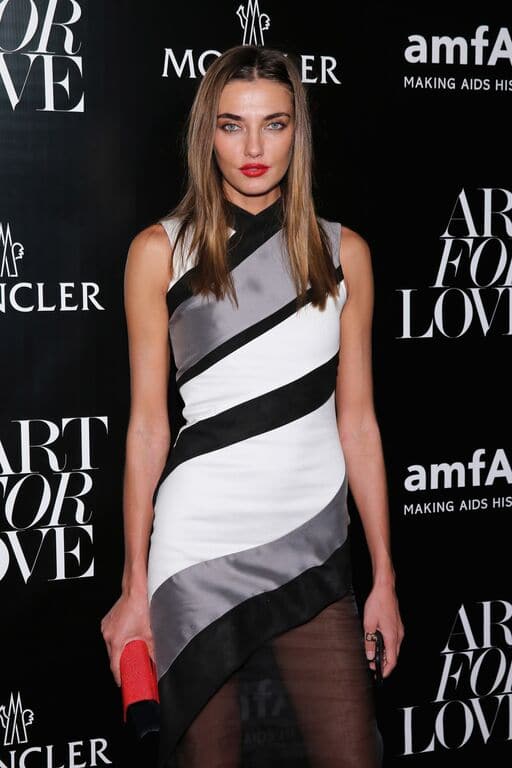 Last Friday, September 11 saw me finally stepping out for #NYFW2015 fashion week festivities ( I have favored being a recluse these days, alas..) where I headed out to the Moncler Art for love in support of amfAR charity drive for AIDS at the NY Public Library.
Greeting me was a phalanx of trendies, electronic clipboards ('are you on the guest list? – maybe…') side glances of fashion beauties and the boys and girls that curry and savor them.
Running in and out (mostly out) was Moncler chairman Remo Ruffini  who graciously greeted newcomers and the glam kids keen to get an eyeful of a collection brought in concert with amfAR CEO Kevin Robert Frost  where  the work of 32 of the world's most prominent/seminal fashion photographers (Patrick Demarchelier, Inez & Vinoodh, Stevel Meisel, Brigitte Lacombe, etc) were assembled for a one night giddy jaunt.
'Yes I don't mind if you top up my champagne,'
'Yes who could have imagined everyone was nearly just as photogenic as the subject matter in the photos. Hopefully you've put in your bid?'
As the conversations circulated amongst the jet groove, wonder was to be had as one regarded the cache of portraits covering the walls of pop cult personas (and the occasional priest, old reggae lady, a black cat with green eyes peering wistfully out of a Moncler parka hood and half naked hipster supplicating himself on his sofa) donned in Moncler parka jackets as imagined by celebrated photographers and a phalanx of celebrity subjects (including Chloe Sevigny, Julia Restoin Roitfeld and other notables).
Told Remo Ruffini, President of Moncler, via WWD: 'It's something really incredible because we gave the photographers the freedom; we didn't give them any brief. We said you have to do exactly you, and that was really the key,
"You really see the jacket but in different ways. In some pictures it looks like a sports jacket, in some pictures it looks like a piece of art.'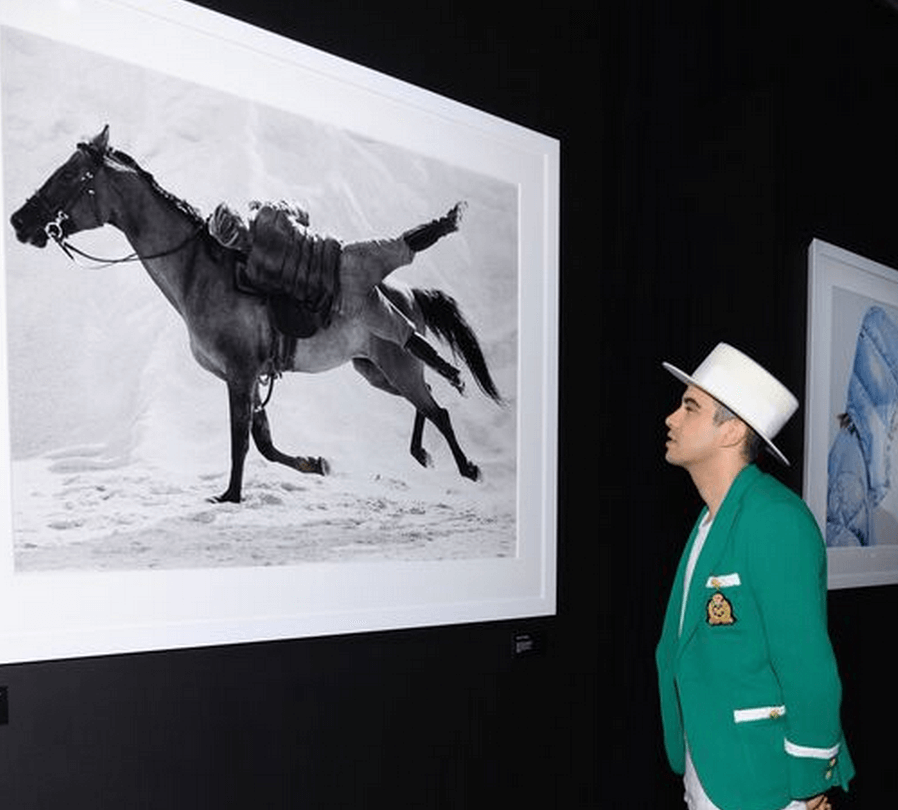 At one point I came across one gaunt gent who was dressed in a pair of what appeared to be striped cycling pants, open shirt to the navel, beads and what may have been a tiara on his head. Intrigued I approached the dame, inquiring if somehow they were part of the show, only to be informed they were 'part of every show' and that I just didn't know it.
A further prodding revealed the gent's bicycle pants were the latest collection from Givenchy, (only available in Paris) retailing for a cool $610 but on sale for $457 ( I rushed home to google later).
A press sheet later making my way informed me attending guests included, Fabien Baron, Dr. Lisa Airan & Dr. Trevor Born, Lisa Anastos, Michael Avedon, Maria Baibakova, Alina Baikova, Kelly Bensimon, Alexis Bittan, Philip Bloch, John Buffalo Mailer, Matilde Carli, Alva Chinn, Anna Cleveland, Kipton Cronkite, Pascal Dangin, Atlanta de Cadenet, Anna Della Russo, DJ Cassidy, DJ Pierce, Alexia Elkaim, Katrina Eugenia, Lex Fenwick, Jesse Frohman, Miguelina Gambaccini, Ivy Getty, Zani Gugelmann, Hannah Holman, Ara & Rachel Hovnanian, Martin Jerez, Natalie Joos, Roxanne Lowit, Lorenzo Lorenzotti, Fern Mallis, Maripol, Nicolas Mirzayantz, Mia Moretti, Michele Ouellet, Dr. Trevor Paglen,  Irina Pantaeva, Joe Pascoe, Humberto Petit, Alex Pettyfer, Hassan Pierre, Natalya Poniatowski, Polina Proshkina, India Salvor Menuez, Charlotte Sarkozy, Yvan Rodic, Shelter Serra, Ashley Smith, Lucky Blue Smith, Pyper America Smith, Danielle Snyder, Hana Soukupova, Romee Strijd, Richard & Elodie Taittinger, Chelsea Tyler & Jon Foster, Antoine Verglas & Christiane Celle, Timothy White, Zanita Whittington, Mary Elizabeth Winstead, and Leila Yavari.
A full listing of Art for Love Photographers included: Camilla Akrans, David Bailey, Lachlan Bailey, Fabien Baron, Patrick Demarchelier, Arthur Elgort, Hans Feurer, Pamela Hanson, Ben Hasset, Inez & Vinoodh, Mikael Jansson, Brigitte Lacombe, Annie Leibovitz, Peter Lindbergh, Roxanne Lowit, Craig McDean, Alasdair McLellan, Raymond Meier, Steven Meisel, Guido Mocafico, Josh Olins, Ezra Petronio, Terry Richardson, Paolo Roversi, David Sims, Mario Sorrenti, Sølve Sundsbø, Willy Vanderperre, Bruce Weber, Olivier ZahmA special thanks to amfAR.
Along with the ever gawking and marveling of the art work on the walls and in between the walls, a silent auction went on in conjunction with contemporary online site Paddle 8. The auction will be live for 2 weeks following the event, and all funds raised will be entirely donated to amfAR towards their 'Countdown to a Cure' project to find a cure for AIDS by 2020.
Hopefully I'll figure out how to siphon $457 to order my very own trendy Givenchy bicycler pants….