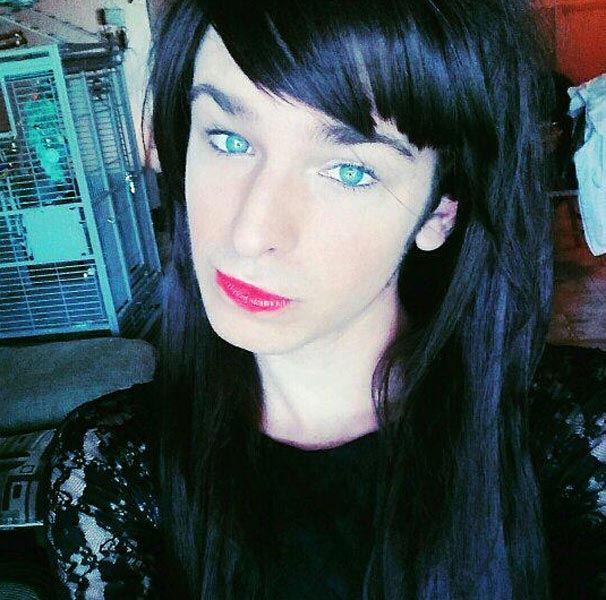 Up to 200 high school students have walked out of classes to protest one transgender student, 17 year old senior, Lila Perry being allowed to use the girl's bathroom.
Protesters at Hillsboro High School, Missouri, mostly females vented that the student should not be allowed to use female facilities especially as the student had yet to undertake any hormone therapy and simply dressed as a female and wore a wig along with make up while still retaining male organs.
The gesture to allow Perry to use female facilities came after the transgender student identified themselves as a woman and thus demanding being able to use female facilities, in essence opening debate as to what constitutes a female and transgender rights?
Told Perry via Fox News who has identified as female since they were 13 and who decided this academic year that they be allowed to use female facilities:
'I'm not going to expose myself. I'm not a pervert. I'm a transgender woman. I'm a girl.
'I'm just in there to change, do my business, and… if they have any questions about being transgender, they are more than welcome to talk to me, and I'll be happy to explain it.'
Nevertheless not everyone sees it the way Perry sees it.
Told student, Sophie Beel via Fox 2 St Louis: 'I find it offensive because Lila has not went through any procedure to become female, putting on a dress and putting on a wig is not transgender to me'.
Added another student, Tammy Sorden: 'The girls have rights, and they shouldn't have to share a bathroom with a boy.'
Reflected Jeff Childs who held a sign, 'Girl's Rights Matter': 'Boys needs to have their own locker room. Girls need to have their own locker room and if somebody has mixed feelings where they are, they need to have their own also.'
According to the St Louis Post-Dispatch, the protest lasted for two hours before school officials told students to go back inside.
During the demonstration, Perry was locked in a staff member's office because there were fears for the student's safety.
While most students protested Perry's right to use the female bathroom, some supported Perry.
The protest followed a contentious school board meeting last Thursday, where some parents voiced concerns about their daughters sharing a locker room with Perry.
'There's a lot of ignorance, they are claiming that they're uncomfortable. I don't believe for a second that they are. I think this is pure and simple bigotry,' Perry told local news station KMOV.
Perry has since declined the school's offer of a Title IX-compliant gender neutral locker room on principle, deciding to drop gym class altogether.
Insisted Perry: 'I am a girl,'
'I am not going to be pushed away to another bathroom.'
The Missouri Gay-Straight Alliance Network plans to host a rally supporting Ms. Perry on Friday.
And then there were these comments on the web that made me wonder. See what you think?
Why? If we, as women, can put forth the opinion that our breasts aren't sexual unless they're sexualized, why should we even blink an eye at this? It's a body part.
Whether or not we put forth the idea of sexualizing genitals, doesn't change whether or not they may make people uncomfortable in the present.
Like it or not, she was born male and has a penis and testicles. Some parents may not want their daughters exposed to her biologically male body parts at age 13.
This is not a question of a boy putting on a dress to see naked or underwear-clad girls. This is about someone who is living as a girl, identifies as a girl.
Unfortunately, he isn't like other female students because he isn't female. He also doesn't get to determine what's best for hundreds of young girls or judge their reaction. Hundreds of students walked out in protest. The young man claims the girls are bigots for wanting to be comfortable while undressing.
Your plumbing has to match your bathroom choice. If it doesn't you're free to use the gender neutral bathroom. Why should the entire student body be displaced and inconvenienced for the sake of one? This is what's wrong with the country! They made an exception and provided a gender neutral bathroom, it wasn't good enough. My advice: Home school.
Nevermind, let's just all get on our high horses and crusade against this non-injustice injustice so we can score social brownie points. Off with their heads!! Images via twitter
One year ago I was worrying about finding a boyfriend and now I'm on national news and fighting for transgender rights…life is so crazy!

— Lila Perry (@transwitchcraft) September 2, 2015