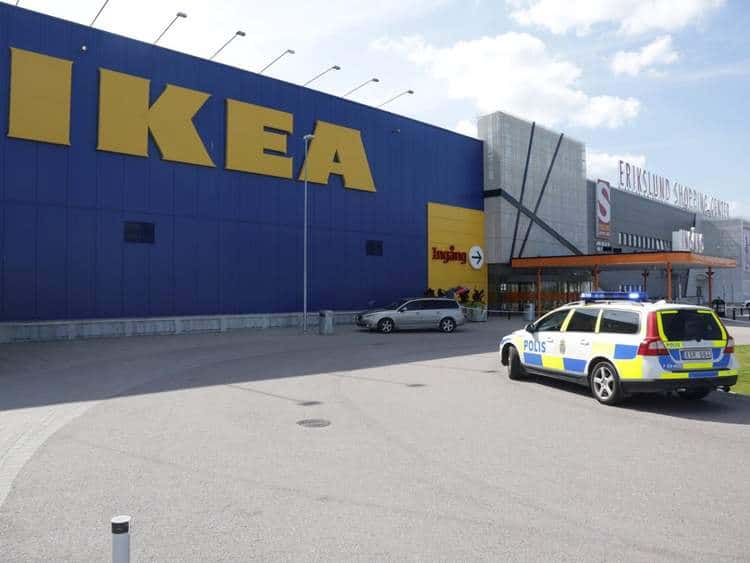 Authorities are seeking the motive as to why two individuals set about on a stabbing ritual at a Stockholm, Sweden Ikea store Monday afternoon which left two dead and one person critically injured at the Erikslund shopping center. 
Responding to the crises, police spokesperson, Per Aagren told at a press conference in the town of Vaesteraas, just outside the capital city where the mayhem took place: 'It's a crazy event,'
'As far as we know, the victims and the suspects did not know each other.'
One of the suspects — a 35-year-old man — was badly wounded during what was described as a bloodbath and was being treated at Vaesteraas Central Hospital after being brought in by stretcher and ambulance.
How the assailant came to sustain their injuries as a result of either being rebuked by said victims or staff personnel or by authorities is not necessarily understood.
Told nurse Lena Moren via Swedish media: 'He has come in from the accident site badly damaged and has life-threatening injuries,'
'The man is in emergency surgery right now.'
Police did not release his name or that of his 20-year-old alleged accomplice.
The names of the stabbing victims — a 25-year-old man and his female companion — were also not released.
According to the local.se Ikea witnesses told how Ike staff screamed through the store's intercom system that customers should leave the building just after 1pm.
Offered witness Sami Salim: 'People started screaming 'stabbing spree, stabbing spree' and only within a short time, there were several police officers there.'
Store manager Mattias Johansson described the victims as 'three seemingly ordinary visitors', telling that an attack had taken place in the store's kitchenware department.
According to Swedish outlet, Aftonbladet one of the victims were stabbed near an emergency exit in which witnesses say took place in the part of the store displaying kitchen utensils.
Since the carnage, press officer for Ikea, Daniela Rogosic said: 'We don't have the complete picture yet, but what we know right now is that none of our staff are among the injured. For now we're focusing on our staff members and customers and are directing all questions to the police, who are investigating at the scene.'
At present cops say neither assailant had a criminal record and that they do not believe the attack was motivated by terrorism as they continue to unearth what set off the violence in a normally quaint Cathedral town.
JUST NU: Två döda efter knivattacken på Ikea-varuhuset i Västerås. Ytterligare en skadad. http://t.co/gMv28kJwnN pic.twitter.com/fp62IErQJ1

— Aftonbladet (@Aftonbladet) August 10, 2015
LIVE-TV: Minst tre personer knivhuggna på Ikea i Västerås. Expressen TV sänder live. http://t.co/fes0bb9BKA pic.twitter.com/4zPGPWgTZ2 — Expressen (@Expressen) August 10, 2015