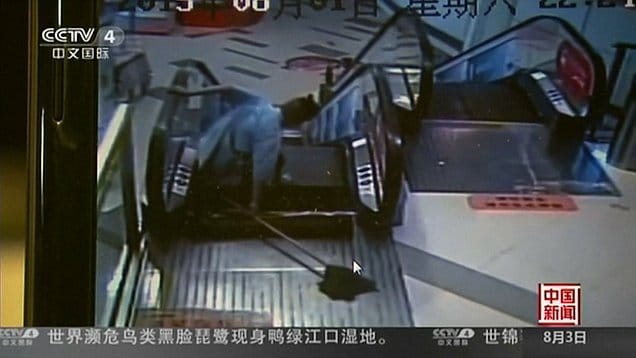 A Shanghai shopping mall cleaner in China has had his leg amputated after it became stuck in an escalator.
The incident marks the third instance in less than a week that either a worker or a shopping mall user has either being critically injured or mortally wounded.
The latest incident came to be captured on CCTV footage (see video below).
At the time the 35 year old cleaner was stepping over the the top platform of the Shanghai shopping mall escalator when his leg accidentally becomes wedged in a gap on the steps.
Witnesses are said to have heard the man loudly screaming: 'My leg is stuck, My leg is broken.'
Though the escalator stopped immediately and firefighters managed to get the man free, his leg was damaged so badly that doctors had no choice but to amputate, reports Shanghaiist.
The accident has led to the escalator maintenance company investigating the accident, with initial investigations suggesting the snafus resulted from 'improper operation of the escalator.'
Family members of the man said that he had only begun working at the supermarket three months ago.
The accident comes after a 30-year-old woman died from a horrific escalator accident in Hubei province on Sunday July 27 whilst riding an escalator up with her young son.
Despite managing to push her son up to safety at the last minute, the woman, later identified as Xiang Liujuan was tragically pulled into the machinery with her young child looking on.
On Tuesday, a one-year-old toddler was dragged into one of the moving staircases when he tripped and fell, causing his left arm to be wedged into a gap on the machine.
When the child was finally freed from the machinery, his left arm appeared to be fractured, with reports suggesting he may face amputation.
Chinese control authorities have revealed 73 deaths and 82 injuries were recorded in 74 escalator accidents across the country in the first half of this year.