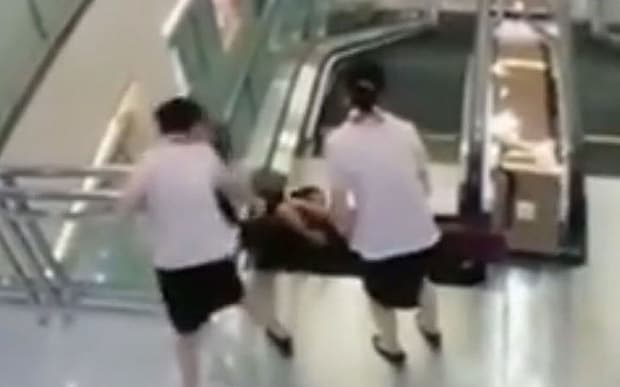 A horrific video (see below) has been released showing the moment a Chinese woman ascending an elevator with her 2 year old son came to be swallowed whole by the collapsing elevator, not before saving her child first.
Sunday's accident in the central city of Jingzhou was caught on surveillance camera footage that circulated heavily on the Internet in China.
The mother, since identified as 30-year-old Xiang Liujuan is shown reaching the top of the escalator when the section of landing platform she had stepped onto suddenly collapses, trapping her inside the still-moving machinery.
The footage shows Xiang managing to push her son into the arms of shop attendants near the top of the escalator. The attendants in turn try to pull her the mother to safety who is seen frantically struggling to free herself but Xiang was sucked into the mechanism and was killed.
The state-run People's Daily's online edition and other media outlets said her body was recovered four hours later, after crews disassembled the escalator.
According to one local paper, maintenance work had been carried out on the escalator at the Anliang shopping mall in Jingzhou, but workers had allegedly forgotten to secure the panel back in place.
Although escalator deaths are extremely rare, China's breakneck economic development and sometimes cavalier attitude toward safety, quality control and maintenance have led to frequent industrial accidents such as fires, building and bridge collapses, and ship sinking or collisions.